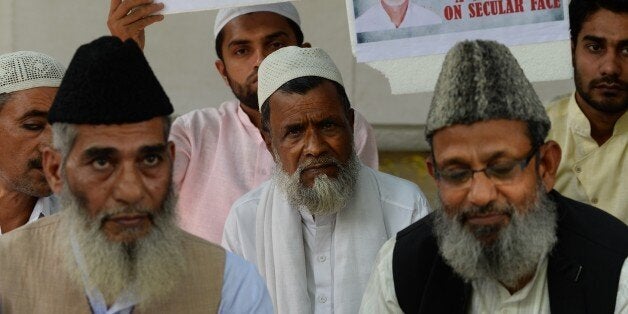 India's western state of Gujarat, where Mahatma Gandhi, the apostle of nonviolence, was born, also has a long history of communal violence. The most recent case of large-scale violence in the state was in 2002 when inter-communal riots resulted in the killing of close to a thousand Muslims and over two hundred Hindus.
Narendra Modi, now the prime minister, was Gujarat's chief minister then. He was accused of initiating and condoning the violence. The backlash against him was swift, from within the country as well as internationally. The U.S. government took the unusual step of declaring him a persona non grata. Criticism came even from within his own party: the prime minister at the time said that the riots were "a blot on [the] nation's forehead and ... grievously harmed India's image in the eyes of the world."
Within a decade, however, Modi had bounced back by shifting the focus away from the religious nationalism of the Bharatiya Janata Party to his own role in the economic growth and industrial development of Gujarat. (The depth and durability of Gujarat's development has since been questioned, however.) One by one, he sidelined other BJP leaders and emerged as the undisputed national leader, winning an unprecedented majority in the 2014 elections and becoming prime minister. The U.S. government, which had denied him entry for years, now welcomed him with a red carpet.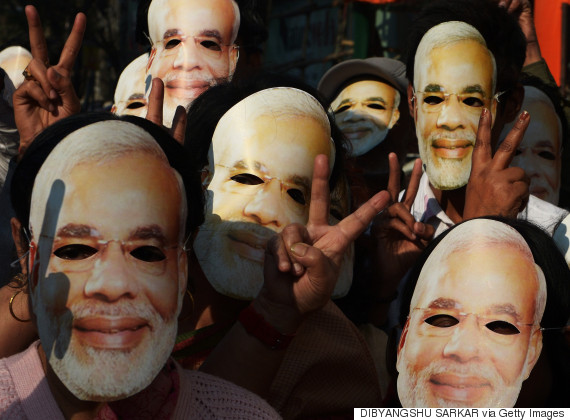 BJP activists, clad in Modi masks at a rally in Kolkata on Feb. 1, 2014. (DIBYANGSHU SARKAR/AFP/Getty Images)
Since coming to power, Modi has projected the image of a leader who can rise above religious, sectarian and regional considerations and be focused on the industrialization and development of the country. This has not stopped his followers from vigorously pursuing the causes that are dear to Hindu nationalism.
Two such issues erupted during the first year of Modi's administration: first, the renewed vigor of Ghar Wapsi, or "home coming," a conversion process organized for non-Hindus -- and a ban on cow slaughter. Under Ghar Wapsi, programs were devised nationwide to assimilate "back" into Hinduism the members of minority religious communities. The implication, of course, is that they had strayed away from Hinduism.
Apart from the fact that Hinduism does not have a tradition of conversion, it is also important to note that many Dalits left Hinduism because of a long history of oppression and marginalization under the caste system. As Kancha Ilaiah noted, Brahminical Hinduism (the upper caste and dominant form of Hinduism) was never a "home" for the Dalits and therefore "home coming" was a misnomer.
With the ascension of Modi to power, some believe that India can, at last, emerge as a Hindu nation.
Then came a renewed call for a ban on cow slaughter. Many Hindus treat the animal as a sacred creature; the slaughter of a cow has historically been a taboo topic in mainstream Indian society but, on the other hand, beef has for long been a part of the diet of several marginalized and minority communities -- Dalits, tribals, Muslims and Christians.
Opposition to cow slaughter has become a power symbol of the Hindu nationalist agenda over the years. The witch hunt unleashed by BJP activists against people who were suspected of consuming beef gave rise to an atmosphere of fear and insecurity. "It is safer in India to be a cow than a Muslim," as Shashi Tharoor put it.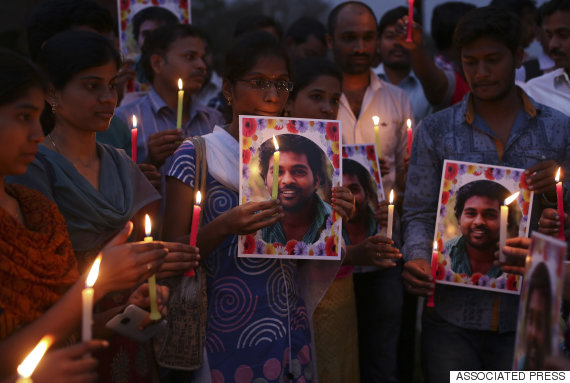 Activists from a Dalit organization at a candlelit vigil for Rohith Vemula in Hyderabad on Jan 20. (AP Photo/Mahesh Kumar A.)
While religious conversions and the sanctity of cows have been divisive issues in India for a long time, recent developments gave rise to new questions on how far dissent and academic freedom are tolerated. In January, Rohith Vemula, a PhD student (of a Dalit background) at the University of Hyderabad died by suicide, leading to widespread protests and outrage. There were complaints that the university authorities withheld Vemula's stipend and that he had faced institutional discrimination.
The incident blew open India's persistent and disgraceful caste inequalities and brought to the fore a fundamental conflict between Hindu nationalist and Dalit ideologies.
Instead of egalitarianism, the Hindu right believes in an archaic arithmetic of adhikaar and bahishkaar, entitlement and exclusion, based on caste, religion and gender ... Onto this unequal social order of considerable vintage would be layered a deadly neo-Fascist majoritarian politics that arises out of the Hindutva imagination of the modern nation.
The incident in Hyderabad exposed the inability of religious nationalism to come to terms with an assertion of the Dalit identity, and in the weeks after Vemula's suicide, Modi's government found its approach toward both academic freedom and minority rights challenged vociferously.
'It is safer in India to be a cow than a Muslim.'
The biggest crisis moment was triggered on Feb. 12 when Kanhaiya Kumar, the president of the Jawaharlal Nehru University student body, was arrested on charges of sedition. The incident led to strong student protests around the country and clashes between the police and the intelligentsia. Protests are continuing and have even rocked the Indian Parliament.
These incidents and their aftermath point towards a culture of intolerance, especially towards the marginalized and the minority communities -- a situation that seems to have accelerated in the country since Modi came to power. As Ram Puniyani stated, these incidents are just the beginning of an attack on the autonomy of universities and on free thinking in a democracy. The latest report from Amnesty International summed up the current climate:
Authorities clamped down on civil society organizations critical of official policies and increased restrictions on foreign funding. Religious tensions intensified, and gender and caste-based discrimination and violence remained pervasive. Censorship and attacks on freedom of expression by hardline Hindu groups grew.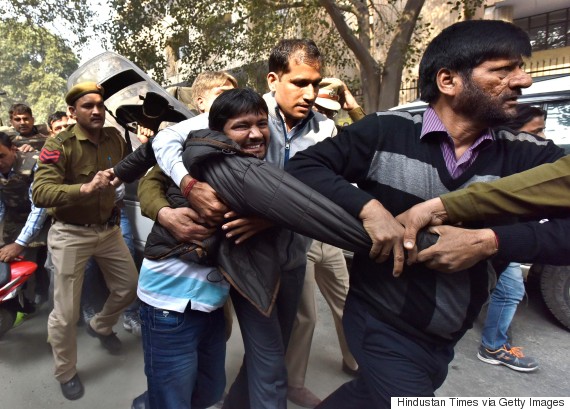 Kumar being taken to court on Feb. 17 in New Delhi. (Virender Singh Gosain/Hindustan Times via Getty Images)
Despite the long history of intolerance of the religious nationalists towards dissident voices, what was shocking this time was the might with which the government came down on the protesting students. Kumar was charged with sedition and arrested under a piece of legislation that was used by the colonial British government against Mahatma Gandhi and the other freedom fighters. India's first prime minister, Jawaharlal Nehru, called sedition laws "objectionable and obnoxious." Yet they have persisted and have been used by successive governments to clamp down on critical voices, such as journalists and activists.
The Modi administration and its supporters, like the lawyers who attacked Kumar and the students and professors of JNU right inside a Delhi court (and later boasted about it), remind us that India seems to be rapidly heading towards a breakdown of the basic framework of civil society.
It remains to be seen if India's democracy can withstand the religious and fascist forces that seem to reign supreme now.
From the days of India's independence struggle, there was a tension in the country between secular nationalism and religion-based nationalism. While sections of Hindus and Muslims believed in religious nationalism, the majority in both communities stood with the principle of secularism. With the formation of Pakistan, the dream of a Muslim nation was achieved. But in India, Mahatma Gandhi (a Hindu), Nehru (an atheist), Maulana Abdul Kalam Azad (a Muslim) and the other nationalist leaders stood together and ensured that the country had a secular constitution.
While the Hindu ultra-nationalists went dormant for a while, the dream of a Hindu Rashtra, or Hindu Nation, was not abandoned. With the ascension of Modi to power, some believe that India can, at last, emerge as a Hindu nation. The very survival of the democratic and secular ethos of the Republic of India is now under siege. It remains to be seen if India's democracy can withstand the religious and fascist forces that seem to now reign supreme.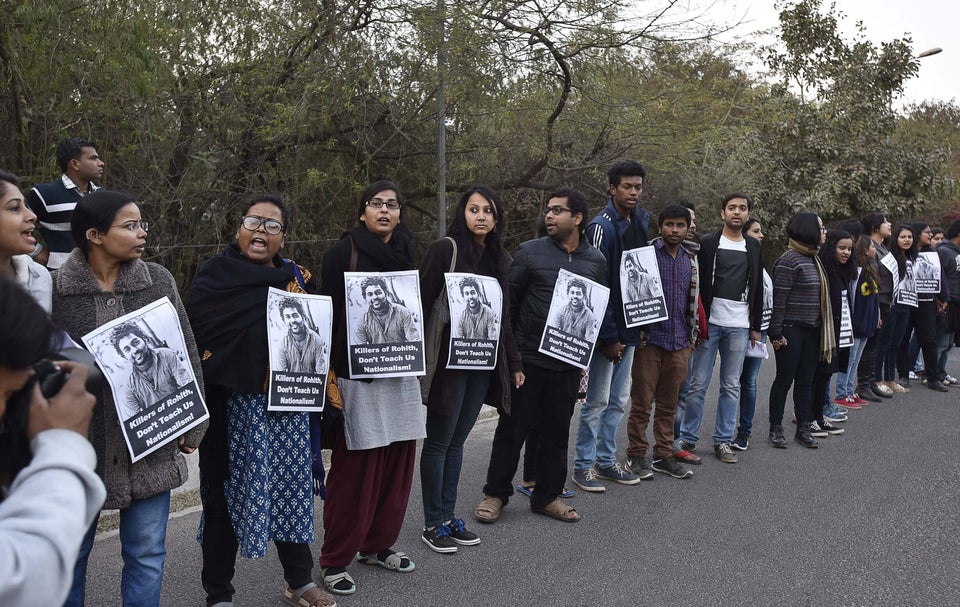 JNU Unrest
Popular in the Community