Shazia Ashraf watched from a boat as her mattress floated in six feet of water in her Houston home. Underneath the murky depths she could see her washer and dryer. Her fridge had somehow migrated to the living room.
As she pulled away from her flooded home, grateful that she had managed to save her kittens, her immediate thoughts turned to helping others. It was instinct. In the days after Hurricane Harvey made landfall in Texas, displacing tens of thousands of people, hundreds of Muslims like Ashraf put aside their own suffering to come to the aid of those in need.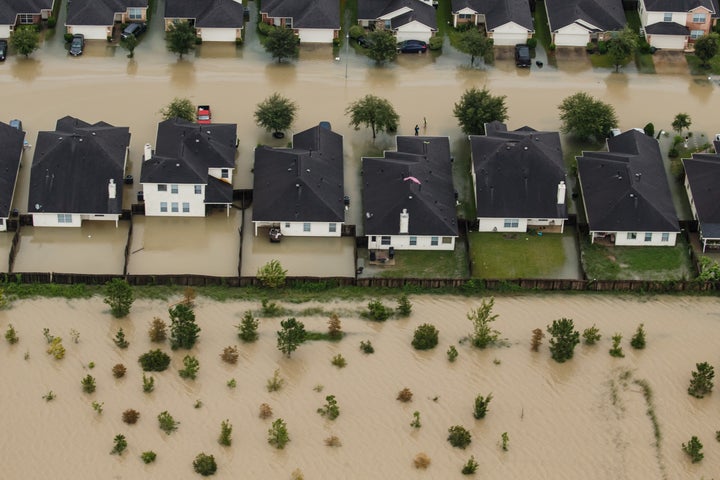 For Ashraf, who is the chairwoman of a committee for the Islamic Society of Greater Houston, that involved helping turn at least five area mosques into shelters. As the storm hit and the flooding ensued, the mosques have been providing cots and food to displaced people who may have otherwise never stepped foot inside.
"That's the beautiful thing to see," Ashraf told HuffPost. "A lot of people in [the group's] leadership ― myself included ― have homes completely flooded but are still trying to organize to help the community. Some of our volunteers still set up shop on the second story of their flooded house."
Ashraf said the mosques serving as shelters are "completely stocked with supplies" including coffee, "a hug, a smile ― anything that can help."
ISGH has opened its doors as others have been criticized for not doing the same. Evangelical pastor Joel Osteen ― the head of a megachurch in Lakewood, Texas ― was harshly condemned for closing his church as the disaster first struck. He later opened the church as a shelter after facing backlash online.
"If people were here, they'd realize there were safety issues," Osteen said Wednesday. "We were just being precautious, but the main thing is the city didn't ask us to become a shelter then."
Over 200 displaced individuals spent the night in ISGH's makeshift shelters on Tuesday, said Mohammad Amin Moola, the group's vice president. The number was rapidly rising on Wednesday, he added.
"We will definitely be opening more," Moola said. "We are not turning anyone away. Whatever we have, we are sharing."
The devastation from Hurricane Harvey will be long-lasting and the recovery effort for Houston will take years. That's why volunteers with ISGH ― including Bibi Khan, who heads the group's social services unit ― are adamant that they intend to help anyone in need.
"There's no religion, there's no color," Khan said of the tragedy. "We are open to help everyone and anyone. When disaster strikes, we have to jump on this immediately."
At one mosque location, Khan said she was overwhelmed at seeing so many non-Muslims taking refuge in the sanctuary.
"We were so thrilled to see them," Khan said. "[Non-Muslims] didn't at any point feel different from us, and it was the most amazing moment we had."
The ISGH immediately mobilized its volunteer committee as the storm hit. Khan said more than 400 people have chipped in to help, staffing rescue missions, distributing food, and even working around the clock at Houston's George R. Brown Convention Center, where more than 9,000 people have sought shelter.
Muslim restaurants in the community have also been providing free food to those in the convention center, passing out hundreds of meals even as the hour grows late.
"People have been so generous in getting out there on their private boats and providing meals, providing services, or just comforting someone else," Khan said.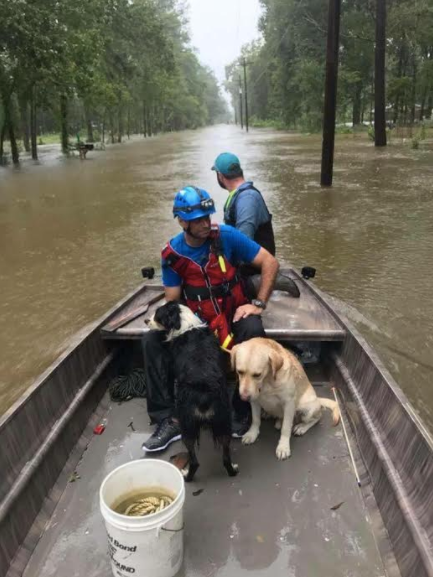 One Islamic center set up a 24-hour hotline to help with medical emergencies. Hamza Reed, the administrator of Clear Lake Islamic Center, said a local doctor is manning the phone line to offer medical advice to those in need who may not be able to travel.
Reed said his center wanted to offer shelter to those displaced by the storm, but can't because the building has sustained several leaks. "We didn't want to do something that would have to close," he said.
Instead, the center is transforming into a donation hub, in partnership with a local church. Both facilities will collect donations from community members, and then distribute them to organizations in need. The effort is starting Wednesday, he said.
The Muslim community continues to struggle in a country filled with political vitriol. Hate crimes against Muslims have spiked, and President Donald Trump has done little to sympathize with the victims. Instead, the president has attempted to ban those from some predominantly Muslim countries from entering the U.S.
But Ashraf and Khan agree that in Houston, folks of different faiths have come together for a common good: To take care of one another.
"Politically with what's going on, Muslims still sometimes feel like we don't have a space here," Ashraf said. "But when the community is hurting, we're hurting too. Moments like this is what I consider true interfaith work, where we see beyond religion and love each other because we're human beings. We feel and suffer the same, and for us to help and love each other is really important."
Popular in the Community