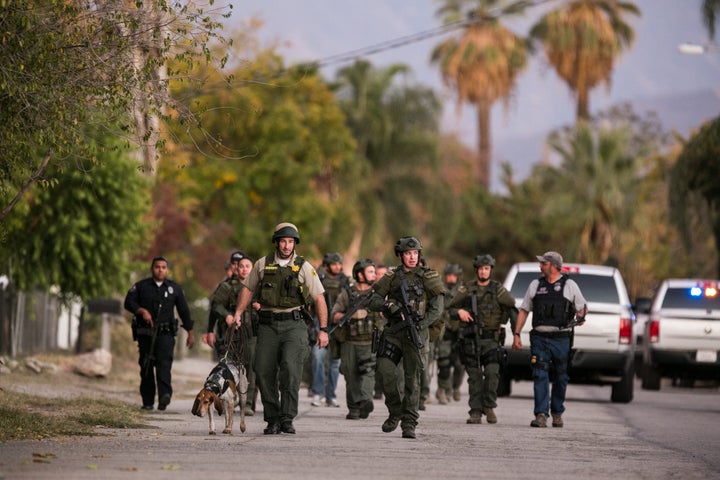 It's not completely clear why the couple attacked the Inland Regional Center, a nonprofit, private community center for people with developmental disabilities, leaving 14 dead and at least 17 injured. Both Farook and Malik died Wednesday in a shootout with police, and authorities have said they don't yet know the attackers' motive.
But in a now-familiar progression, American Muslim groups were forced to distance their religion from the violent attack almost immediately. At a press conference on Wednesday night, just hours after the shooting, Council on American–Islamic Relations Executive Director Hussam Ayloush said,"We condemn this horrific and revolting attack and offer our heartfelt condolences to the families and loved ones of all those killed or injured."
Muzammil Siddiqi, the religious director of the Islamic Society of Orange County, added that the killings ran counter to the teachings of Islam. "We have condemned all violence everywhere because human life is precious," he said. Siddiqi also voiced his support for a thorough investigation of the "people and motives" behind the shooting.
CAIR's National Communications Director Ibrahim Hooper told The Huffington Post that the group felt compelled to hold the conference so they could "get ahead of the curve on this story," even though doing so perpetuates the "false linkage between Islam and these acts of violence."
"The nation is very quick to generalize the criminal actions of individuals to an entire faith community," he said, which is the "unfortunate circumstance we're in in the post-9/11 era."
Also speaking at the Wednesday event was Farhan Khan, Farook's brother-in-law, who expressed shock that Farook was the attacker. "I have no idea why he would do that," he said. "The reason I am here is to express [for] my family … how sad they are for what happened. ... I'm very sad people lost their lives and there are victims out there," he said.
Farook's father told the New York Daily News that his son was "very religious," adding that he "would go to work, come back, go to pray, come back. He's Muslim."
CAIR's Ayloush told CNN in an interview that he had spoken with Farook's family, and they are "as shocked as anybody else. They had no idea this could happen. ... They have no idea what made him snap."
Hooper said the family came to the group in order to "speak out to express grief and shock," and CAIR merely facilitated that.
But the fact that Farook's family had to speak out against his crime the very day it happened underscores the Islamophobic tendencies of the media. Each time a violent attack is perpetrated by Muslims, the entire (billion-plus) Muslim population is essentially forced to distance themselves from it.
After last month's terrorist attacks in Paris, which were perpetrated by several Muslims, there was an uptick in Islamophobic incidents in France, Canada and the U.S., but also several acts of solidarity with French Muslims. Hooper said he expects another spike in Islamophobia in coming days, citing a terror threat to a Kentucky mosque and saying he has already "personally fielded a number of hate calls."
Aslam Abdullah, a Muslim scholar based in San Bernardino, said the coming fallout toward and targeting of Muslims would be similar to what happened after previous attacks by Islamic extremists, like those in Paris and on 9/11. "Now Islam and Muslims are on trial again," he told the LA Times. But "the Muslim community does not approve of terror. To associate it with all Muslims would be absurd."
Support HuffPost
The Stakes Have Never Been Higher
Related
Popular in the Community