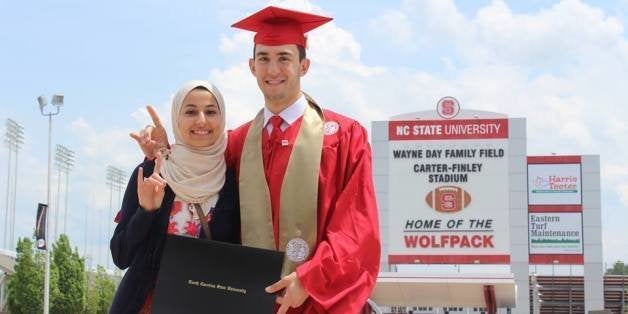 We don't yet know what effects the Feb. 10 slayings of three Muslim students in Chapel Hill, North Carolina will have on Muslims around America or elsewhere, or on the rest of us. For starters, it will anger many Muslims. It already has, and it should. No matter what wrong things some Muslims do, that doesn't mean that other Muslims who have done nothing wrong deserve to be killed. If you want to know what Muslims are thinking and saying -- and you should -- follow the #ChapelHillShooting and #MuslimLivesMatter hashtags on Twitter.
Unfortunately, it's all too predictable that some Muslims, as tragically disturbed and misguided as alleged Chapel Hill killer Craig Stephen Hicks seemingly is, will take matters into their own hands. That's one thing I'm afraid of. But I'm also afraid of the opposite -- that Muslim communities around the United States will be terrorized into cowering timidity.
It's not for me to tell them that they should do otherwise. Each of us makes a perpetual series of moment-by-moment calculations about how to live in the world both safely and with integrity, and acting with public courage can be physically dangerous. And what we know about the backgrounds and aspirations of Deah Barakat, his wife Yusor Mohammad Abu-Salha, and her sister Razan Mohammad Abu-Salha underscores a widespread and largely admirable fact about American Muslims: They want to get along, pursue middle-class professions, raise families, live in suburbs, make themselves useful to society, help the needy. Through my writing and speaking I know many American Muslims, including many students very much like the three who were killed, and my sense is that most of them would strongly prefer not to be doing things like marching in the streets.
But the parallel that was promptly rendered explicit by the #MuslimLivesMatter hashtag is too obvious to ignore. As DeRay Mckesson, one of the Ferguson movement's most vocal leaders, told a writer for Salon, "We still protest every day, because we know that not only will our silence not save us, our surrender won't save us, a video camera won't save us. It is not that we are willing to die, it's that we are unwilling to live in an America where blackness equals death." What implications Muslims might draw for their own public activities in American society is, of course, for them to decide. But one thing I know is that, in America, if you don't speak up for yourself, nobody else is gonna do it for you.
Some Muslims that I know personally are already doing some of what needs to be done. My Pakistani-American friend Nadeem Iqbal, for example, arrived to study at -- of all places -- North Carolina State University in 1982, and stayed. Nadeem organizes an annual public Eid festival in the town of Cary, very near Chapel Hill. "The main motive," Nadeem told me, "was that we live in America, we need to celebrate our religious festivals in this new environment, and we have to add that flavoring. We are celebrating it as an American holiday event."
When I asked Nadeem why he felt such work was important, he told me:
My children and their children are going to live in this country, and they should be treated fairly. But the only way it can happen is for them and us to become part of the greater fabric. I'm not talking about assimilation, but about being able to participate in American society on an equal basis, without fear or compulsion ... Doing religious stuff is important from the religious point of view and the social point of view, but getting involved in the larger society is equally important.
A parallel challenge and opportunity exists for Americans who, like me, grew up in all-white or white-dominated small towns or suburbs. My friend Sarah Derry grew up in the town of Hubbell, pop. 1,105, in Houghton County in a remote part of Michigan's Upper Peninsula. "It's just in the wake of the old mining ruins," she told me. "When they talk about small towns in America, this is one of them. It's a pretty conservative place."
A couple of years ago, when Sarah's father was staying with her for a few months in a Detroit suburb, she took him to the Shatila Bakery, a well-known establishment in the heavily Arab-American city of Dearborn. "I found out about it from a guy I work with who's Iraqi," she told me. "My father is not the most open-minded person. As we were driving down there I told him, 'Poppy, there's a lot of Middle Eastern people there. They'll be wearing a lot of headscarves, so don't act all shocked.'"
An Arab man held the door open for Sarah's father, and "they had a chuckle" because the man explained that it's a tradition to show respect for elders. "We got our desserts and sat down," Sarah remembers. "And when we left Poppy said, 'Well, they seemed pretty nice. They seemed just like normal people.'"
While Sarah was glad to witness this "ah-ha" moment in her father's life, she was also impressed that her teenage son was unimpressed, as if his grandfather's insight were merely a statement of the obvious. "I'm glad I'm raising Erik in a place where there's different races and cultures, because that's the way the world is," Sarah told me. "I want him to be a functioning member of society."
REAL LIFE. REAL NEWS. REAL VOICES.
Help us tell more of the stories that matter from voices that too often remain unheard.