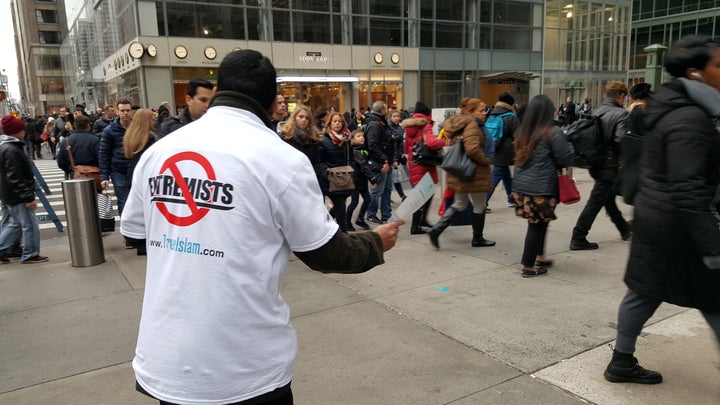 On Thursday afternoon, Salaam Bhatti was near New York's Times Square, as thousands of Americans who had come from across the world prepared for the iconic New Year's Eve ball-drop celebration. But Bhatti, a 29-year-old Muslim from Queens who works as an estate planning attorney, wasn't there just to celebrate the passing of time.
Gathered around Bryant Park, a few blocks from the center of the New Year's festivities that Mayor Bill de Blasio has said will have "extraordinary" security measures to protect against terrorism, Bhatti had come to Manhattan with dozens of Muslims to share his faith as one of peace.
Wearing shirts that said "True Islam" in bold white lettering against a blue background on the front and with the word "extremists" crossed out on the back, Bhatti and fellow members of the Ahmadiyya Muslim Youth Association USA passed out flyers with what they called the "11 clear points that separate true Islam from the extremists."
The Muslims had come in hopes of changing a few minds after high-profile attacks in San Bernardino, California, and in Paris since November, and dozens of incidents of anti-Muslim violence that followed. At the same time, politicians -- notably Donald Trump -- have made a chorus of controversial statements against Islam.
"It's a day where the world converges for one day. So if we can get a few seconds to say we exist and we are here and we are peaceful, then we've accomplished something," said Bhatti, who volunteers as a spokesman for Ahmadiyya Muslims, a minority Islamic group.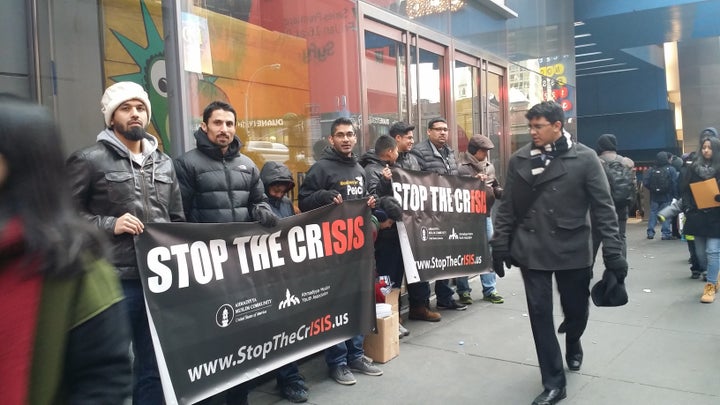 The flyers are part of a new national campaign called "True Islam and the Extremists," which began two weeks ago at the Baitul Hameed Mosque in San Bernardino County and aims to dispel what Bhatti called "misconceptions" about the religion. Among the 11 points: that Islam rejects terrorism, promotes women's equality, and supports freedom of conscience, religion and speech.
The Ahmadiyya Muslim community, which has 70 mosques across the U.S. and an estimated 20,000 members, makes up a relatively small share of the more than 2 million American Muslims. The group plans to take the anti-extremism campaign on the road to its mosques and the communities around them, and is gathering signatures in support of the 11 points.
"We're hoping to not just share words, but to take action."
"We're hoping to not just share words, but to take action," said Harris Zafar, a Portland, Oregon-based spokesman for the community who conceived the effort with Bhatti.
The campaign follows one that began in 2014, called "Stop the CrISIS," which featured Muslims speaking against the Islamic State at mosques and on college campuses, as well as a New Year's Eve demonstration near Times Square that was similar to Thursday's.
"I remember like it was yesterday when in 2010 Faisal Shahzad tried to blow up Times Square. We're not scared of these extremists," said Bhatti. "When they try to spread terror, we try to spread the true teachings."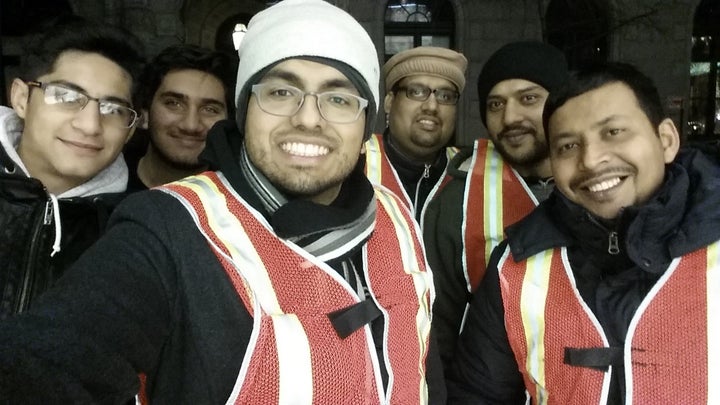 After the sun sets on Thursday, Bhatti's group -- made up of Muslims from New York, New Jersey and Pennsylvania -- will head back to their mosques for an evening of prayer and celebration before midnight.
And once the Times Square ball drops and the crowds clear out, a handful plan to return to Manhattan with trash bags and latex gloves, ready to help sanitation workers clean up the confetti, streamers, food and drinks that make up the dirty aftermath of one of the world's biggest outdoor parties. Last year, sanitation workers collected 48 tons of trash from the area.
"It's our way of giving back, and showing the true good deeds of Islam," said Bhatti.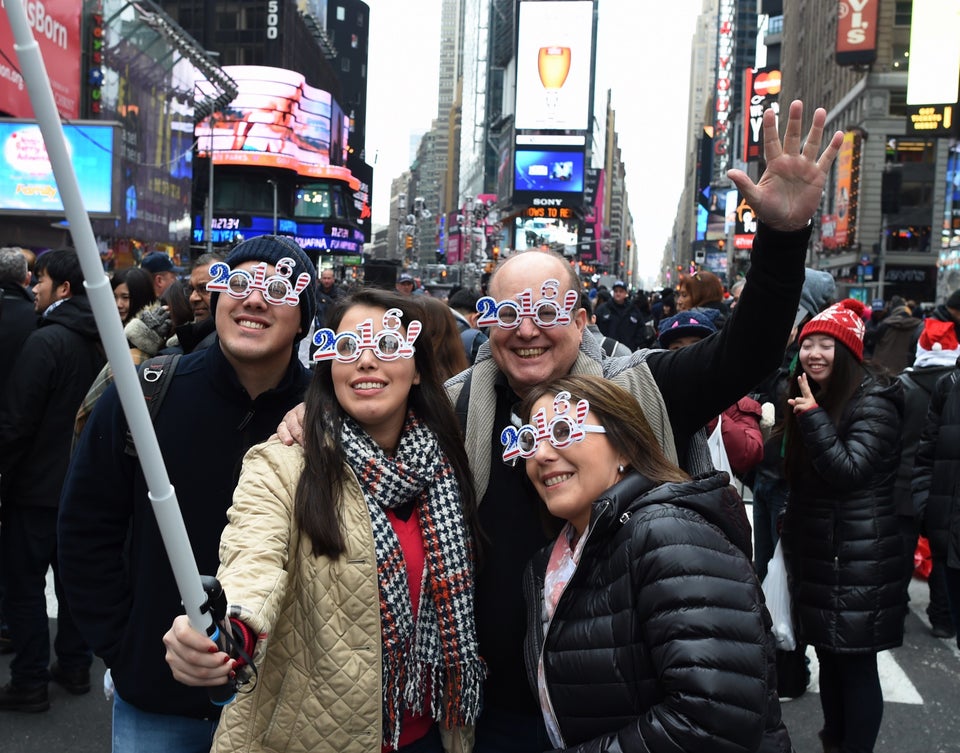 New Year's Eve Revelers, Cops Pack Times Square Ahead Of Ball Drop
Related
Popular in the Community