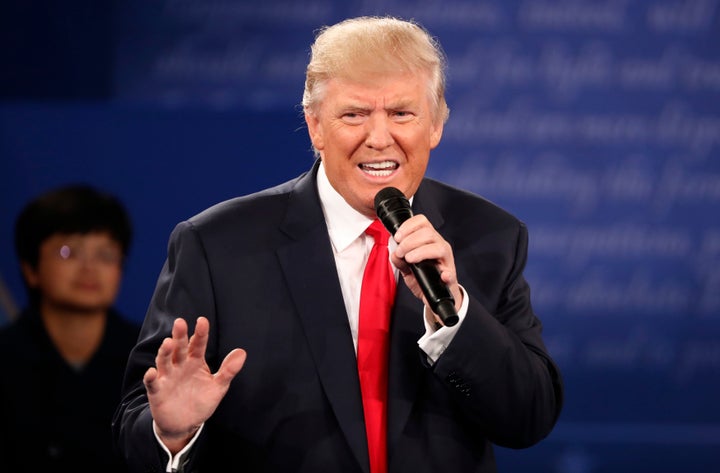 Gorbah Hamed, an undecided Muslim voter, posed this question during the second presidential debate on Sunday night: "Islamophobia is on the rise. How will you help people like me deal with the consequences of being labeled as a threat to the country after the election is over?"
Instead of addressing Hamed's question about the rise in Islamophobia, Trump turned the question around with an accusation against American Muslims, suggesting that they need to do more to report potential signs of extremism in their communities. 
"We have to be sure that Muslims come in and report when they see something going on. When they see hatred going on, they have to report it," Trump said during the town hall-style debate. 
This is despite the fact that American Muslims already do report suspicious activity to the government. Shortly after the Orlando nightclub attack, the FBI's director James Comey said that American Muslims have "repeatedly informed authorities of fellow Muslims they fear might be turning to extremism," according to Reuters.
But facts have never seemed to deter Trump from saying what his supporters want to hear him say. He reaffirmed on Sunday that he's determined to use religion as a tool for discrimination ― saying that his controversial proposed ban against Muslims entering the country has "morphed into [an] extreme vetting from certain areas of the world," i.e., from Muslim-majority countries. 
American Muslims retaliated quickly on social media to Trump's request that, "If you see something, say something." In fact, they saw quite a lot that they disagreed with and had plenty to say.
Soon after, American Muslims began tweeting with the hashtag #MuslimsReportStuff, alerting the public to all sorts of problems they spotted during the debate.
Some used the opportunity to call out suspicious activity within their own households.
It got personal, real quick.
Others pointed out strange behavior and occurrences within society at large. 
REAL LIFE. REAL NEWS. REAL VOICES.
Help us tell more of the stories that matter from voices that too often remain unheard.
BEFORE YOU GO
PHOTO GALLERY
Must-Read Books By Muslim Authors