This summer I took an epic slightly over 2-week vacation in New Zealand, which is saying something since I have the privilege of traveling often and have been to many amazing places in the world. In New Zealand, I wend my way down nearly the entirety of both islands by Winnebago. To say that New Zealand is gorgeous is an understatement. Literally everywhere I looked I saw beauty, natural beauty primarily, but also beauty in the people, the culture, the food, and the almost seamless intersection between modernity and the by gone era when most of us farmed to survive.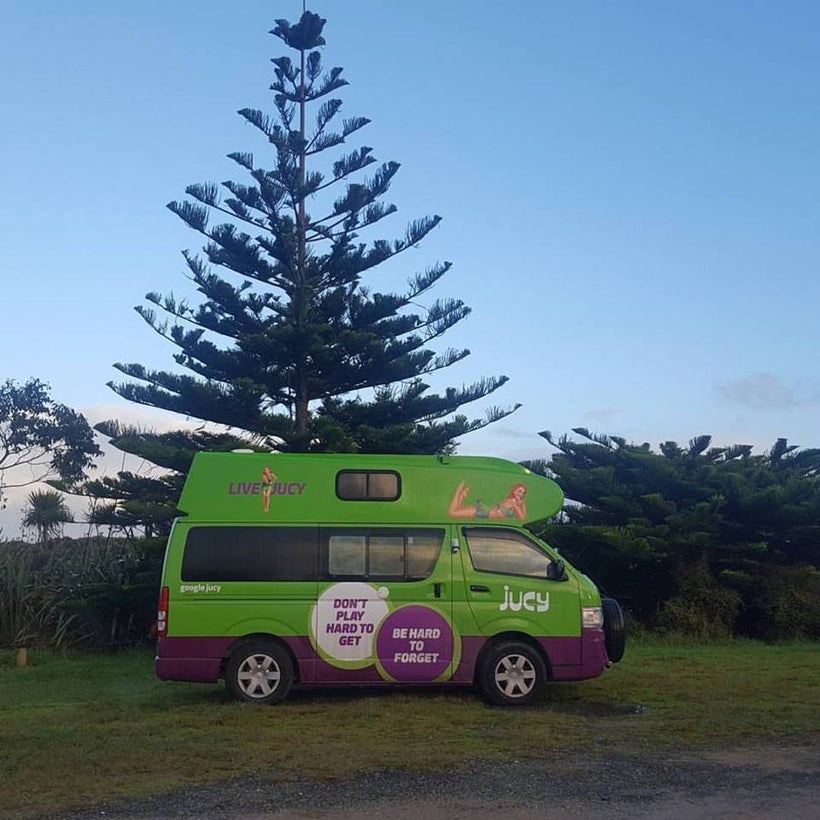 This is the North Island trip with suggestions of places to visit on your next trip there. We flew into Auckland and immediately began making our way up the north island. After I got over the abject terror of driving on the left-hand side of the road and in a winnegbago no less, I started to get into the trip as we made our way along the coastline to the northernmost point of the Northern Island, Cape Reinga. At Cape Reinga, there are many hikes you can take around the cape. Some treks take days, others hours, and some only a few minutes. Below is a picture of us at the lighthouse on the tip of Cape Reinga.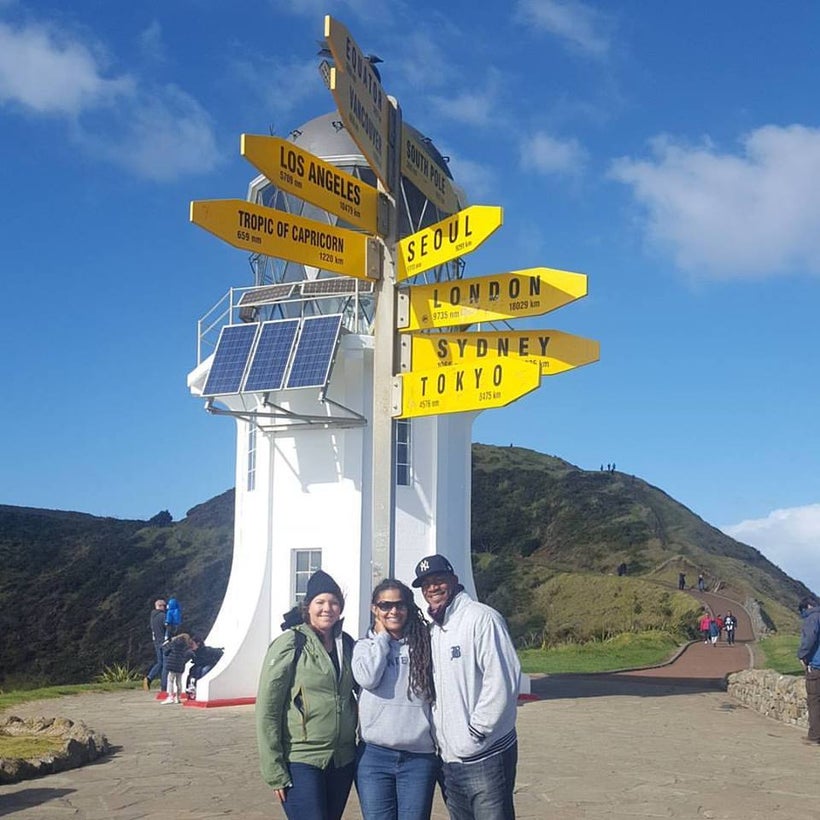 From Cape Reinga we made our way to the Waitangi Treaty Grounds, one of the most important historic sites in New Zealand. The Waitangi Treaty Grounds according to their website, "is New Zealand's premier historic site where in 1840 New Zealand's most significant document was signed by the British Crown and Māori Chiefs: the Treaty of Waitangi". Like most places in New Zealand the Waitangi Treaty Ground is breathtaking. There are Maori cultural shows, where the performers offer a glimpse into Maori culture and tradition to lucky audience members. Below is a photo we took with the performers after their show.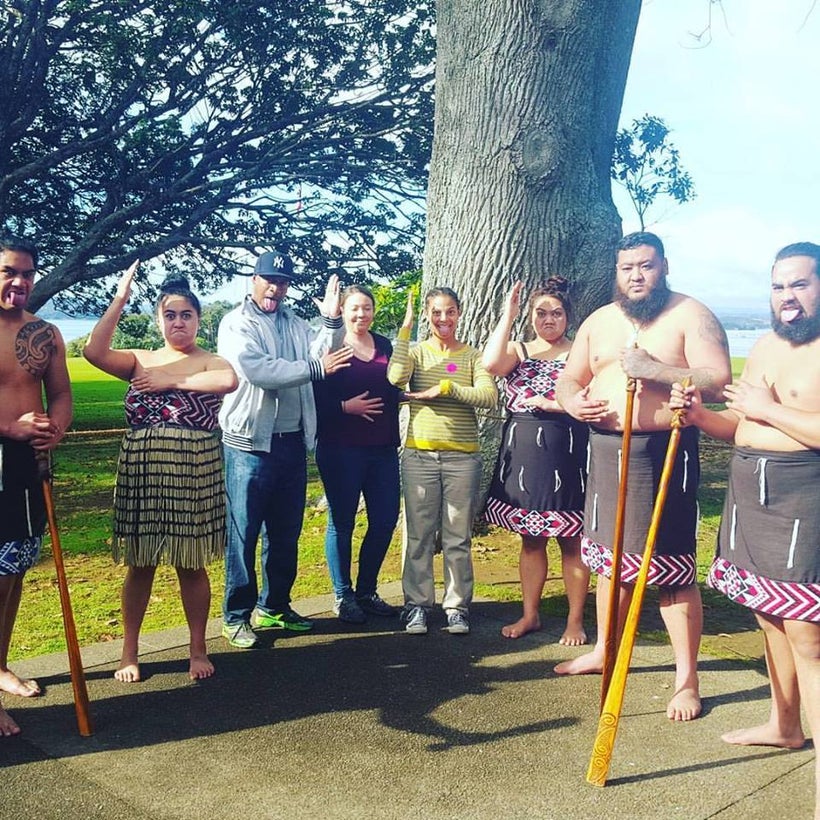 The faces we are making are meant to be "scary". The faces and the famous "haka" are an essential part of the Maori tradition and expression. The faces and movements of the Haka demonstrate the Maori's strength, courage and determination to face off any enemy. Rolling eyes, poking chests and tongues out help depict a hardcore resolve to be the best, craziest, and deadliest warriors regardless of gender.
From Waitangi we made our way to the Bay of Paihia where we took a chartered fishing trip and had an amazing day out on the water catching all kinds of fish here, below are just three types we caught (left side is the pig fish, top right is the trigger fish, bottom right is the Dorado). In the Bay, we made some great friends and ate the yummy fish we caught. Once you return from fishing with your catch, there are restaurants along the pier that will immediately cook up the catch for a nominal fee and they will even throw in a side of "chips" (french fries).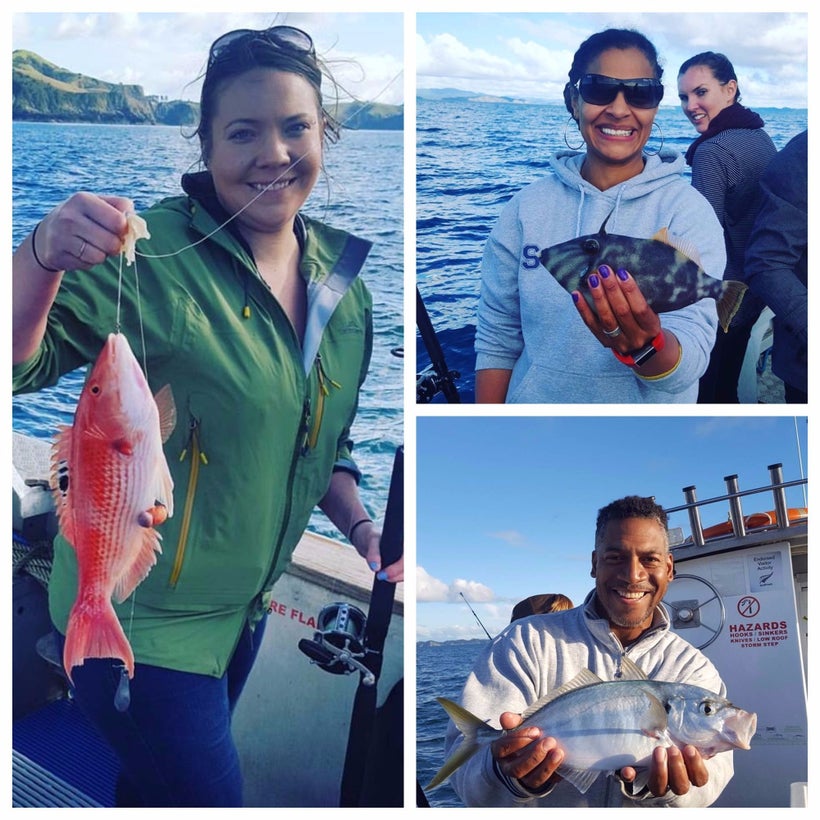 From the Bay we made our way to the famous "Hobbiton" movie set. For Lord of the Rings and Hobbit movie buffs like me, this is the set where the "Shire" lives and it is simply amazing. As you walk into the village of Bilbo Baggins and Frodo, you can almost sense the life of Hobbiton as depicted in the movies. If you allow your imagination to run free, Hobbiton can come to life right before your eyes. As the imaginative type, I kept expecting Gandalf the grey (or the white) to come riding up on his horse at any moment to tell me I was "going on an adventure". Even if you are not a fan of these movie franchises, Hobbiton is worth visiting if for no other reason than to enjoy the very real and idyllic setting in which Hobbiton exists and the many wonders of the country side in this part of New Zealand. Here is a photo of us standing in front of Bilbo Baggins' house.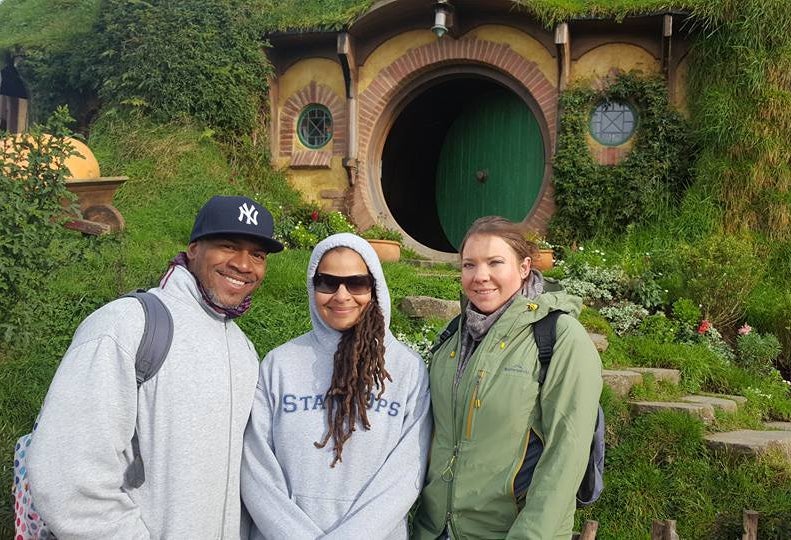 From Hobbiton we visited the beautiful Mt. Taranaki. Because New Zealand is below the equator in the southern hemisphere, it is winter time from roughly June - August and Mt. Taranaki had enough snow for us to have a snowball fight and to build some mini-snowmen.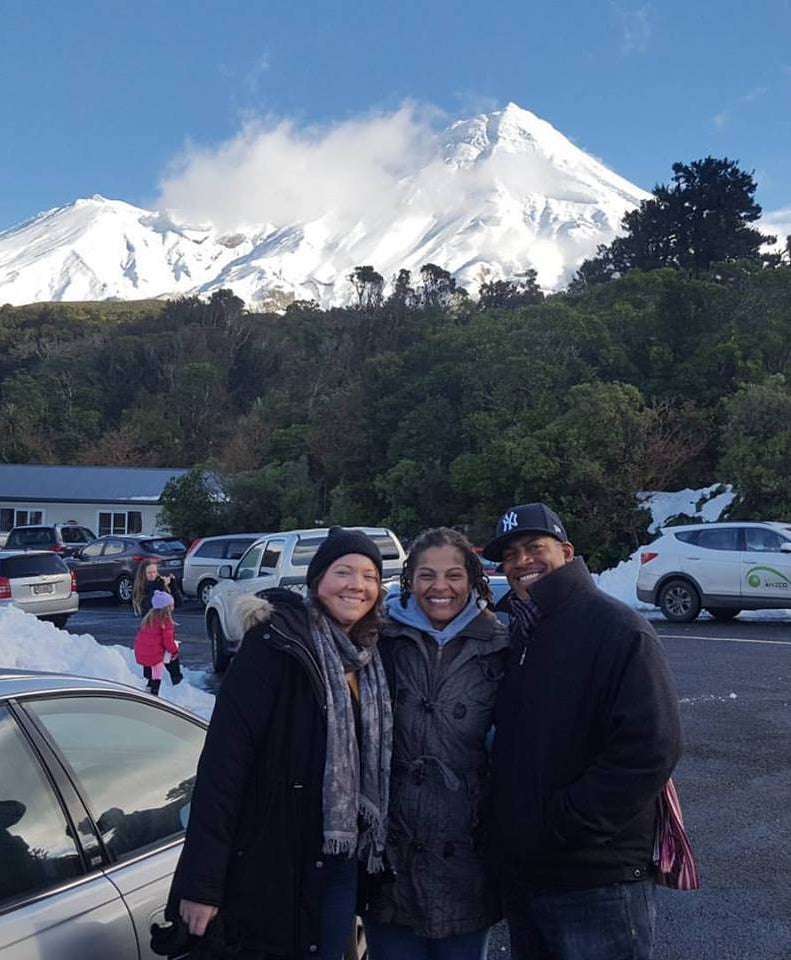 You can ski at Mt. Taranaki and there are many more walking paths and treks you can take here. This is the best shot we could get of the mountain as the clouds kept obstructing our view.
One of the highlights of the North Island for me was my experience in the Waitomo Glow Worm caves. There are several different "adventures" you can take but we opted for the "odyssey" tour, that means we went underground river rafting, which was pretty freaking cool. There were eels and small fish in the water and it is completely dark in the caves when you turn off your head lamps. If you are not a fan of confined spaces, then this option may not be the best choice for you. As I've said it was the middle of winter, so conditions were frigid at best, though not entirely unbearable as evidenced by our smiles. The glow worms are super cool, and light your path from beginning to end. My motto for this tour was when in doubt, follow the glow worms.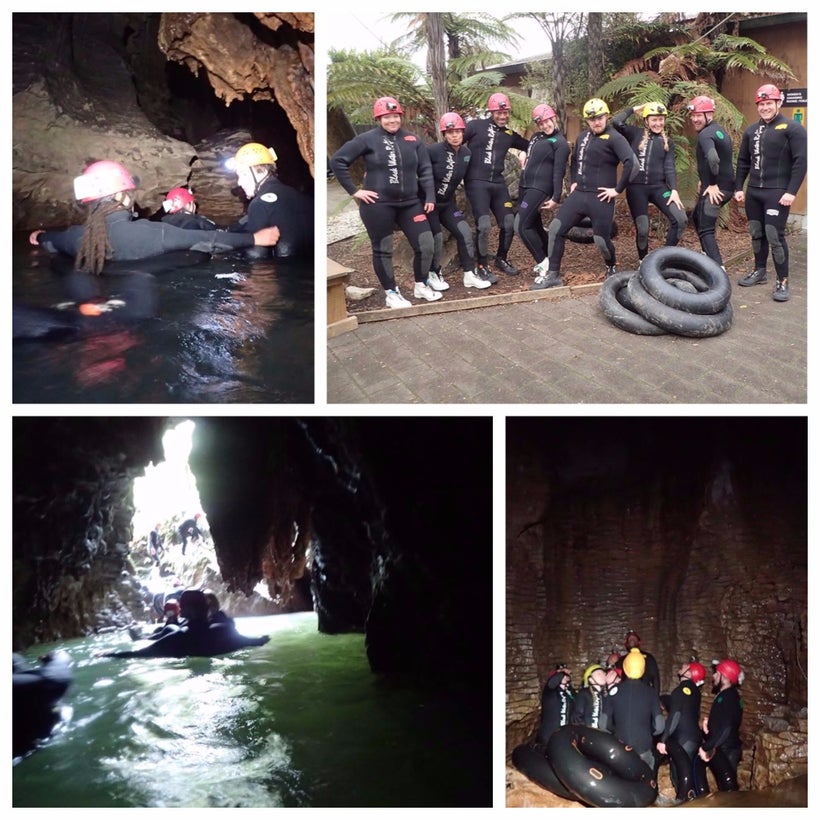 From Waitomo we made our way to Wellington, the capital of New Zealand. Wellington is a beautiful windy city with many great eateries, lots to do, great museums, and much more. The street art and culture is vibrant. As an NY girl and world traveler, I appreciated the familiar sights and sounds of city life. I felt very much at home and that was nice since I have been away from home for awhile now. Traveler Tip: For museum buffs the Te Papa museum is a must visit and is free and open to the public. Some highlights from Wellington: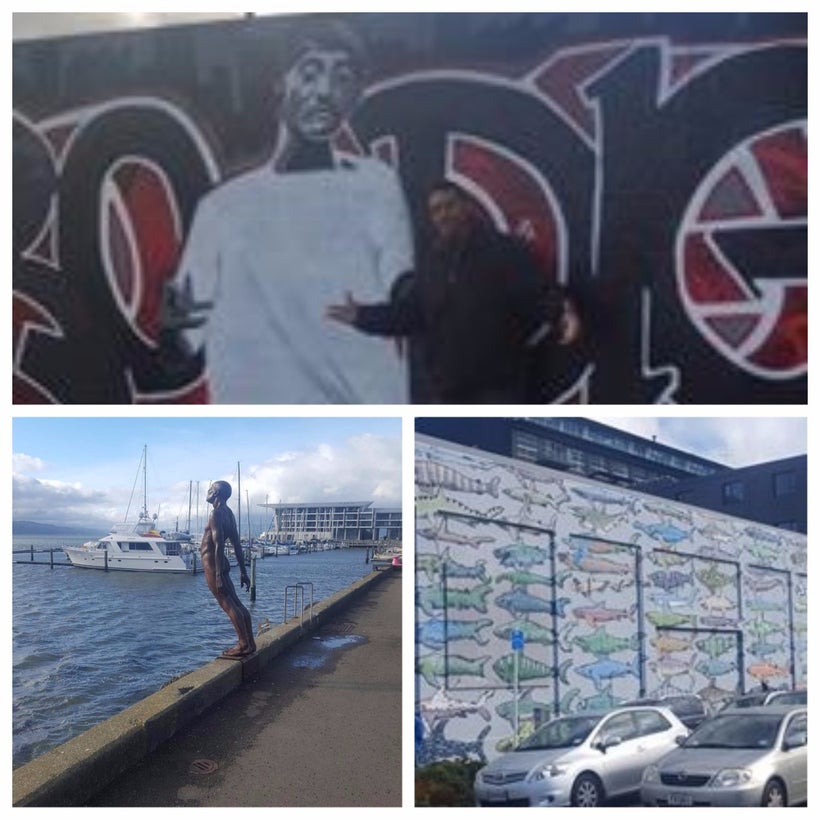 We then made our way to the "interislander" or "picton" ferry which transports commuters and tourists alike between the North and South islands and is how part two of our New Zealand adventure began.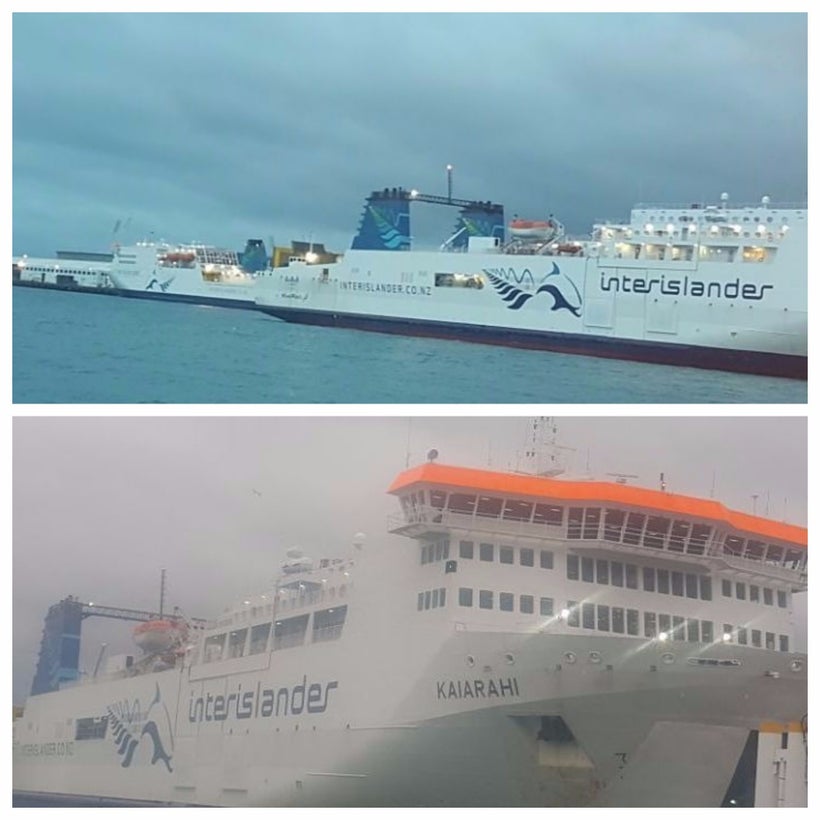 Stay tuned for part two of the adventure in New Zealand's south island coming soon and feel free to check out other recent work of mine at: www.liaworldtraveler.com or www.facebook.com/LiaWorldTraveler!
Calling all HuffPost superfans!
Sign up for membership to become a founding member and help shape HuffPost's next chapter
This post was published on the now-closed HuffPost Contributor platform. Contributors control their own work and posted freely to our site. If you need to flag this entry as abusive,
send us an email
.