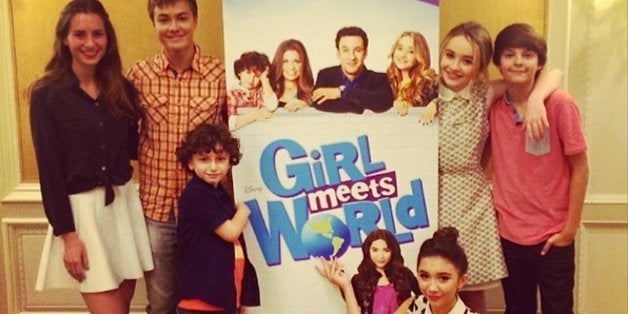 If you haven't heard, "Girl Meets World" premiered on June 27 and the new cast is feeling the pressure.
With a seven-season run on ABC, "Boy Meets World" became one of America's most beloved sitcoms, with Cory and Topanga's love saga ending in a move to New York City. Now, Ben Savage, Danielle Fishel and the newest additions to the Matthews family are picking up quite a few years down the road with a different city, a different network, but the same heartwarming morals.
HuffPost Teen had the chance to talk to Rowan Blanchard (who stars as Cory and Topanga's daughter, Riley Matthews), Sabrina Carpenter (Riley's best friend, Maya Hart), Peyton Meyer (who plays Lucas Friar, Riley's love interest), Corey Fogelmanus (the 2014 version of Minkus) and Auggie Maturo (who plays Cory and Topanga's son, Auggie). Here are the five things you must know about them and the newest Disney Channel show.
1. You're going to meet some interesting characters throughout the season.
Rowan discussed her favorite episode, "Girl Meets 1961," where each of the cast members will be playing their great grandparents. Sabrina mentioned her least favorite episode, where she'll be dressed up as Benjamin Franklin. There was also news that many of the older characters, such as Ryder Strong (who played Shawn Hunter), Betsey Randle and William Russ (Amy and Alan Matthews, Corey's parents), William Daniels (Mr. Feeny) and Lee Norris (Minkus) will all appear in various episodes of the series.
2. Rowan Blanchard and Sabrina Carpenter (who play best friends Riley Matthews and Maya Hart) are actually best friends in real life.
They're definitely not faking the on-air chemistry. When asked what three things she would want to bring with her on a deserted island, Rowan quickly answered "Sabrina!" before asking if her whole family could count as her second or third item. Despite their three-year age difference (Rowan is 12 and Sabrina is 15), these girls definitely qualify as BFFs. "It's a great balance because I'm short and she's tall, she's brunette and I'm blonde," Sabrina said. "We're the perfect opposites."
3. The entire cast loves Demi Lovato and Selena Gomez a lot.
No surprises here. When asked which Disney celeb they would want to guest star on the show, the answer was unanimously Demi or Selena. "No matter what's in the news, they're both ridiculously talented," Rowan said.
4. Without "Hannah Montana," Sabrina Carpenter might not have realized she wanted to act.
You may not know, but Sabrina Carpenter is an incredibly talented singer. She's not only one of the stars of the show, but also has a record deal -- yet without "Hannah Montana" she might not have either. "My first inspiration for acting came from the first episode of Hannah Montana," she said. "That's when I knew I wanted to be a singer and an actress."
5. The show is going to be filled with tons of valuable life lessons.
Some of the most memorable takeaways from "Boy Meets World" were the morals and lessons at the end of the episodes. Whether it was a lecture from Mr. Feeny, a scolding from Mr. and Mrs. Matthews or advice from Mr. Turner, there was always someone imparting wisdom on the characters and the viewers. According to the "Girl Meets World" cast, not much has changed in that aspect. "I hope the fans will take away the life lessons," Rowan said. "What makes the show so special is that we teach life lessons through comedy, and I hope they take them away."
Related
Popular in the Community