Art fairs have become an essential ritual in the rhythm of the art world with collectors, curators, museum groups and artists regularly joining hundreds of dealers at major fairs around the world. The established fairs, such as Art Basel and Frieze, have spawned a range of concurrent fairs focused either on a particular medium, a unique presentation strategy or featuring emerging galleries. All in all, art fairs are an efficient way to see a lot of great art in one place, to meet dealers from around the world and to learn about an incredibly diverse range of gallery programs.
This week, no fewer than 10 art fairs will open in New York, including the prestigious Art Show, presented by the Art Dealers Association of America, the Independent Art Fair, an innovative fair founded by New York gallerist, Elizabeth Dee, VoltaNY and the Armory Show, among others. Nearly 300 dealers from 30+ countries will be participating making it virtually impossible to see everything. We've handpicked 15 "don't-miss" installations that reflect the very best in contemporary art today plus an extra one for good luck.
Housed in the Gothic Revival-style Seventh Regiment Armory on Park Avenue, The Art Show, now in its 24th year, is presented by the Art Dealers Association of America (ADAA) and is the longest running art fair in the United States. Known for the high caliber of presenting galleries and for its intimate, refined environment, Art Show organizers also encourage dealers to curate selections along thematic or conceptual lines or to present an artist's practice in depth via solo and two-person exhibitions. Don't miss the following standout presentations:
Founded in 1980 by Janelle Reiring and Helene Winer, Metro Pictures has established a conceptual program that spans multiple disciplines and includes some of the most interesting artists working today. For the Art Show, the gallery is presenting an incredible series of uniquely narrative photographs by Cindy Sherman, executed between 1975 - 1977. The pictures, taken before the artist's acclaimed Film Stills, tell the story of a murder mystery with various roles played by Sherman. They are amazing. Metro's booth is located right at the entrance to the show so you can't miss it. And you shouldn't.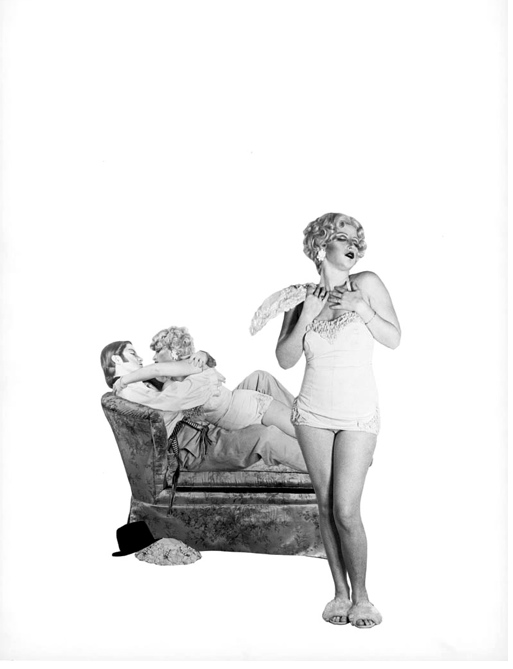 Cindy Sherman, Untitled (Murder Mystery Collage), black and white photograph, 1975-1977, 8x10"
Jim Cohan and his amazing directors, Elyse Goldberg and Arthur Solway, regularly mount provocative, curated shows at the gallery and at art fairs around the world. For the Art Show, the Gallery presents A History of Darkness, a selection of works by artists (Trenton Doyle Hancock, Bill Viola, Mario Merz, Yinka Shonibare, Shinique Smith and others) exploring our relationship to the unknown in both inner and outer space.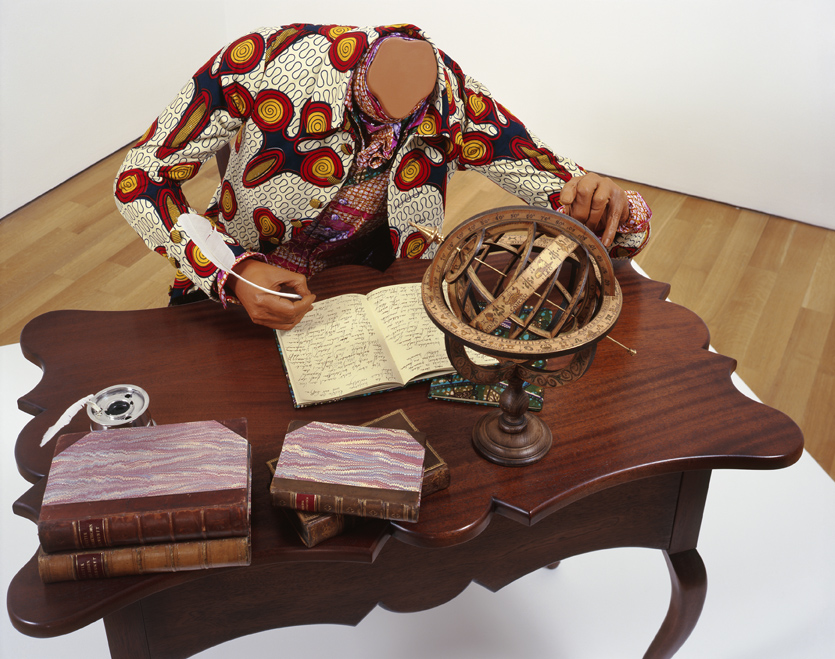 Yinka Shonibare, The Age of Enlightenment - Immanuel Kant, Sculpture: Life-size fiberglass mannequin, Dutch wax printed cotton, mixed media, 2008, 59 1/2" x 43 1/2" x 26"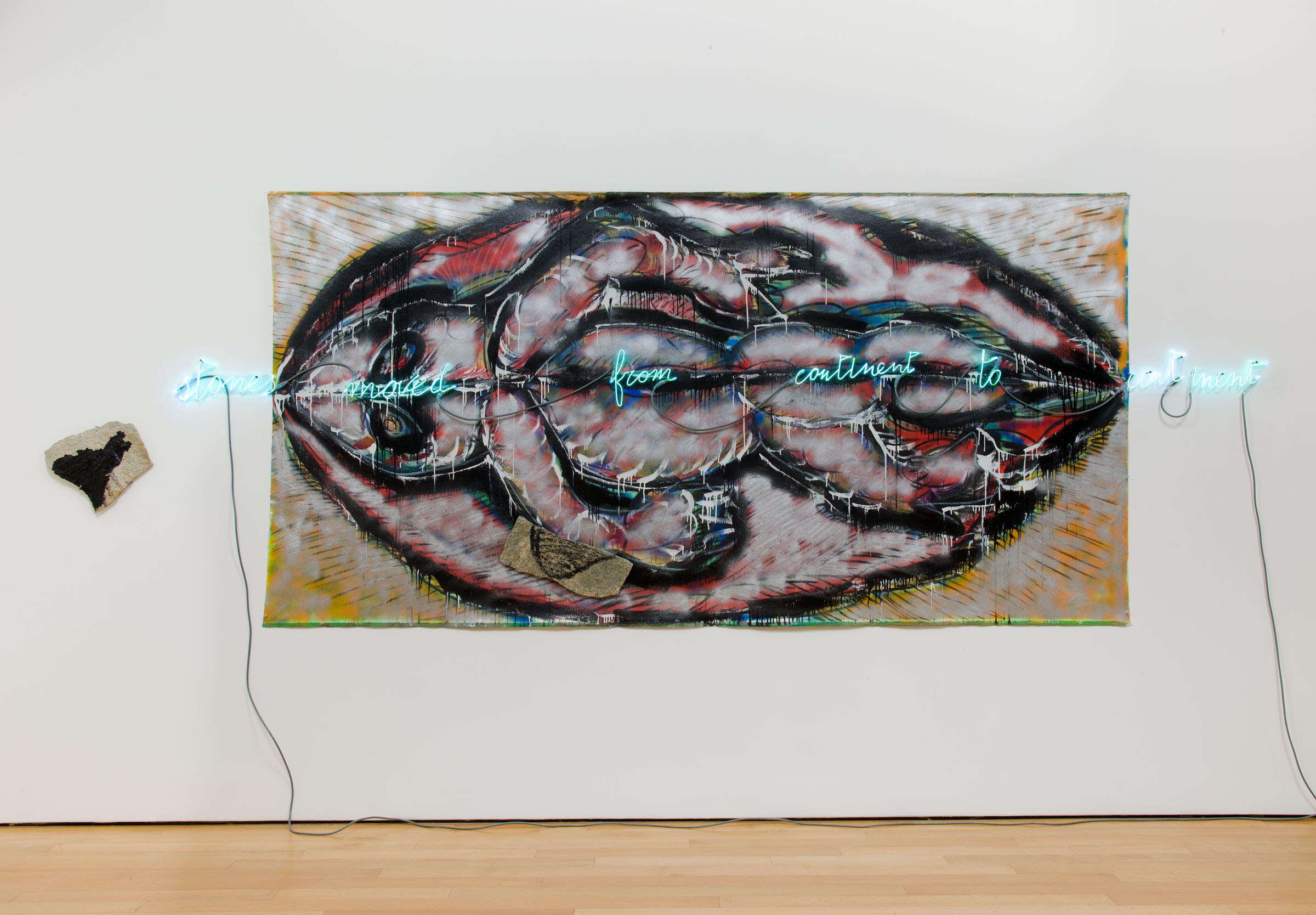 Mario Merz, Stones Moved from Continent to Continent, 1983-84, Oil on canvas & neon, 60 x 120 in.
Chris D'Amelio's new gallery is set to open this Saturday with an inaugural exhibition featuring Polly Apfelbaum. We're excited to see his presentation at the Art Show of early paintings by Daniel Hesidence. These haunting, figurative paintings reveal a mastery in the application of paint as well as an affinity for post-war European painting strategies that emphasized the intuitive over the formal.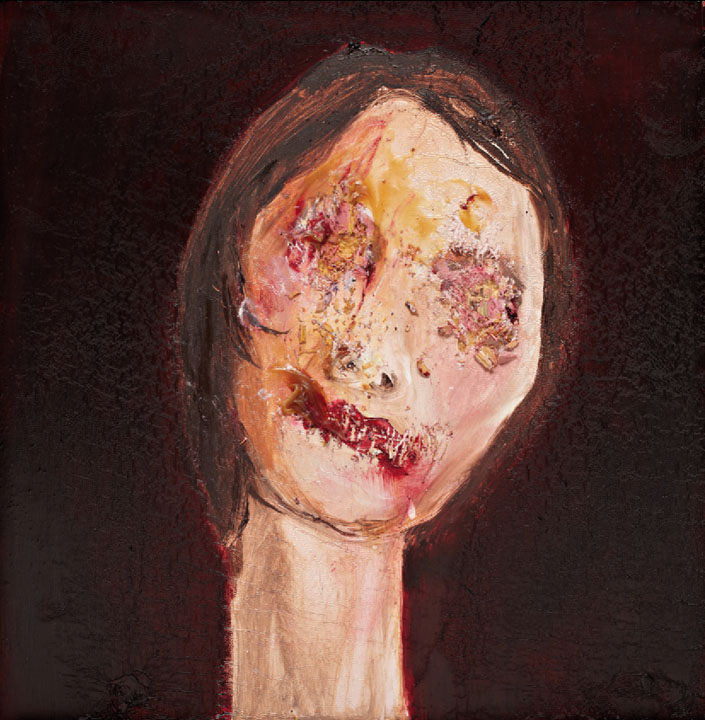 Daniel Hesidence, Oil on wood panel, 15x15"
Over thirty years after her death at the age of 22, the influence of Francesca Woodman continues to grow. The artist's extraordinary exploration of portraiture and the relationship of the body to architectural space is revealed in vintage photographs taken by Woodman between 1972 and 1981. Marian Goodman will also present a large scale diazotype by the artist. On March 16th, a retrospective of the artist's work will open at the Solomon R. Guggenheim Museum.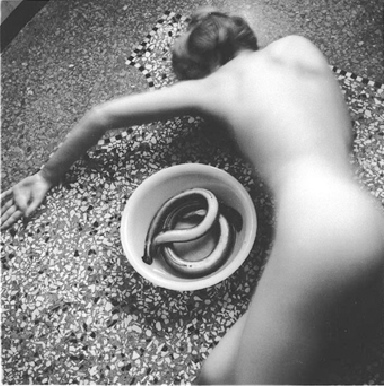 Francesca Woodman, I 217, 1977-78, Vintage Silver Gelatin Print, 6x6"
Mary Sabbatino has ably guided the program at Lelong's New York outpost for over 20 years and has mounted some of the most important gallery exhibitions of any New York dealer. At the Art Show, Sabbatino curated a historical exhibition that showcases the Gallery's commitment and support for notable female artists, beginning with Louise Bourgeois' first European exhibition in 1985. Here First will feature works by Bourgeois, Petah Coyne, Jane Hammond, Yoko Ono, Nancy Spero, Catherine Yass, and others.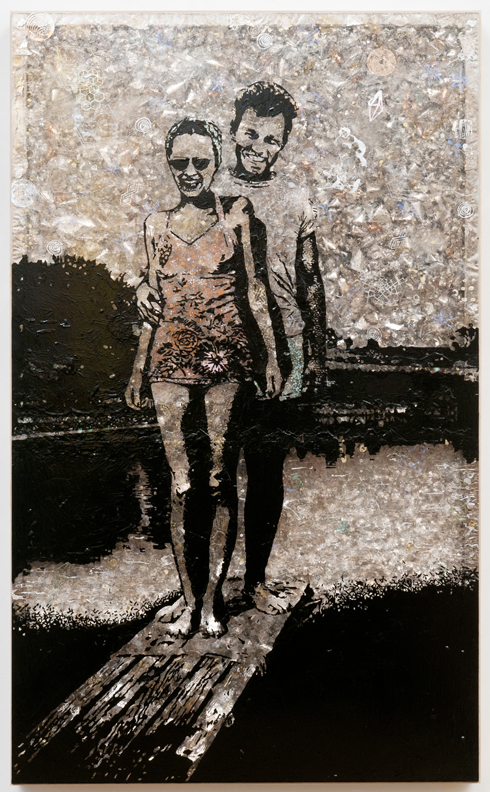 Jane Hammond, Diving Board Couple, Acrylic paint on mica over plexiglass with silver, gold, copper and palladium leaf, 2012, 51.5x31x3.75"
Roland Augustine and Lawrence Luhring have built one of the strongest contemporary art programs in the world, encompassing established and emerging artists alike. Los Angeles-based artist Elad Lassry was a standout at the New Museum's 2009 exhibition: The Generational: Younger Than Jesus and impressed further in the 2010 New Photography show at MoMa. Working across mediums, his work investigates how our perception of images changes depending upon the social and/or historical context within which they are presented. Luhring Augustine will present three new photographs, two charcoal works on paper and two sculptures.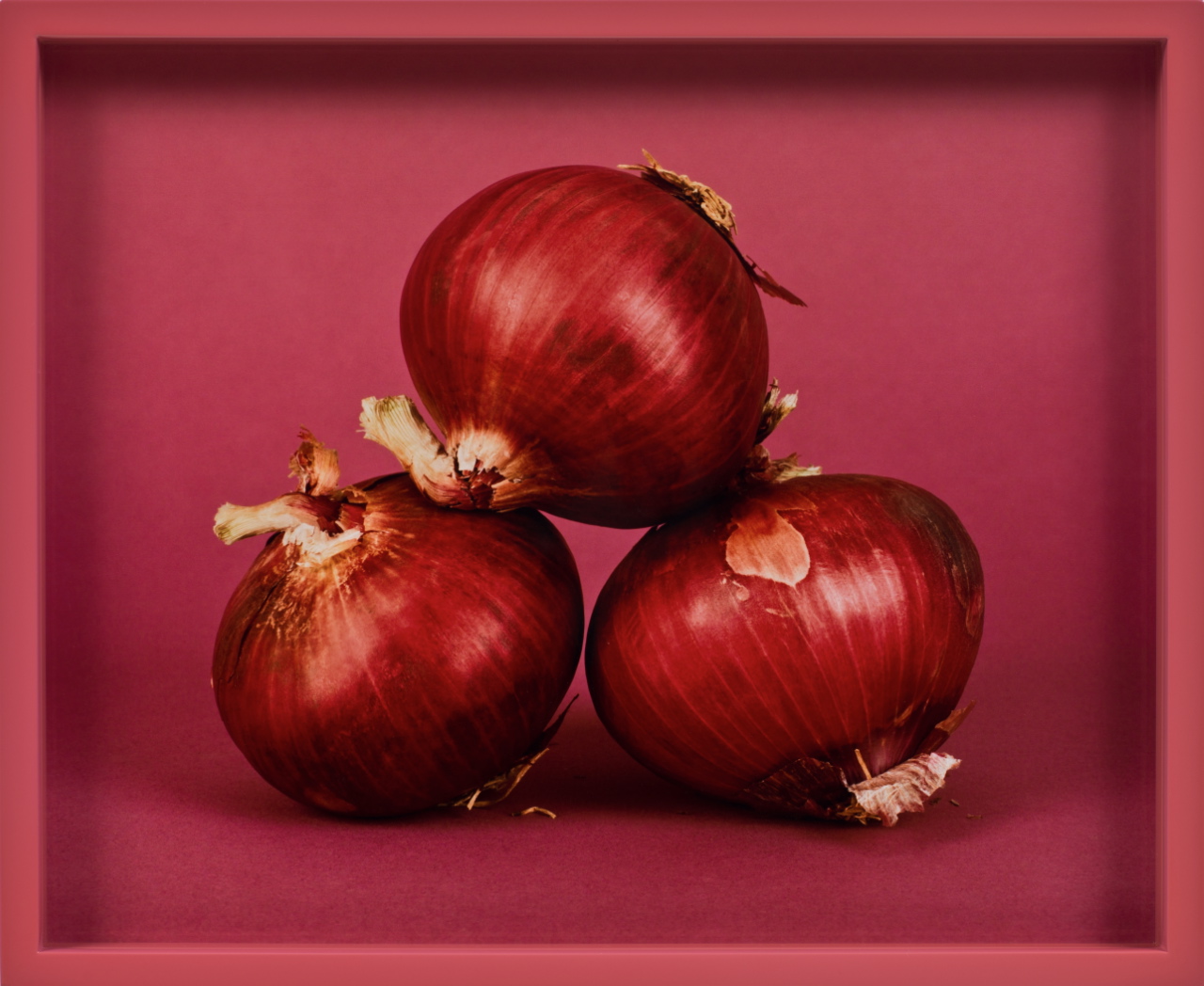 Elad Lassry, Onions, C-print with painted frame, 2012, From an edition of 5 and 2 artist's proofs, 9 1/2 x 11 1/2 x 1 1/2"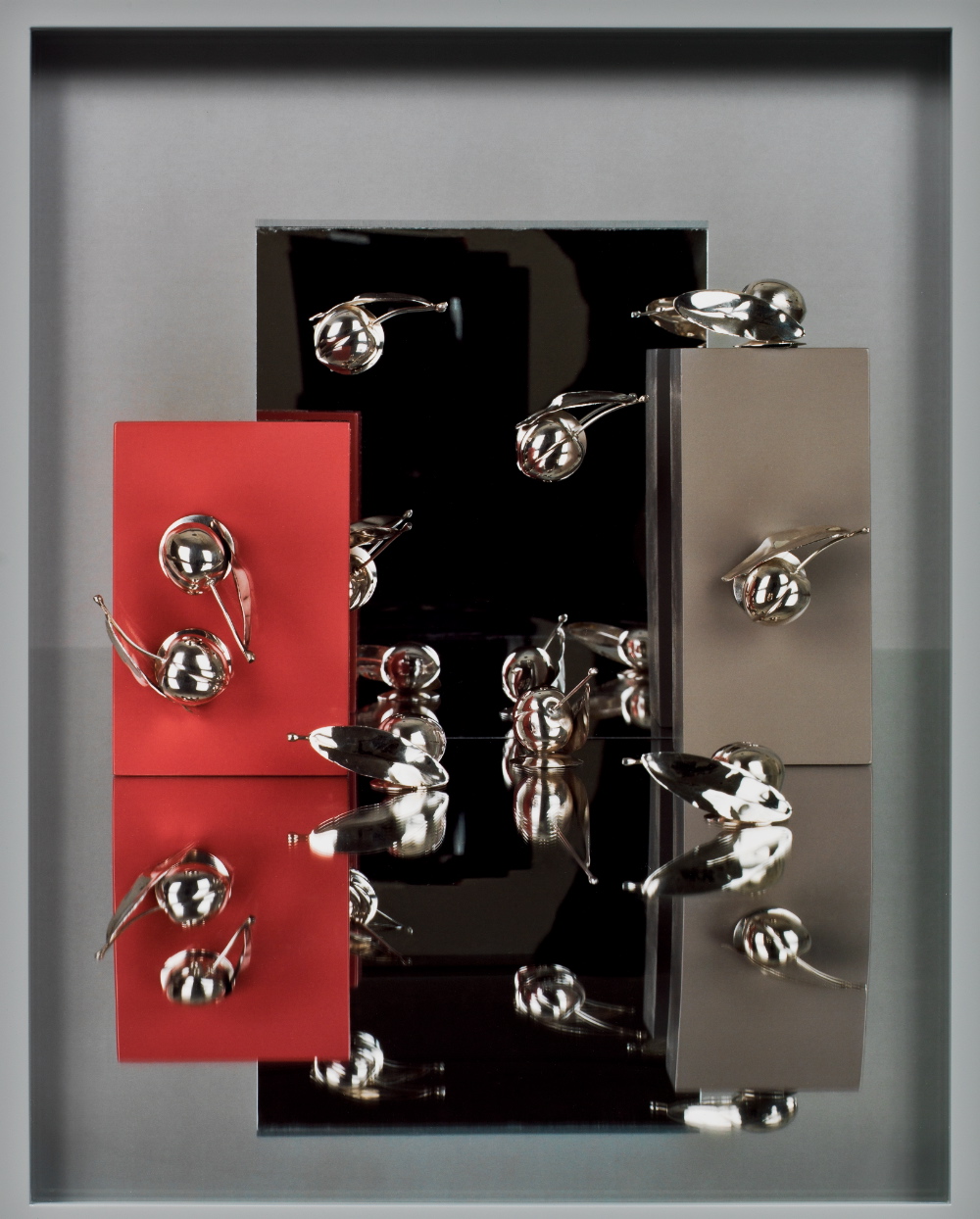 Elad Lassry, Cherries (Silver), C-print with painted frame, 2012, Edition of 5 and 2 artist's proofs, 14 1/2 X 11 1/2 X 1 1/2 inches. Images courtesy of the artist and Luhring Augustine, New York
Occupying two piers on Manhattan's West Side riverfront, the Armory Show presents a range of contemporary art galleries at Pier 94 as well as modern art dealers on Pier 92. The 2012 edition of the fair is slimmed down from prior years with a cross section of established, emerging and international dealers.
A late addition to the Armory Show, Zwirner will present a new site-specific work, as well as new works by Frankfurt-based conceptual artist, Michael Riedel. Riedel's work involves re-interpretation of a wide range of cultural artifacts--he re-stages happenings such as concerts, film screenings and art exhibitions while re-creating the works of other artists including Neo Rauch, whose gallery show at Zwirner was reproduced as black-and-white digital prints and mounted in various configurations throughout the space. Riedel will be on hand on March 10th at the booth for a book signing from 11:00am - 12:00pm.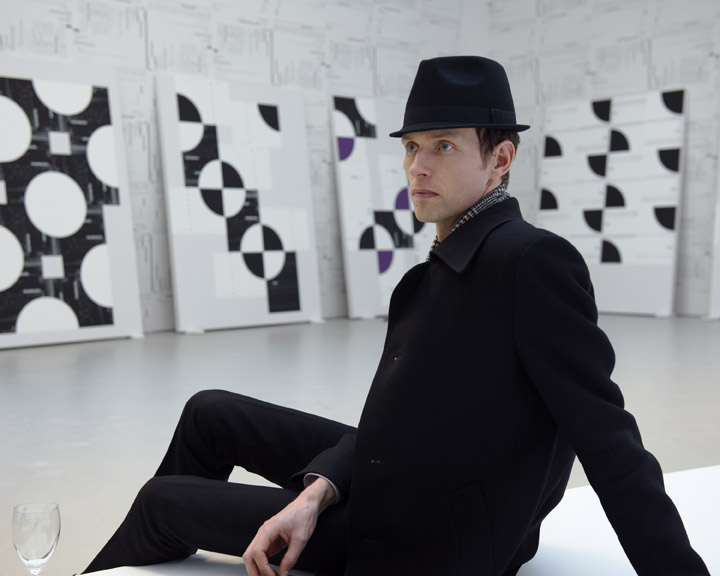 Opened by Mary Leigh Cherry and Phillip Martin in 2006, Cherry + Martin has one of the strongest emerging programs on the West Coast, representing Los Angeles-based and international artists, collaborating closely with them in long-term relationships that facilitate understanding and awareness of their work. They'll present works by Nathan Mabry, Jack Dale, Amanda Ross-Ho and others. Cherry + Martin is one of the few galleries to harness the power of technology to provide a presentation of works to be shown at the fair online.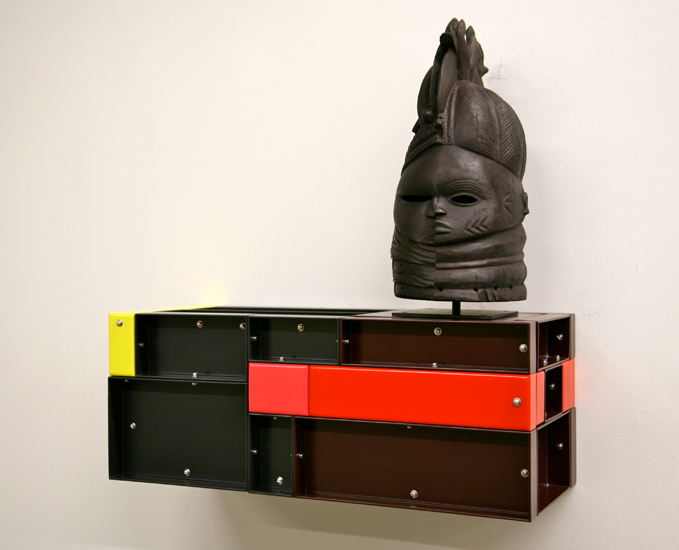 Nathan Mabry, u.n.t.i.t.l.e.d. (Reclining Figure with Arms by Sides-Red), Bronze, aluminum, paint, stainless steel, 2012, 28 x 27 x 11 inches
Curator Augusto Arbizo heads up Eleven Rivington. The gallery represents a full program of emerging American, South American, and European artists and is focused on the development of both young and mid-career talent. Opened in 2007, the gallery has presented the New York gallery debuts of Hilary Berseth, Caetano de Almeida, Michael Delucia, Volker Hueller, and Valeska Soares, among others.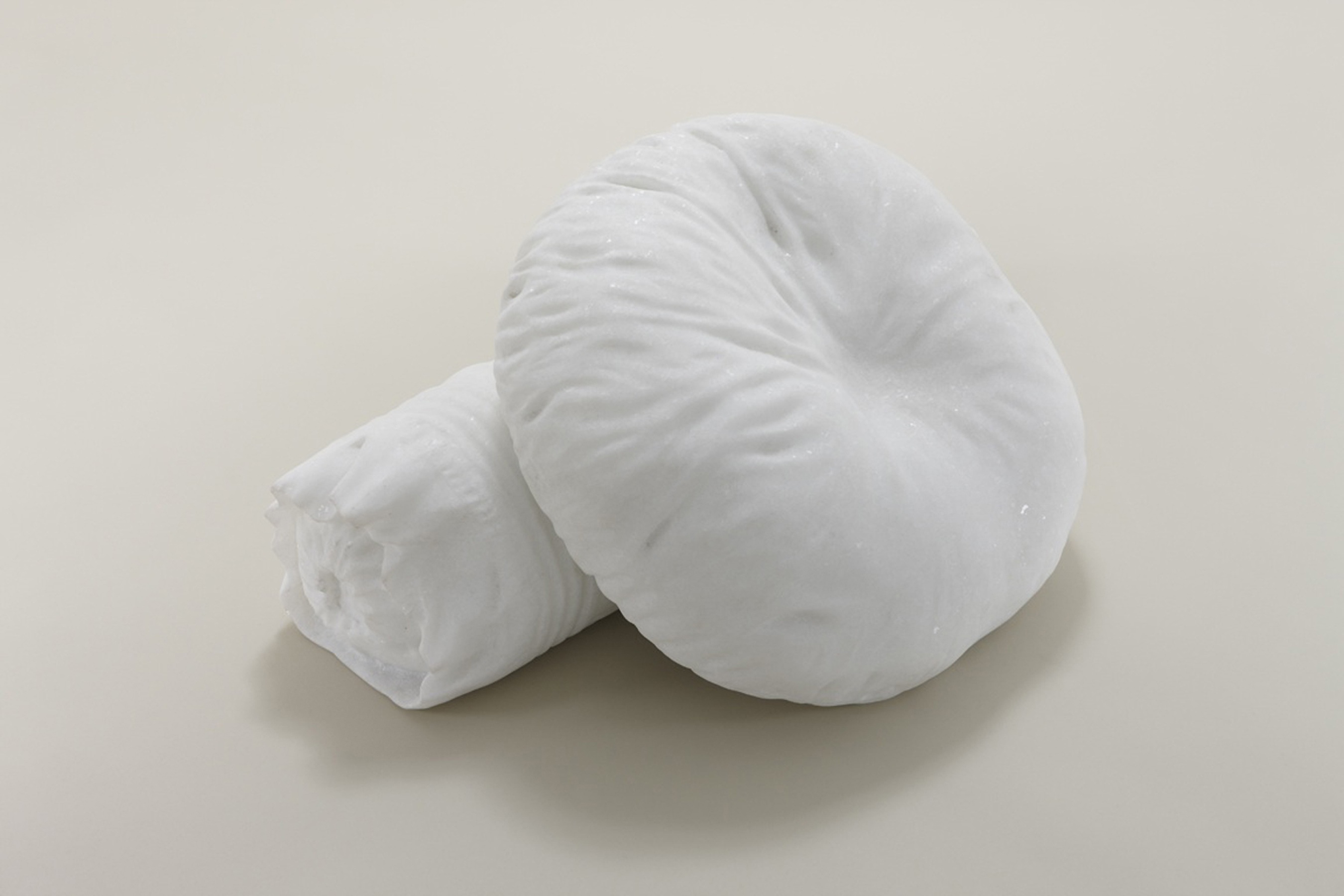 Valeska Soares, Untitled, Hand-carved marble, 2 parts, 2011, Courtesy Eleven Rivington, NY
Kate Levant's work -- encompassing drawing, collage, photography, installation and performance elements -- is deeply connected to the material and the process of juxtaposing diverse components to convey meaning. She gained visibility when, while still a student at Yale University School of Art, she staged a Blood Drive at Zach Feuer Gallery. Levant was chosen for the 2012 Whitney Biennial where her tapestry-like installation, currently on view, utilizes salvaged construction material from a abandoned house in her hometown of Detroit to make a poignant statement around the endless cycle of renewal and neglect.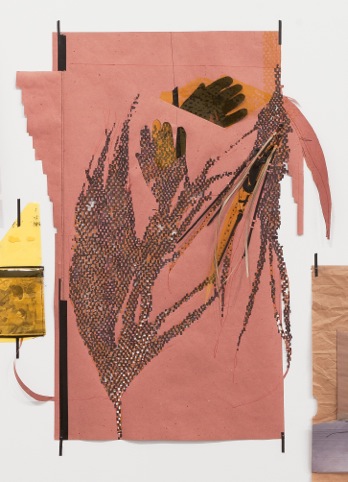 Kate Levant, Black Glove Palm Graft, Paper, permanent marker, plastic, digital printout, electrical tape, zip ties, palm fronds, latex paint, thread, 2011, 35 1/2 x 28 3/4 inches
Rhona Hoffman has been a fixture in the contemporary art scene in Chicago and internationally since her eponymous gallery opened in 1983. Hoffman worked, early on, with a wide range of artists including Cindy Sherman, Jenny Holzer and Barbara Kruger and more recently with Kehinde Wiley, Homa Bhaba and Spencer Finch. At the Armory, Hoffman will showcase works by Luis Gispert, Jacob Hashimoto and Robert Overby.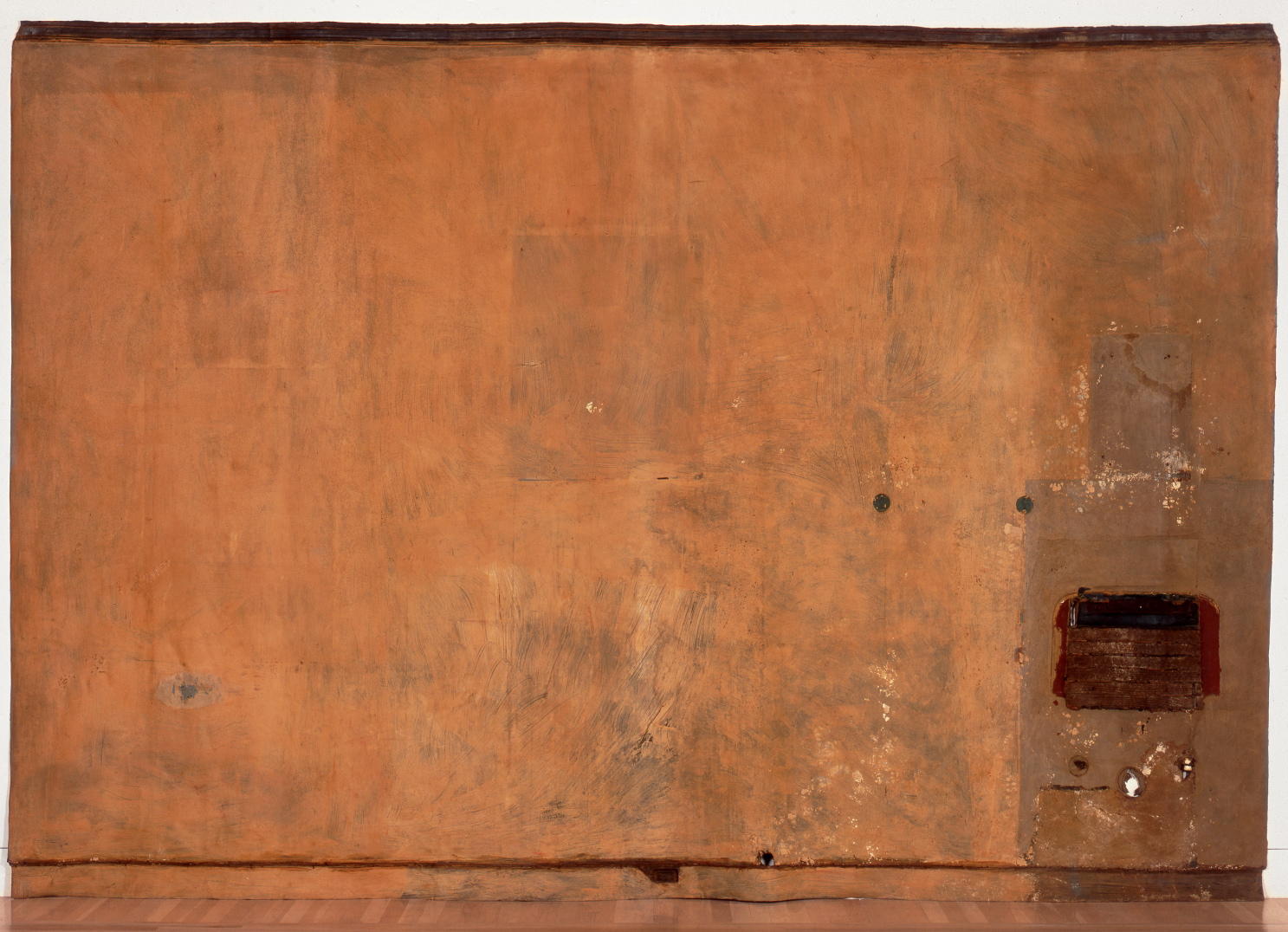 Robert Overby, Colored room wall, third floor, Latex rubber, 4 August 1971, 104.5 x 153 inches
Max Levai is in the early stages of a transformation of this storied gallery that will make it a major participant in the contemporary art dialogue, complementing its historic focus on the modern. Look for compelling works by Robert Lazzarini, Rashaad Newsome, Freeman and Lowe and Kurt Schwitters.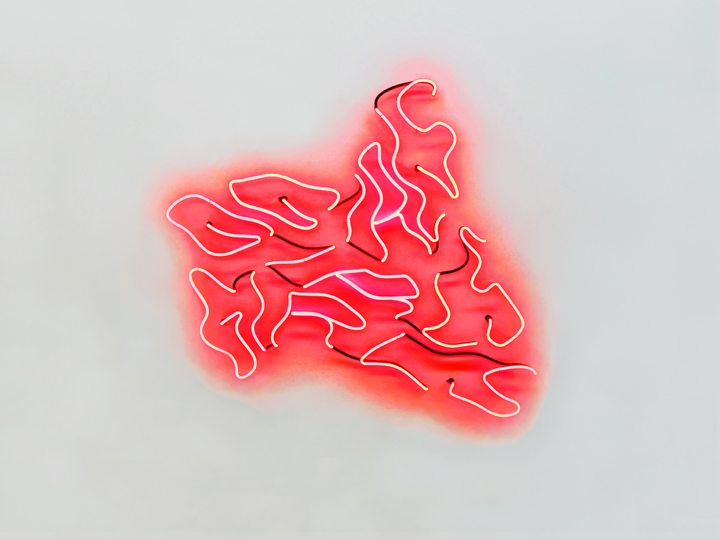 Robert Lazzarini, neon sign (girls, girls, girls), Neon Tubing, 2011, 52 x 58 x 2.5 in. Edition 1 of 6
Chris Perez cut his curatorial teeth working with Larry Rinder at the Whitney Museum. He opened Ratio 3 in San Francisco in 2007 and will present new works by Lutz Bacher, Mathew Hale and Geof Oppenheimer.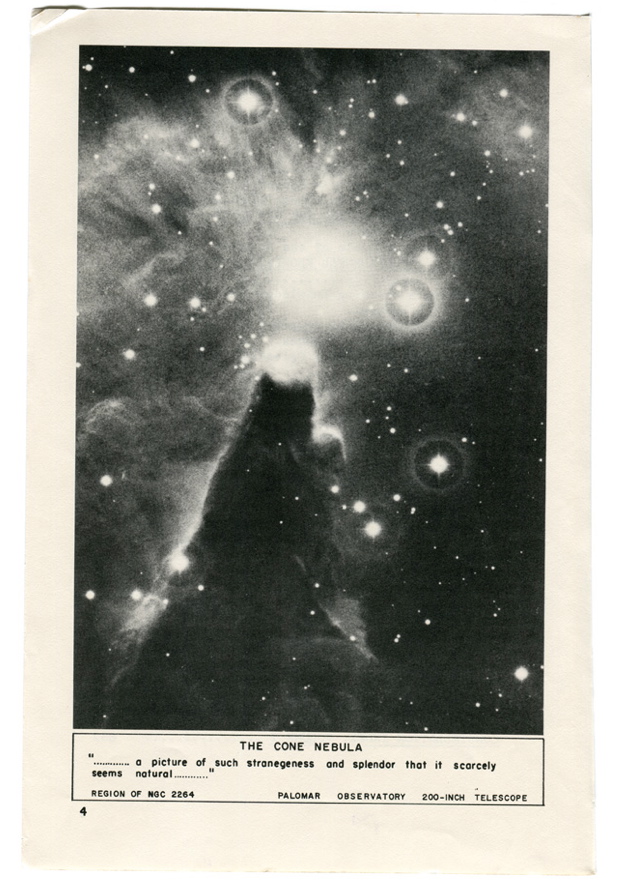 Lutz Bacher, The Celestial Handbook, Framed offset book page, 2011
Now in its third year and taking full advantage of the outsized floor plan of the historic Dia building in Chelsea, The Independent is a new, fresh fair organized by New York gallerist, Elizabeth Dee, Darren Flook and curator Matthew Higgs. Dubbed a "temporary exhibition forum," the layout of the fair reflects the "spatial and curatorial concerns" of the 43 presenting galleries. The result is a easy-to-manage, open, airy kunsthalle filled with well-conceived installations from some of the top galleries in the world.
Feature Inc. Gallery has a reputation for showing equal-opportunity provocateurs (see the artists Richard Kern and Tom of Finland) as well as nourishing established talents like Dike Blair, Nancy Shaver, and David Moreno. Founded by art dealer and downtown fixture Hudson, the gallery has led a peripatetic existence, first opening its doors in Chicago in 1984 and then moving to five different locations in New York -- always staying one step ahead of fires and other adversities. A true survivor, Feature has earned the longstanding goodwill of the art community through sheer doggedness.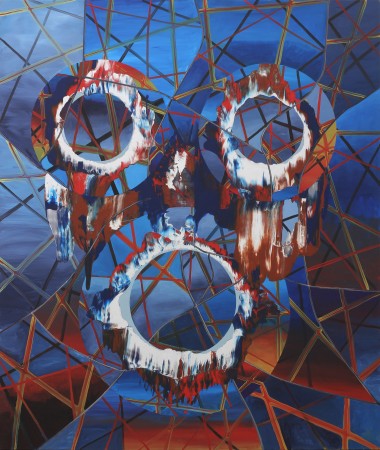 Bill Komoski, 1/3/12, Acrylic on canvas, 2011
Amanda Coulson has done an outstanding job crafting in Volta a curated fair featuring solo exhibitions of exciting emerging and mid-career artist projects from an international roster of galleries from 25 countries. Because of the fair's emphasis on single-artist projects, this fair feels more like a series of intensive studio visits. If engaging deeply with artists is of interest, don't miss the 2012 edition. Here are three standouts:
A former director of Rena Bransten Gallery in San Francisco, Maciel opened his Los Angeles-based gallery in 2006 with an emphasis on emerging and mid-career artists and has demonstrated an ability to identify a range of interesting artists from around the world.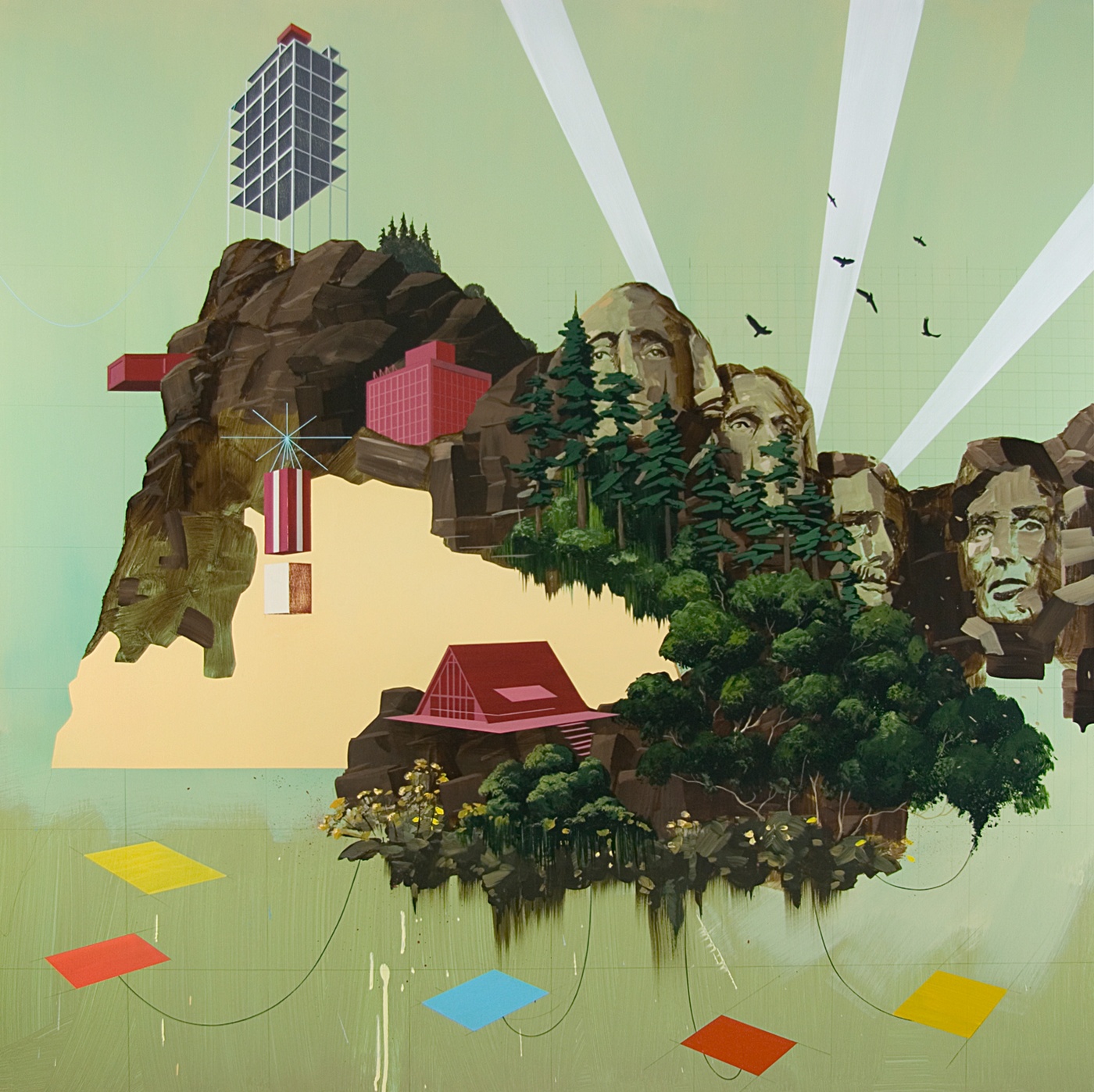 Dean Monogenis, It Starts with Legos, Acrylic on wood panel, 2012, 48x48"
Located in the Williamsburg section of Brooklyn, Alun Williams has been presenting a range of American and international artists for over a decade. In the process, he's established a reputation for showcasing innovative artistic practice. This work by Stefan Sehler is achingly beautiful.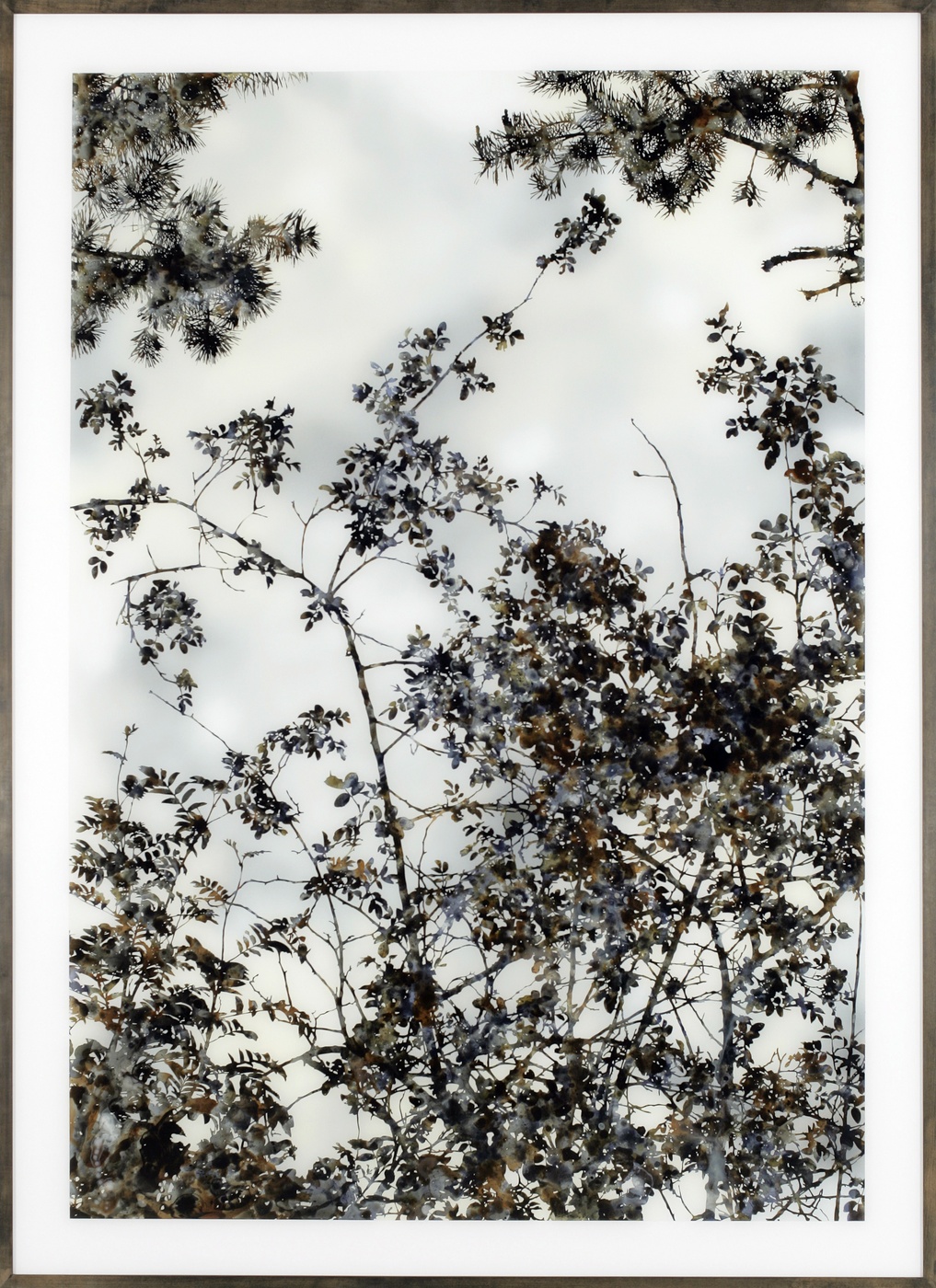 Stefan Sehler, Untitled (Marsh V), Oil, enamel and acrylic behind plexiglass, 2012, 86x62:
The galleries we've highlighted provide a great cross-section of the wide range of diverse artistic practice happening around the world today. Of course, there are many, many more deserving of mention, but if you're looking for a curated selection and need a guide, you can't go wrong with this group. They're not only smart, but they are approachable and genuinely interested in sharing their passion for their artists and the programs they've built. Additional details on a wide range of gallery programming may be found here.
An earlier version of this post incorrectly referred to Alun Williams as Alun Parker.
REAL LIFE. REAL NEWS. REAL VOICES.
Help us tell more of the stories that matter from voices that too often remain unheard.