Beginning on November 1, Performa 13 will again take New York with over 100 events across 40 venues in the city.
Per the past editions of this biennial, which is dedicated to new visual art performance and which works in collaboration with a network or "consortium" of commissioning arts organizations, it will also be presented across a wide range of locales. From the Russian Turkish Baths on 10th Street to the Museum of Modern Art, established visual artists, choreographers, musicians, filmmakers, and performance artists from around the world will come together and collaborate, in some cases, in presentations of work engaging with Surrealism, citizenship, and voice.
Performa is both a stage for the seasoned artist -- Marianne Vitale, Rashid Johnson, Ryan McNamara, Jerome Bel, and Joan Jonas are among this year's stable -- and a testing ground for young up-and-comers like recent Columbia grad Molly Lowe ("the offspring of Mike Kelly and Paul McCarthy," according to RoseLee Goldberg). And -- a particular strength -- it features cross-disciplinary exploration by major artists who have no prior experience with live performance (this year, Rashid Johnson).
Here are our top 10 picks for works we're anticipating at Performa 13.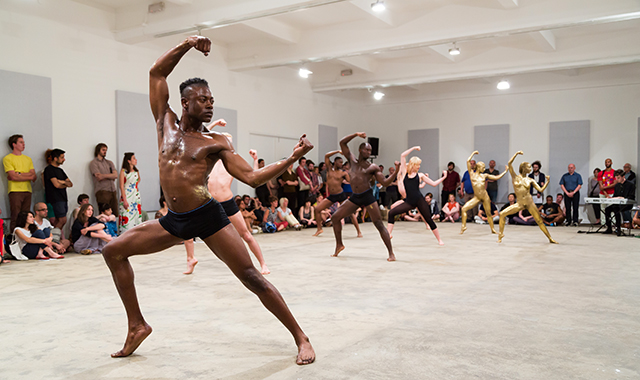 Eddie Peake, "Amidst A Sea Of Flailing High Heels And Cooking Utensils, part 2," Chisenhale Art Gallery, London, July 26th 2012
"Voice Is the Original Instrument," featuring Maja Ratkje, Joan La Barbara and a piece by Meredith Monk, November 2
Vocalist and composer Joan La Barbara has been pushing the limits of voice since the earliest days of her career, when she collaborated with artists and musicians like Bruce Nauman, John Cage, Judy Chicago, and Merce Cunningham. Now La Barbara and Norwegian composer and performer Maja Ratkje are headlining this concert, exploring the female voice in works ranging from avant-garde to pop, including a piece by the legendary vocalist/filmmaker/choreographer Meredith Monk. Curated by Mark Beasley, this Performa Project and one-night happening should be one of the standouts of the biennial.
Shana Lutker, "The Nose, The Cane, The Broken Left Arm," November 19, 20
Los Angeles-based artist Shana Lutker has been researching the fistfights of the Surrealists for nearly two years. Her Performa play, curated by Summer Guthery, is based on one such fight, at the 1923 staging of "The Evening of the Bearded Heart," Tristan Tzara's final Dada event. André Breton, Pierre de Massot and other Surrealists got in a heated kerfuffle over Pablo Picasso's honor, which ended with Breton caning Massot and breaking his arm. Lutker gives us a new take on the story, with characters from various works of Surrealism -- one of the loose themes of this year's Performa -- breaking away from their texts. The show will also be a good opportunity for New Yorkers to get a taste of this increasingly prominent Angeleno's work.
Pawel Althamer, "Biba Performa"
If you visited the Venice Biennale this year, you might have seen Polish sculptor Pawel Althamer's installation "Venetians" at the Encyclopedic Palace, a large-scale tableau of life-sized figures created by casting the faces and hands of Venice residents and affixing them to bodies of extruded plastic ribbon. If you missed that, you'll get to see the artist's first major public work in New York at Performa. Situated in the Williamsburg, Brooklyn bar for which it is named, "Biba" is one of the biennial's few long-term installations. Althamer was interested in the word Biba, which has associations from the Polish Communist era -- when it was used to connote lazy downtime in the work-day -- as well as the present, in which it suggests excessive drinking and partying. Althamer will arrange a series of events and interventions with his sons Szymon, a chef who will help create a bar menu, and Bruno, an artist who will preside over creative workshops. Apart from it being part of Performa's Pavilion without Walls, it's okay to get convivial here. It's all part of the plan.
ThreeASFOUR, "Fest," Sunday, November 10
It's not often that visitors to an art exhibition get to break bread or think about high fashion. But they will have the chance to do both at threeASFOUR's contribution to Performa, where models will sport edible couture baked in Platonic shapes that can be broken and dipped into spices blended to suggest the classical elements of fire, water, ice, ether, and air. This ritualistic feast, which coincides with the design trio's current exhibition "Mer Ka Ba" at the Jewish Museum, will happen only once. It's free, but visitors must RSVP.
Tori Wrånes, "Yes, Nix," November 22, 23
Tori Wrånes creates performances rooted in voice and sculpture. For her recent sound-on-wheels piece "Spin Echo," she employed a choir on bicycles and musicians in carts pulled by bodybuilders to transform the cavernous parking garage at the Disney Concert Hall in Los Angeles into a mystical space filled with voice, sound, and motion. For her stint at Performa 13, co-produced with Ny Musik as part of the Pavilion Without Walls, Wrånes will create a new composition and site-specific work. No further information is being revealed, but those who saw "Spin Echo" have high expectations.
Ryan McNamara, "MEƎM: A STORY BALLET ABOUT THE INTERNET," November 8-12
Performance artist Ryan McNamara caused a stir last year when, for his show at Elizabeth Dee, he had visitors pose for portraits with props like wigs, a leather mask, and golden angels wings, and then created Victorian decoupage-like sculptural collages that he later showed in the gallery space. This time around, copying, appropriating, and Tweeting are some of the jump-off points for his "choreographed exploration" of the online world. His dance, which will play on the rapid, abrupt quality of online engagement, will be an immersive event that interrogates the "possibility of a singular 'experience' today." And as always, McNamara is sure to be a crowd-pleaser.
Derrick Adams, "Once Upon a Time...," November 9 (two performances)
In this new work commissioned for Performa by the Calder Foundation, multi-disciplinary artist Derrick Adams -- whose collages, video, and performance work frequently navigate how we engage with "overlooked histories" -- explores the cultural mainstay of school kids being taught to recite historical texts. Teenagers will be enlisted to reinterpret three Harlem Renaissance-era poems by Langston Hughes, Claude McKay, and Laurence Dunbar, against a backdrop of projections of Calder drawings sourced from the foundation's archives. For a good feel of what Performa is really all about, this cross-generational, cross-disciplinary artistic collaboration should not be missed. It's free, but takes place on one night only.
Joan Jonas, "Reanimation," November 15, 16
In addition to being one of the most groundbreaking video and performance artists in the '60s and '70s, Joan Jonas was also one of its most prominent female figures. From appearances as alter ego Organic Honey (an "electronic erotic seductress") staged in her New York loft, to her 2002 installation and performance at Documenta 11 based on the myth of Helen of Troy, Jonas has made a career of exploring themes of the self and the body. For Performa 13, Jonas brings a multimedia installation inspired by the 1968 novel "Under the Glacier" by Icelandic writer Haldor Laxnes to New York. Debuted last summer at Documenta 13, this will likely be one of the more meditative contributions to the biennial, in which live improvisation in Jonas's spoken word and music from jazz pianist Jason Moreau combine to create an immersive atmosphere.
London-based artist Eddie Peake first started exploring the cross-pollination potential of sculpture and performance, in medium and practice, in his well-received series "Amidst A Sea Of Flailing High Heels and Cooking Utensils, part 1," last year created for Tate Modern and Chisenhale Gallery in London. Now Peake is bringing his multivalent practice and his exploration of the physical form to New York for Performa 13, where he will navigate his preferred terrain of gender, sexuality, and voyeurism through performances where bodies present either sculptural objects or nuanced emotional subjects.
Rashid Johnson, "The Dutchman," November 4-21 (Various performances)
Visual artist Rashid Johnson -- a nominee for the 2012 Hugo Boss Prize known for his photographs, sculptures, and film challenging the definitions of artistic mediums -- will be trying his hand at live performance for the first time. A re-working of "The Dutchman," a 1964 theatrical play of the Civil Rights era by LerRoi Jones (Amiri Baraka), Johnson's political allegory will take a turn for the surreal, and the steamy, when it unfolds in the Russian baths on 10th Street. The staging at the bath is a personal touch, since Johnson spent years at baths in his hometown of Chicago as a student, listening to conversations of the power players of the city of men dressed in towels. His choice to present this play at the baths according to Goldberg, is "a powerful commentary on contemporary politics in the US."
REAL LIFE. REAL NEWS. REAL VOICES.
Help us tell more of the stories that matter from voices that too often remain unheard.