Back in December, I wrote an article in which I suggested that, after a number of years in which abstraction has been the dominant mode of painting in the "contemporary art world," we might start to see an upswing in image-based painting. It is not exactly a Delphic prophecy, given the way in which today's market driven art world is constantly craving the next best thing, and, I might add, in ever more compressed cycle times. In conducting my monthly survey of commercial gallery shows this month I was struck by the amount of representational work on view, and even more so by the "academic" rigor much of it evinces. There are some examples of what I am talking about on this list, and many others can be seen on the NAP/BLOG.
In Miami, Jenny Brillhart's studio landscapes can be seen at Emerson Dorsch. Trained at the New York Academy of Art, Brillhart is deeply concerned with the language and practice of painting. In New York City, be sure to check out New American Paintings' alum Alison Blickle's solo debut at Kravets|Wehby, and the exquisite work -- which is rarely seen in the United States - of mature German painter Peter Dreher at Koenig & Clinton. In Chicago, Anthony Adcock takes trompe l'oeil painting to the edge with his gritty urban subject matter. And on the West Coast, mid-career painter Deborah Oropallo continues to astound with her painterly pyrotechnics at Catharine Clark Gallery in San Francisco. Oropallo has been exhibiting actively since the mid-1980s, yet rarely east of the Mississippi.
In Boston, Barbara Krakow Gallery has a very special husband and wife exhibition on view featuring Bronlyn Jones, whose work is non-objective, and Robert Bauer, who produces extraordinarily nuanced landscapes and portraiture. (If you have never seen one of Bauer's small portrait paintings, visit Forum Gallery's site and have a look...they possess a shocking immediacy.) Though their journeys begin in different places, Bauer and Jones are both ultimately interested in the ability of visual language to reveal something essential about how we think and perceive.
In other news, the Whitney Biennial Effect can been seen this month as strategic dealers around the country mount exhibitions of artists featured in the show everyone loves to hate. In The Windy City, Philip Hanson, an artist associated with the Chicago Imagism, has a solo show at Corbett vs. Dempsey. In New York's Lower East Side, Etel Adnan is on view at Callicoon Fine Arts, as is Tony Lewis at Room East and Rochelle Feinstein at On Stellar Rays. Just uptown in Chelsea, one of my favorite mid-career painters, Dona Nelson, opens this week at Thomas Erben Gallery.
New American Paintings magazine is a juried exhibition-in-print, and the largest series of artist competitions in the United States. Working with experienced curators, New American Paintings reviews the work of thousands of emerging artists each year. Forty artists are selected to appear in each bi-monthly edition, many of whom go on to receive substantial critical and commercial success. Additional content focuses on the medium of painting, those who influence its direction, and the role contemporary painting plays within the art world. Visit New American Paintings for more information or to subscribe.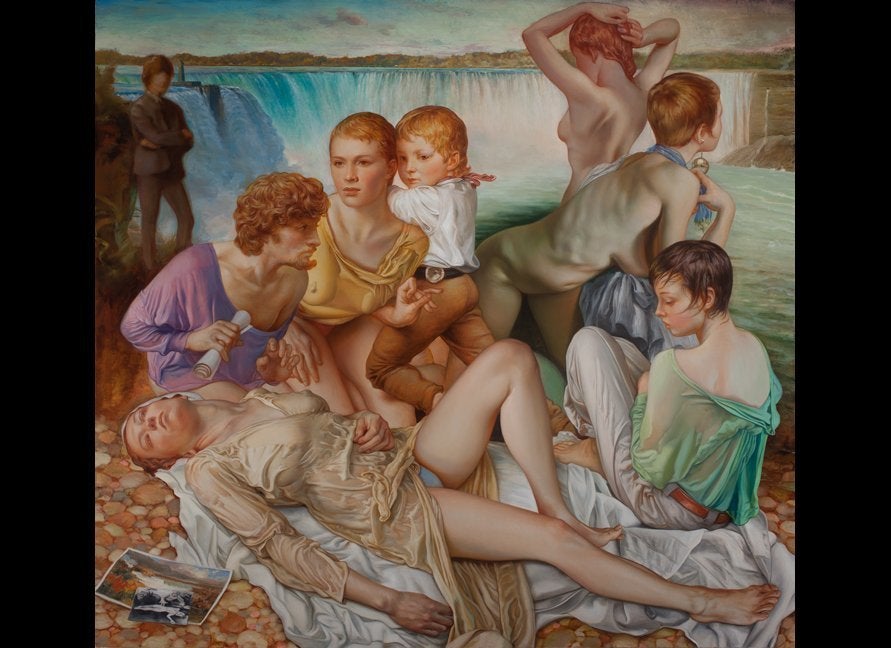 April 2014 Must See Painting Shows
Related
Popular in the Community