More than four dozen New American Paintings' alumni are on view throughout the country this month. Two artists originally featured in MFA Annual issues from the early 2000s, Iona Rozeal Brown and William Cordova, are now on view in New York at Salon 94 and Sikkema Jenkins & Co., respectively. Two of our favorite emerging painters, Jered Sprecher and Eddie Martinez, can also be seen in New York this month at Jeff Bailey Gallery and The Journal, respectively.
Art fair month usually brings out the best in New York galleries, and this year is no exception. Aside from the show's mentioned above, be sure to catch William J. O'Brien at Marianne Boesky, William Hawkins at Ricco Maresca, and Al Held at Cheim & Read. Andrew Masullo demonstrates that less is more and tames Mary Boone Gallery's cavernous 24th Street space with an installation of his intimate, yet potent, explorations of color and form. Down in the Lower East Side, Dave Miko + Tom Thayer have collaborated for a show at Eleven Rivington that blends video and painting. I first saw this body of work at the 2011 NADA Art Fair in Miami, and it left a lasting impression...this show is an absolute must see.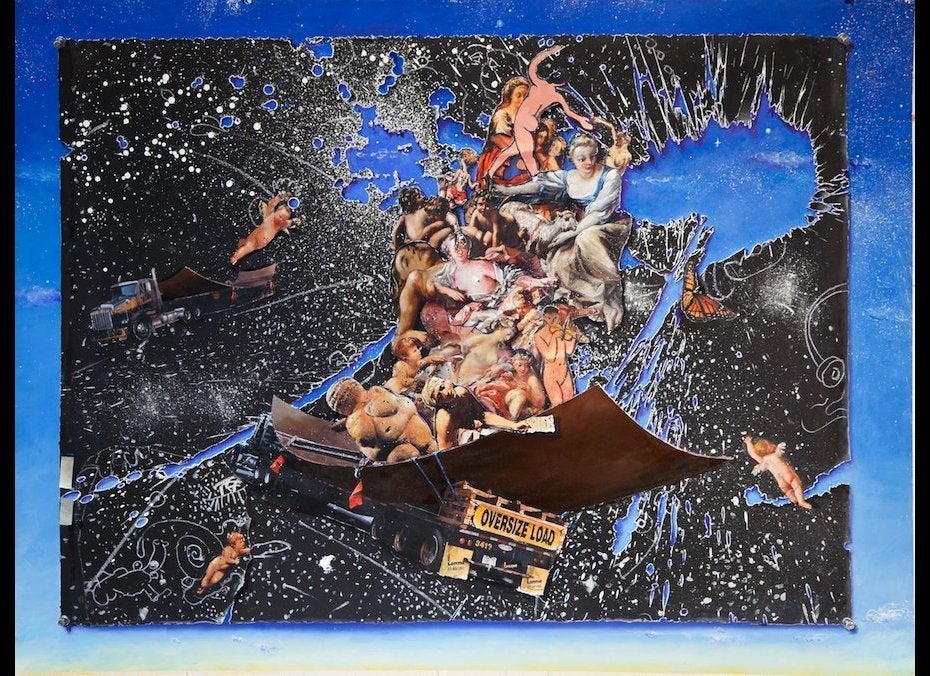 March 2013 Must See Painting Shows
There are some strong exhibitions by mid-career artists happening around the country. In Boston, hometown favorite Gerry Bergstein is on view at Gallery NAGA. Gerry has been a force around Boston since the early 1980s, both as an artist and member of the School of the Museum of Fine Arts' painting faculty, and his work is deserving of widespread attention. Across the country in Los Angeles, don't miss a survey of Wayne White's work from the 2000's at Western Project. White is an artist, art director, cartoonist and illustrator whose integration of text into found lithographs speaks of the inseparability of language and landscape in contemporary culture.
On a sad note, we wish to pay our respects to Pacific Northwest artist Alden Mason, who passed away in early February at the age of 93, and who was featured in New American Paintings' first-ever Pacific Coast issue. His long career included a thirty-two year teaching stint at the University of Washington; Chuck Close was among his many students. If you live in the Northwest, be sure to see Alden's exhibition at Foster/White Gallery, which opens this week and continues through the end of April.
New American Paintings magazine is a juried exhibition-in-print and the largest series of artist competitions in the United States. Working with experienced curators, New American Paintings reviews the work of thousands of emerging artists each year. Forty artists are selected to appear in each bi-monthly edition, many of whom go on to receive substantial critical and commercial success. Additional content focuses on the medium of painting, those who influence its direction, and the role contemporary painting plays within the art world. Visit New American Paintings for more information or to subscribe.
Related
Popular in the Community