After a sleepy summer, the art world is once again up and running full tilt. Among the hundreds of painting shows on view throughout the country this month are close to three-dozen solos by New American Paintings' alumni. They range from shows by talented emerging artists such as Samantha Bittman at Andrew Rafacz in Chicago and Suzannah Sinclair at Samson in Boston to strong mid-career painters such as the phenomenal Sarah McEneaney at Tibor de Nagy Gallery in New York City and Emily Eveleth at Miller Yezerski Gallery in Boston. I want to give a special shout out to my buddy Eddie Martinez, whose show at the new Kohn Gallery space in Los Angeles confirms what many already knew: Eddie is one of the best natural painters of his generation.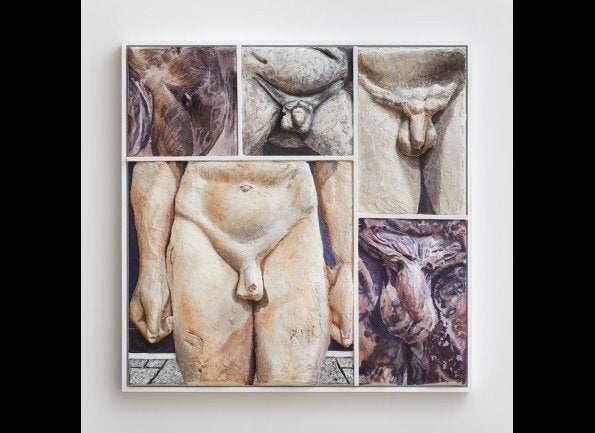 October 2014: Must See Painting Shows
There is a lot of good abstraction on view this month. For those in New York City, the fearless Chris Martin has his debut at Anton Kern Gallery, the much-hyped Norwegian artist Fredrik Vaerslev can be considered at Andrew Kreps Gallery, and one of Boston's best kept secrets, Jesse Littlefield, has his first major solo at Zieher Smith & Horton. Also in New York, co-curator for the 2014 Whitney Biennial and juror for the 2015 Northeast issue of New American Paintings, Michelle Grabner, has just opened a must-see show at James Cohan Gallery. In Los Angeles, don't miss Sam Falls at Hannah Hoffman Gallery and Pia Fries at Christopher Grimes Gallery. If you are in the Bay Area, visit Jessica Silverman Gallery to see the work of Hugh Scott-Douglas, who, like an increasing number of emerging artists, is obsessed with process.
While abstraction continues to look good this season, representational painting has been making a comeback and it owns the month. Over the past two years, more and more young artists have been engaging with imagery, in particular the figure. There are the aforementioned exhibitions by Sarah McEneaney and Suzannah Sinclair to consider. In New York City, emerging artist Gina Beavers continues to push impasto to the limits in her new group of paintings at Clifton Benevento and the virtuosic Angela Dufresne has a new suite of paintings with figure in landscape at Monya Rowe Gallery. Other shows of note around the country include: Storm Tharp at PDX in Portland, OR; Angela Fraleigh at Inman Gallery in Houston; Whitney Bedford at Carrie Secrist in Chicago; and the group show "Bedtime Stories" at Alpha Gallery in Boston.
In a quiet, but extraordinary exhibition at Matthew Marks Gallery in New York, LA-based artist Paul Sietsema renders carefully selected imagery with such technical dexterity that they almost revert to real objects. Sietsema is not interested in trompe-l'oeil for the sake of showing off his technical chops; at the end of the day, his paintings and works on paper are a highly considered critique of the production of cultural objects and the varying roles that they play as they leave the studio and circulate in the world. Taken as a whole, this exhibition represents the various aspects of how a painting can function.
New American Paintings magazine is a juried exhibition-in-print, and the largest series of artist competitions in the United States. Working with experienced curators, New American Paintings reviews the work of thousands of emerging artists each year. Forty artists are selected to appear in each bi-monthly edition, many of whom go on to receive substantial critical and commercial success. Additional content focuses on the medium of painting, those who influence its direction, and the role contemporary painting plays within the art world. Visit New American Paintings for more information or to subscribe.
Popular in the Community