I receive insightful questions on my social media accounts, and I'd like to share some with you along with my answers. ~Margaret Marshall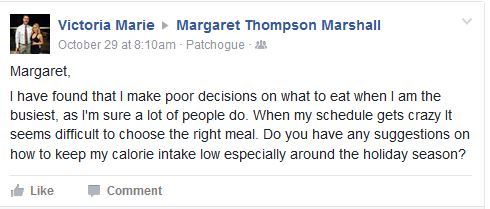 I believe Victoria's question is one that many have. I received this on October 29, two days before Halloween, and as Victoria was facing the 'week of candy'. But her question is deeper than just the Halloween challenges. In in the coming weeks, she along with many of us, will face busier days, festive food and activities, and less time to care for our own well-being
With the added time constraints put upon us in the holiday season we often neglect our own health. I've noticed in past years that people become run-down during the holiday weeks and fall ill. It's a busy time, but as you focus on giving to others, you also must give yourself rest and good nutrition. As Victoria states, when she is busy, she makes poor eating choices. At the busiest of times, focusing on eating nutritious food will help you to stay healthy and energized and will enable you to accomplish all the necessary extra tasks.
"When my schedule gets crazy, it seems difficult to choose the right meal," Victoria states. Once we have too much on our minds, we begin to ignore important details; the solution could be to make a simple eating plan ahead of time. This will help you eat more healthfully during the busy times. Nothing has to be complicated. Keep your meals balanced and consider food groups, rather than food items. For example, if you have limited time to prepare a meal, consider eating fruits and/or vegtables, add a protein item, a carbohydrate, and include some healthy fat. The food item will not matter. You can saute some chicken in olive oil (protein and fat), open a can of pineapple in it's own juice (fruit), and saute them in the pan alongside the chicken. Serve over quinoa or brown rice (carbohydrate). There may be days when a bowl of oatmeal (carbohydrate) will suffice for dinner. Make it with milk (protein) and add fruit. When time allows, and schedules are not so busy, you'll have more time to think and/or prepare a more elaborate healthy meal. Keep it simple, and use my Five-Finger Food Guide.
"Do you have any suggestions on how to keep my calorie intake low, especially around the holiday season?" Victoria asks. This is an important question because if you continue to search for food that is low in calories, you'll find yourself more hungry. Usually low-calorie items have little or no nutrients, with the exception of fruits and vegetables. If you have followed any of the commercial diets, you've been advised to choose pretzels, air-popped popcorn, or rice cakes. These types of snacks are white carbohydrates that cause you to feel hungry and entice you to keep eating. Even eating just vegetables or fruits alone will not ward off hunger.
My suggestion is to exchange searching for low-calorie food to choosing food that offers the most significant benefit from each calorie you consume. If you choose a fruit, eat a protein with it. An apple and piece of cheese will satisfy you more than an apple alone. A rice cake with peanut butter would also be a better selection than just the rice cake, and will keep you satisfied longer. The added calories you spend on the protein will result in eating less of the low-calorie item alone.
If you have gotten into the habit of eating pretzels or popcorn and have tried replacing them with carrot sticks or celery, you have not changed any habits. It's the continuous hand-to-mouth habit that needs readjusting. Try eating half a sandwich. A snack should have a beginning and an end.
Enjoy the holiday season without the added stress of poor eating. Plan to keep your food simple and healthy, and you'll stay strong and well!
Ask me, your healthy living questions, here on The Huffington Post, or on any of my social media accounts:
Margaret Marshall is The Healthy Living Expert. She is the creator of the "Five-Finger Food Guide", and the author of "Body, Mind, & Mouth" and, "Healthy Living Means Living Healthy".
She is a media personality, and an international speaker presenting wellness programs at corporate functions, higher learning institutions, women's organizations, medical facilities, and cruise ships.
Popular in the Community