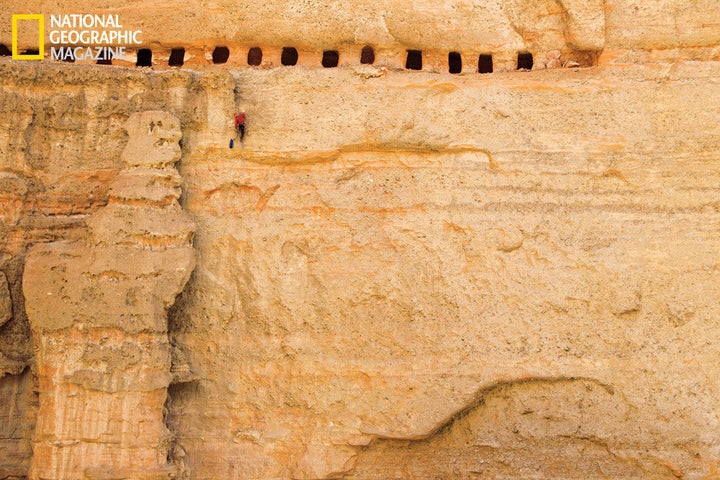 The below is an excerpt from the October edition of National Geographic magazine, on newsstands now.

Mustang, a former kingdom in north-central Nepal, is home to one of the world's great archaeological mysteries. In this dusty, wind-savaged place, hidden within the Himalaya and deeply cleaved by the Kali Gandaki River—in spots, the gorge dwarfs Arizona's Grand Canyon—there are an extraordinary number of human-built caves.
Some sit by themselves, a single open mouth on a vast corrugated face of weathered rock. Others are in groups, a grand chorus of holes, occasionally stacked eight or nine stories high, an entire vertical neighborhood. Some were dug into cliffsides, others tunneled from above. Many are thousands of years old. The total number of caves in Mustang, conservatively estimated, is 10,000.
No one knows who dug them. Or why. Or even how people climbed into them. (Ropes? Scaffolding? Carved steps? Nearly all evidence has been erased.) Seven hundred years ago, Mustang was a bustling place: a center of Buddhist scholarship and art, and possibly the easiest connection between the salt deposits of Tibet and the cities of the Indian subcontinent. Salt was then one of the world's most valuable commodities. In Mustang's heyday, says Charles Ramble, an anthropologist at the Sorbonne in Paris, caravans would move across the region's rugged trails, carting loads of salt.
Later, in the 17th century, nearby kingdoms began dominating Mustang, says Ramble. An economic decline set in. Cheaper salt became available from India. The great statues and brilliantly painted mandalas in Mustang's temples started crumbling. And soon the region was all but forgotten, lost beyond the great mountains.

All photos © Cory Richards/National Geographic.