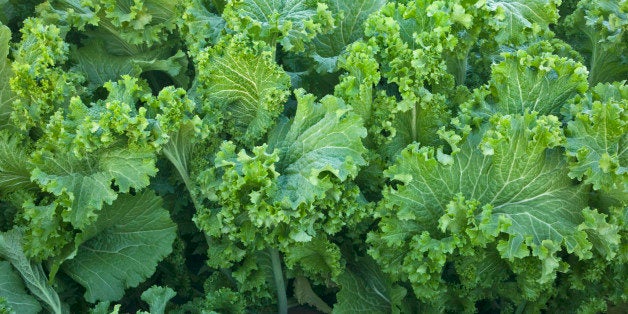 The way to my heart is not fancy chocolates, furs, or diamonds. It is mustard greens and a glass of pot liquor.

I read a short Huffington Post blog by Kathie Cavuto, 5 Underappreciated Summer Veggies One Should Learn to Love.
Among the underappreciated veggies was mustard greens. A few of the comments read: "People aren't eating mustard greens" and "It's kind of hard to find mustard greens anywhere besides the South..."
I beg to differ. On Sundays across America, especially in the homes of African-Americans, you can find a pot of greens (mustards, collards, turnips, kale, even Polk salad) on the stove with a pan of cornbread in the oven; it is a sin to eat one without the other.
Mustard greens are not only appreciated on Sundays, but also during all major holidays -- at Thanksgiving, Christmas, and Easter, you might indeed have a problem finding a sufficient amount of fresh, frozen, or canned greens.
My family, like many who migrated from the South, took their southern style of cooking with them, and many generations later, greens are still a staple. My favorite dish in the world is one my mother makes from scratch: baked chicken stuffed with cornbread dressing with a mean pot of Southern style mustard greens fresh from my dad's garden.
The key is to make sure your greens are cleaned properly; even the pre-washed greens need an extra rinse to be sure all of the dirt and girt-like residue is removed.
A lot of folk are persnickety about how greens are prepared and are willing to say so even when a dinner guest, during the holidays, or after a church service. In even the most polite company you will hear, "Who made the greens? You know, I do not eat just anybody's greens." That goes for potato salad, too.
Some cultures put mustard greens in soups, quiches, and even in breads. And while I consider myself a mustard green connoisseur, I have only eaten mustard greens two ways. Sautéed without meat, sure, as you'll get them in an upscale soul food restaurant; but mostly in the traditional Southern soul-food style with fat back meat, neck bones, bacon, ham hocks, or (just recently) with turkey necks, cooked slowly with onions, garlic, and other spices. I personally have walked out of soul food restaurants that have run out of greens.
Once the meat(s) and spices have cooked for some time, the mustard greens are added and cooked slowly over medium heat for about an hour or so with a sprinkle of sugar to take away any tartness. It's that foundation of the meat(s) and spices that determines how good your pot liquor will taste.
I'd also say mustard greens should be cooked alone. A lot of folk combine mustards with collards, turnips, and even kale. R&B singer Fantasia apparently prefers collard greens and cornbread to mustards, if her 2010 hit song is to be believed. My friend, author Sam Knight, is currently writing a book titled Don't Act like You Never Had Collard Greens, a comical tribute. Now I love a combination pot, but mustard greens are best as a solo act.
The juices from the greens mix with all the nutrients and spices that linger in the pot. One might wince at the types of meats used to cook greens -- a legacy of slaves' cooking with parts of the hog that were thrown out were considered scraps; those scraps were used to season greens among other things. Also, slaves had to be resourceful and had to come up with homemade remedies of their own for themselves and their children to stave off illnesses and diseases.
Once the last forkful of greens are gone, the pot liquor served threefold purpose: it tasted good, it was nutritional, and it helped regulate one's digestive system. My mother never had to hold down any of my siblings or me to drink a glass of pot liquor -- not so when she tried to trick us to take a teaspoon of castor oil and or fish oil. Yuck! In my opinion, pot liquor is better than many of the over-the-counter digestive products on the market today.
If the way to my heart is mustard greens, a cashier from Jons Market on 8th Avenue has earned my enduring love. I walked out the store recently and stood on the corner waiting for the light to change. "Excuse me, miss, excuse me, miss, miss..." Being nosey, I turned around and saw her headed toward me with something in her hand.
"I am glad you stopped. I'm not allowed to cross the street," she said, "But you left your bag of frozen mustard greens."
I thanked her as if she had given me an Oscar.
REAL LIFE. REAL NEWS. REAL VOICES.
Help us tell more of the stories that matter from voices that too often remain unheard.