NOTE TO EDITOR: NO CONNECTION TO ANYONE/ANYTHING MENTIONED. PHOTO MY OWN.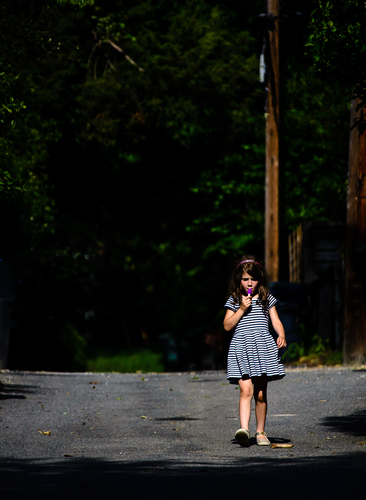 Photo: Jamie Davis Smith
with Sigma 18-300mm
Whether you are traveling, taking sessions on the beach, or concentrating on documenting the lazy summer days with your own family there are some things you can use this summer to make your life a little easier - and a little more fun.
Best Lens: I thought a lens like this wasn't possible but I was thrilled to discover Sigma's 18-300mm 3.5/6.3 lens. For travel, documenting life with kids, or photographing near water when you want to keep your gear safe and dry, the 18-300mm is a great choice. For a lens with so much range, it's surprisingly light and small so it's not a burden to carry around. It's also tack-sharp and has a great blurry background when shot zoomed in, even at f/6.3. The ability to shoot as wide as 18mm is incredible when shooting landscapes or scene-setting shots. Focus is fast indoors and out. While this lens is designed to be used on crop sensor cameras, I was easily able to adapt it to my full-frame Nikon set to DX mode. For under $500 and at a much smaller size, the Sigma 18-300mm is a great alternative to more expensive zoom lenses with less range, especially for travel or for those who don't have the budget for a $2,000 70-200mm lens. Pair it with Sigma's new ceramic lens filter for protection.
Best Travel Bag: Everyone knows it's a bad idea to check your gear - and if you didn't know before, you know now. Rather than throwing your camera and lenses into your standard carry-on and hoping for the best get a specialized case with tons of padding with withstand turbulence. The Think Tank International 2.0 rolling camera bag does not overlook any detail in designing the perfect carry-on for gear. It looks smaller than your average carry on so you won't be questioned about whether it will fit , yet it can easily fit two bodies, long lenses, flashes, and more. I like that it looks like a regular carry-on so other passengers don't know it's full of expensive equipment. It can also be used on shoots back home as it's particularly useful to wheel around on location when you are moving from spot to spot.
Best Way to Keep Your Camera Safe from Splashes: For many, summer means lots of shooting by the ocean or pool - and sometimes getting caught in a rainstorm. Keep your camera completely out of harm's way with a Think Tank Hydrophobia cover. The Hydrophobia keeps you camera and lens dry as can be while allowing you access to the camera's controls and a view of the LCD screen. In my opinion, it's best to spend a little to avoid damage from water or risk missing the shot. If you don't need complete protection, but want something that will keep some water or sand off your camera, try a Shell from Peak Design. If you don't plan on shooting in the rain, but may have your camera around some wet areas consider a MindShift Ultralight Camera Cover.
Best Way to Shoot In the Sun: We've all been there: ISO is as low as it can go, shutter speed is as high as it can go, and your photos are still overexposed. Any photographer going out in the summer sun should add a neutral density filter to their bag. The best option out there is the Tiffen Variable Neutral Density Filter that can be adjusted from 2 to 8 stops in seconds by spinning the filter. The glass is top-notch. Neutral Density filters can also be used for long-exposure shots or any other time you need to block out a little (or a lot) of light.
Best Way to Stay Organized: Even if you are normally a little OCD, you can take some time in the summer to slack off just a little. Make things easy on yourself with something like the House of Cards Memory Card Wallet from MindShift Gear. It's great when traveling and at home to keep track of all of your cards. If you have multiple filters, check out the Filter Nest as well.
Best Way to See What You are Doing: Bright light and chimping don't mix. Panic can set in when you are shooting in full sun and can't see the back of your screen to judge how well your photos are coming out. You can just hope for the best and wait until you get home to see if you made the shot, or get something like the affordable Flashpoint LCD Foldaway Viewfinder that blocks out enough light to allow you to see what's on your LCD screen and quickly make adjustments if needed. The Flashpoint Viewfinder also has the option for 3x magnification.
Best Way to Carry Your Camera: If you will be walking around with your camera, chances are you will start to feel its weight on your shoulders before too long. I've tried a lot of camera straps and can say without a doubt that the Peak Design Slide is by far the most comfortable I've used, even with a long and heavy lens attached. Maybe it's the extra padding, maybe it's because it's so simple to adjust, but whatever the reason you won't mind being the designated photographer this summer when your camera isn't weighing you down.
Best Bag for Walking Around over the Summer: The Everyday Messenger bag by Peak Design is water-resistant and the 13" version is just the right size to carry the gear you need without being weighed down, while still having room leftover for a tablet, sunglasses, and other summer essentials. The magnetic latch system is great for making the bag a little bigger when you need it to be.
Best Skills: Good photographers, and especially great ones, never stop learning. Click Photo School has an affordable breakout session on Photographing on the Fly by Kristy Larmour in which she explores how she creates compelling images quickly, even with young children and traveling to places she's never been before. Or, learn how to focus on capturing the joy that is summer for so many in the online course Capturing Joy starting in July. Or, check out a class on Nature Photography, Storytelling, or even Photographing Strangers to up your travel photography.
Whatever you do this summer, enjoy yourself and take your camera along to capture the important moments.
REAL LIFE. REAL NEWS. REAL VOICES.
Help us tell more of the stories that matter from voices that too often remain unheard.