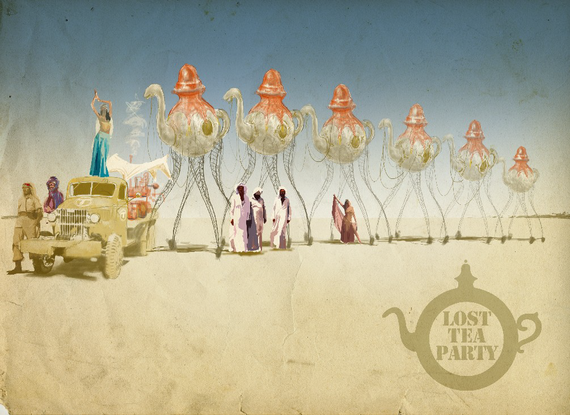 The first experience of a Mutoid Waste installation may trigger a load of reactions. Often it starts with the inevitable "wow" of disbelief. After a few seconds, when reality has somehow kicked back in, this disbelief morphs into pure joy and then a sense of playfulness. Spending time around their creations I have also felt something more unexpected -- a sense of the familiar. Suddenly it can seem like the magnificent and unique mutations have always been there, kind of just around the place.
Really good art and music tends to have that effect I find -- tapping into our core and hitting the spot without knowing, or having to know why.
The Lost Tea Party is no exception to this and it hasn't even been fully built yet. A Burning Man honorarium project conceived by Mutoid Waste protagonist Wreckage, the sculpture will be a 100 ft train of giant camel shaped tea pots pulled by an old 4x4 weapons carrier. Nothing ordinary about that. Yet after four weeks of running the Kickstarter and helping with the project I am once again getting that old sense of familiarity. Already it seems natural that camels should be shaped like giant tea pots. Why wouldn't they be?

It's not the first time Mutoid Waste have made it to Burning Man. Four of them took to the sands in 2008 -- the year of the American Dream. Led by the vision of Joe Rush and Wreckage, a pair who often collaborate together, they built the magnificent Rustang Sally and Franken Wagen. Typically over-ambitious, Rustang Sally was created in a frenzy of activity over a very concentrated space of time. Later the build was described by one of them as like "scrap heap challenge on crystal meth", though it's safe to say no such stimulants were actually used in the making of Sally.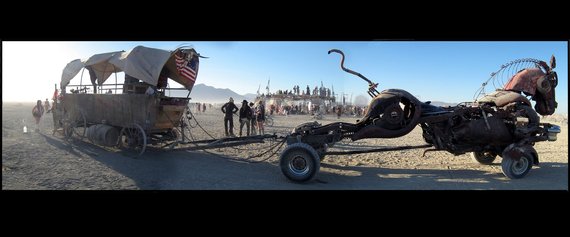 Mutoid Waste's reputation for "scrap metal fabrications of form and fiction" now spans 30 years and emerged from the squatting spirit of '80s London. Despite being conceived in heady times however, their inclinations were very much anti political. They were, and still are a loose collective of creative people that just wanted to be free to create a wild spectacle of art and music.
Joe Rush is credited with starting the collective and still maintains a type of stewardship. Alongside him was his friend Robin Cooke who moved to Australia and set up his own Mutoid thing down under. Then there's Wreckage, Lyle, Sam Haggerty, Giles Walker, Scrapper, Debs to name just some. All of them are also very much artists in their own right and like many others on the Mutoid roll call, will come together and then go off again, or not, as the tide takes them.
Perhaps not unsurprisingly given their haphazard ways and wide geographical span, the Mutoid history is as yet not that thoroughly documented, although there are some good overviews from various sources including Mutate Britain. Most that have heard of them by name will know that they took their illimitable imaginations, sound systems and probably highly illegal vehicles and fled Thatcherite impositions in the early 90s in search of another place to do yet more mad stuff. And that's what they did in Berlin then Italy, Australia and eventually Japan, USA and beyond. Some eventually went home to take up a rightful residency in Glastonbury's less conventional arenas. More recently they were asked to be part of the 2012 Paralympics Closing Ceremony, by far their biggest gig to date.
In 2008, when they last went to Burning Man, they were late onto the Playa and no one really knew they were coming. Although that did nothing to diminish their impact back then, things are a little different this year. For one thing, the Paralympics gig happened forcing them all to recognize their brilliance in a wider arena that stretches far beyond the appreciative eyes of their sub culture roots. As a result things have got busier. For Glastonbury this year while Joe Rush worked on his show A Kiss On The Apocalypse, Wreckage focused on teapots and the Playa.
Outward appearances also point to these brilliant but ramshackle scrapyardees getting a little bit more organised over time. Maybe. And a little bit more biz savvy. Perhaps. Either way it makes no difference. What matters is that when you see the result in all its splendor and mightiness, that sense of awe, disbelief, joy and knowingness triggers up all over again. Wreckage's vision of a lost party of mutated camel tea pots finding their way across the dunes and onto Black Rock City is likely to make a breath-taking spectacle. A much needed reminder that humans can be awesome and also that what we most like to do is play.
Popular in the Community