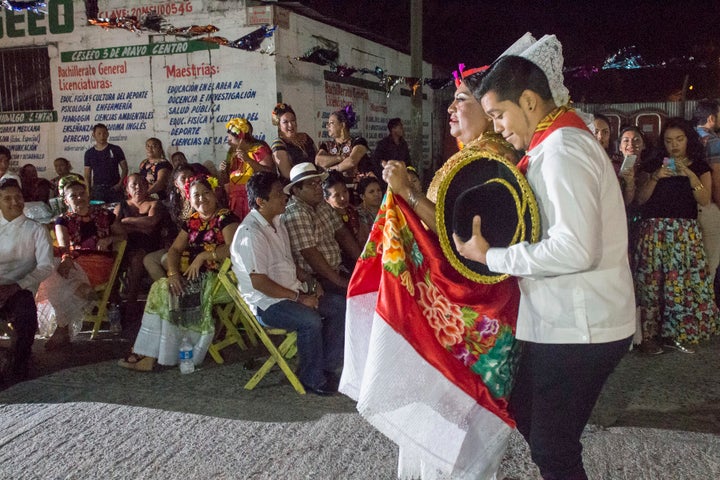 In December, while then President-elect Trump was planning out his cabinet and a dreaming up a slew of executive orders he'd sign in his first week of presidency, a rather remarkable festival was taking place in Mexico in the rural town of Juchitán, about 450 miles southeast of Mexico City. 
Juchitán has a lot of parties, or velas. Sometimes there are velas for saints, and sometimes there are velas for marriages and national holidays. But for this vela there was a celebration of muxes, a third gender stemming from pre-Colombian societies. For some muxes, the Western/American label "cisgendered gay man" is one they're comfortable with, while others would find "trans woman" more appropriate.
The Huffington Post spoke with Kevin Milian, a multimedia journalist covering the intersection of race/ethnicity and LGBT identities, about how he came upon this unlikely community and why he decided to write about them. 
"I think it's important to examine international queer communities holistically," Milian said. "By learning about the acceptance and societal integration shown to them, we can mirror those positive behaviors as a society."
Milian said muxes and those in the LGBTQ community in the United States face a lot of the same discrimination. He added that he wanted to dive deep into the muxe community to study their "triumphs and shortcomings," and see how similar political and social change might happen in America. Below, a conversation about how his deep dive into muxes went, and what he learned. 
What was the seed of the story?
It was about exploring a "forbidden" part of my heritage growing up as a closeted gay kid, and learning about the world of a gay relative who I never met, but was always around as a silent ally. As I became more knowledgeable about identity politics and the role of journalism as advocacy, this seed grew into an in-depth, pseudo-insider piece on a queer community in the most unlikely places, that remains part of my history.
How did you discover this community?
I grew up knowing about the muxes for most of my life. Although I never interacted with them until this story, they were always on my mind as a gay half-Mexican, half-Guatemalan kid growing up in the U.S. Being an immigrant, I always defined myself by my ethnic background. Coming from a bi-national household and then living in a third, completely different country, I grew up identifying as Zapotec from my mother's side and K'iche' Maya from my father's side. I was obsessed with ancient Mesoamerica and wanted to be an archaeologist since I was 10.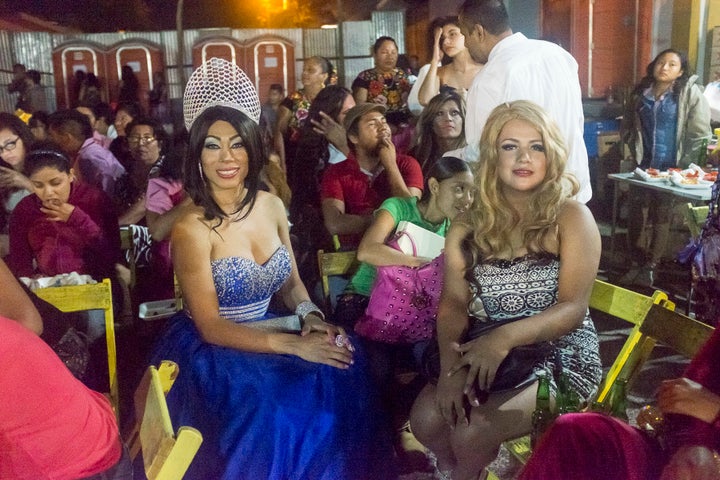 Mexicans as people value hard work and gaining an education, so there was this extremely positive encouragement throughout my interactions. They also valued the fact that this story was being written by someone who spoke Spanish, understood the nuances of having an out-and-proud queer community in Mexico, and wanted to ask more than just "how many hours does it take you to get ready for these parties?" I had to show them that I wanted to fully understand all the mechanism and players in the muxe world, and their real-life experiences outside the glitz and glamour of the festivals.
The photography for this story is deeply intimate. Talk about how you made that happen.
My photographs are mostly photos I was able to shoot during the festival itself. Although I was able to photograph Oscar and Amerika in their homes, those photos didn't make the cut. The muxes I interviewed have all been crowned queen at several different festivals, so they're used to being in the spotlight and modeling for photoshoots for their fan pages. It was a privilege to get to photograph them in more intimate settings.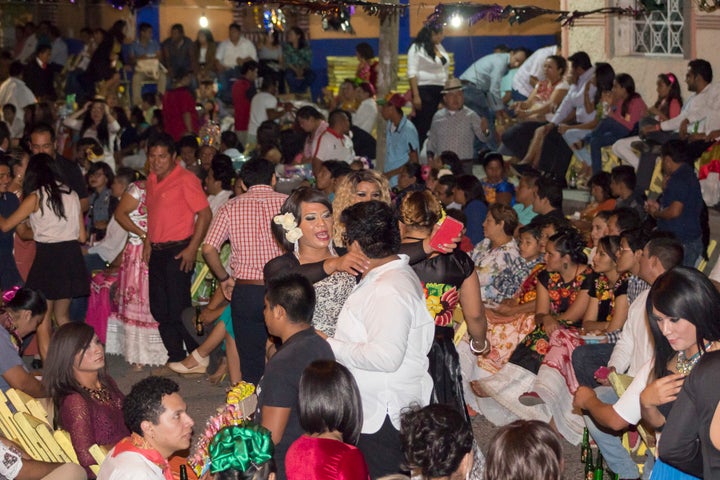 What surprised you in the process of reporting this story?
Having my entire view on the muxe world change. While I didn't (and don't) consider myself an expert on the muxes, my childhood belief that my ancestral home was a "queer utopia" lingered until I was able to report this story as an adult. As a kid, my understanding of their world was limited to my mother's happy memories with her muxe uncle and Las Intrepidas. While she was witness to some of the discrimination that he faced, it was from a young woman's perspective, and not a fun thing to relay to a closeted gay kid. Coming back from reporting made me appreciate my more privileged childhood in the U.S., but also the rich culture I get to call my heritage, as well as the fierce strength my muxe relatives had and continue to have.
What was most challenging?
Aside from the time crunch (every reporter wishes they had more time with generous sources), what was most challenging was relating the muxe world to an American/Western audience without whitewashing it. The subject line "Third-gender indigenous culture in southwest Mexico" is a mouthful, and while it's accurate, it's not as bombastic as many news editors would want. But calling muxes "trans Mexican models" or "gay beauty queens," just isn't right for many reasons. Even the term two-spirit, which would be the most analogous to the muxes, takes away what's special from both groups that share a lot of similarities but live different experiences across the border. Part of me wanted to write in the most academic and inclusive way (I studied archaeology and social justice in my undergrad), but what was more important was relaying the muxe experience in the most accessible way, with the utmost accuracy.
This interview has been edited and condensed for clarity.
Go Behind The Scenes With Other Reporters: 
Sign up for the HuffPost Must Reads newsletter. Each Sunday, we will bring you the best original reporting, long form writing and breaking news from The Huffington Post and around the web, plus behind-the-scenes looks at how it's all made. Click here to sign up!
REAL LIFE. REAL NEWS. REAL VOICES.
Help us tell more of the stories that matter from voices that too often remain unheard.
BEFORE YOU GO