"Goal 4 and 5 are very important to me and they are connected. I believe if there's good and equal education in a country, and if there are fair laws that protect women & girls and give them equal opportunity to excel, I think the overall political and economic situation of a country will change" ~Dehab Ghebreab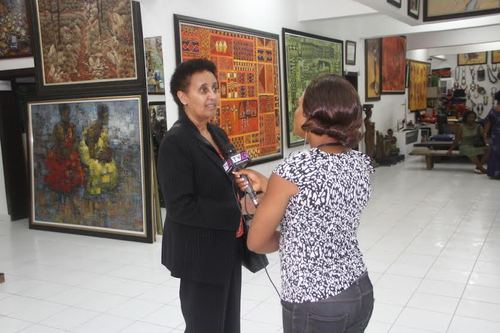 I was not so lucky this year with my 2016 Mandela Washington Fellowship application, and I know a couple of young Africans who are feeling quite disappointed because they didn't make it too. Not too worry, today's stroll has good news for you.
The US Government's diplomatic mission in Nigeria--and Africa in general--provides a lot of developmental opportunities via exchange programs for young people who are passionate about impacting positive change in their communities. Dehab Ghebreab, Public Affairs Officer, US Consulate Lagos, told me about the Mandela Washington Fellowship and other exchange programs by the US Government in Nigeria and Africa and how young people can take advantage of these opportunities.
Dehab and I also discussed #Africa4Her, International Women's Day 2016, her journalism and political science background, and how she's personally contributing to the SDGs in her corner of the world. You can download our conversation on #StrollPodcast, or read a summarized transcript below.
The Mandela Washington Fellowship (MWF)
Dehab: I'll like to start by just giving you a background. When President Obama visited Ghana in 2009, the one thing that he highlighted was that young African leaders should be empowered to develop their leadership skills and be included in the political and economic discourse. So in 2011 the Young African Leaders Program was announced by President Obama, and in 2013 when he visited Johannesburg he announced the Mandela Washington Fellowship Program. Since then we've had participants in 2014, 2015, and now for 2016 the nominees are currently being screened in Washington DC.
In Nigeria the fellowship has been a large part of the entire program for the Sub Saharan Africa. In the first year we received about, 14, 000 plus applications, the second year about 7,000, and this past year over 10,000 applications. Also the program has doubled from 50 participants to 100 in Nigeria and from 500 to 1,000 for Sub Saharan Africa. MWF has been phenomenal in terms of what it is doing to help young people develop leadership skills.
Another YALI component that is helping African youth is the YALI Network. Young Africans can take online courses on leadership and global issues and get recognition for completing the course. The courses offer professional and leadership development free of charge to thousands African youth.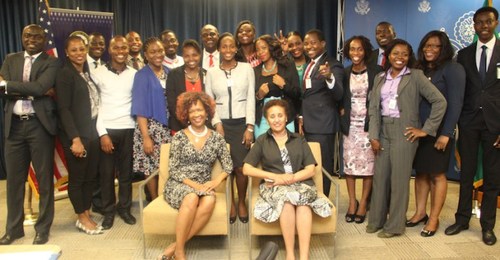 (Front Row: Public Affairs Officer, United States Consulate General, Lagos, Dehab Ghebreab, (right); Public Diplomacy Officer, Rhonda Watson, (left); with Mandela Washington Fellows selected from the 17 states in the Consular District of Southern Nigeria, during a Pre-Departure Orientation program in Lagos on Tuesday. Photo: U.S. Consulate General, 2015)
Testimony Time: This is how MWF changed their Lives...
Dehab: In terms of testimonials, I can share with you three highlights from the 2014 Mandela Washington Fellowship alumni. Temitayo Etomi participated in the 2014 program. She used to work for the Lagos State Government as a general manager, and then she moved on to work in the marketing field, and she singlehandedly decided to create something called, "The Young Business Leaders of Nigeria." Her goal is to bring 20-22 young outstanding entrepreneurs from across Nigeria to Lagos for an eight-week training program on leadership and business acumen. It's similar to the program that she participated in as a MWF in 2014. She raised funds to pay for all the costs of the program and will do it every year. This is inspiring as this is a young woman who is replicating a program for young entrepreneurs in order to increase employment opportunities for young people in Nigeria.
Another young woman I want to mention is Ndifreke Andrew-Essien, MWF alumna. She is physically challenged but that hasn't stopped her from achieving her dreams. She went on to get a Bachelor's of Science and a Master's degree in Human Physiology. Now she has created Freky Andrew-Essien Care Foundation, an NGO that plans and implements programs that provide basic support services in education, health, and development in vulnerable communities. Most importantly, when she travelled to Ghana, she had problems getting into a small aircraft to travel from Accra to Kumase due to lack of a ramp. As the case is in many places in Africa, nobody paid attention to providing access to people with disability. Her experience in Ghana prompted a legislation that calls for adequate access for people with disability.
Finally, I'd like to mention a young man, Adebayo Alonge, MWF alumnus. He is in the health sector and counsels HIV patients and distributes pharmaceuticals. He is the founder of Lusoy Investments Limited, an organization that tests practical approaches to low cost generic drug distribution to help the needy. During the Ebola virus breakout here in Lagos, he collaborated with the Lagos Business School to hold a week-long training for medical personnel using his contacts at YALE University. I could go on and on with the amazing success stories of the MWF alumni.
Other Exchange Programs by the US Government in Nigeria
Dehab: Here in my office, the Public Affairs Section of the US Consulate, and also in Abuja, we have a number of exchange programs, and some of the traditional exchange programs are;
The Fulbright Scholarship focuses mainly on academics. It's for university faculties in Nigeria who are interested in either going to America to teach or do research or American faculties who come to Nigeria to spend one or two semesters teaching or doing research. The Fulbright Program is the flagship program of the US Government and it's been going on since 1946.
The Humphrey Fellowship Program is for mid-level professionals. Professionals with five to ten years' experience can apply for the program. Selected individuals join others at a university setting for ten months of academic courses and are able to do internships before they return to their countries.
We have a lot of smaller programs but one of the large programs is what we call the International Visitor Leadership Program. Here in Nigeria we send about 40 mid-level professionals. Selected individuals spend three weeks with other participants in thematic programs such as good governance, managing NGOs, investigative journalism, U.S. Foreign Policy and other topics. Participants visit three to four locations in the US and it's supposed to give them a good exposure.
Let me mention one more program that is really home-grown here at the Consulate. It's called the Carrington Youth Fellowship Initiative (CYFI). This program actually started about four years ago by young American diplomats who wanted to engage Nigerian youth. Selected Nigerians develop a community project with the assistance of the American officers. They implement their programs over one year while acquiring professional development. CYFI was also extended to Rivers State a year ago. The participants implement impactful community projects. We've had four cohorts graduating in the past four years.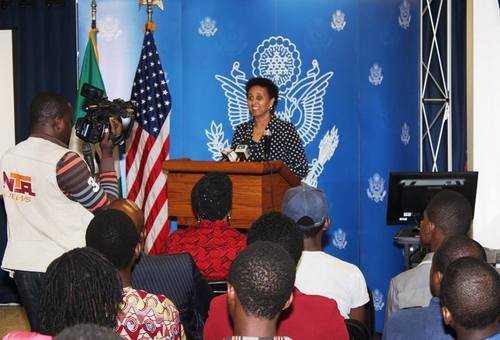 #Africa4Her: What is the African Woman's Biggest Challenge?
Dehab: There are definitely serious challenges in all areas; whether it is in politics or the economy or civil society, or even in the work place. Women are underrepresented in policy making. Our push from the US Government has been women's leadership and meaningful participation in Government, in the economy, and civil society. Women's full participation would accelerate economic development, improve health and education, and advance democracy, not only in Nigeria but all across the world. So, for us, as a nation, this is an important area that we promote in many different ways.
This year in particular the Consulate has been able to issue small grants ranging from $4,000 to $9,000 to 11 organizations. This is focused on women's development in various areas like the STEM subjects, journalism, and much more. We're really proud of what we've done in the past year.
Dehab: I was born and raised in Eritrea, but most of my adult life for the last 45 years has been in the United States. I did my first degree in journalism, and my second degree in political science. And I worked for Al Jazeera newspaper, published then in Saudi Arabia, for about six years. I also worked for Mass Transit for two years before I joined the US Information Agency and then the State Department. In the State Department, I've a dream job. I've worked hard and have been given opportunities to rise-up. Without any doubt, the US Government provides development opportunities for employees and promotion opportunities are based on performance/merit. I'm proud to be a member of the Department of State's Senior Foreign Service. I served for four months as Acting Consul General following the departure of CG Jeff Hawkins. We now have a new consulate general, John Bray, who arrived in November. So my title is Public Affairs Officer.
#MySDGs: What is your favorite SDG(s) and what will you do to contribute to its Achievement by 2030?
Dehab: My background, as I shared earlier, is in journalism and political science, but my heart and soul has been to inspire people to do well in education--not only girls but boys as well. Fortunately because that's where my heart and soul is, I made the switch. I pivoted a little bit but it's still connected to what I do. So, in the last 27 years, I've had opportunities to work with young people from all across the world. Before joining the Foreign Service, I was facilitating exchanges programs for American teachers who swapped positions with teachers from other countries. So, my favorite goals are #4 education, and #5 gender equality. Quality of education and gender equality are paramount to me and they linked. If the quality of education is good in a country and if society encourages equal opportunities for boys and girls, the country has a better chance to strengthen its democracy and prosper. My work gives me an opportunity to do as much as I can in education and gender parity.
__________________
Food for the Soul: "Favour is deceitful, and beauty is vain: but a woman that feareth theLord, she shall be praised." (Proverbs 31:30, KJV)
(Images Credit: Dehab Ghebreab, US Consulate Lagos)
Coming Soon... The Stroll Live... Watch this space for more...

REAL LIFE. REAL NEWS. REAL VOICES.
Help us tell more of the stories that matter from voices that too often remain unheard.