Right now, I'm in the middle of a star-crossed love affair of Romeo and Juliet proportions. Or that's how it feels. My Romeo has a history; he's excitable, and my family hates him. They're all dogs. Starting with my Romeo, a foster bullmastiff I took on when I must have felt life was too simple. He's an escape artist. I learned that at a Krystal somewhere between Terre Haute and Nashville when he forced his way out a car window that was 3/4 closed. He's possessive and got into a fight with my young male dog, Zeke who was Tybalt to his Romeo.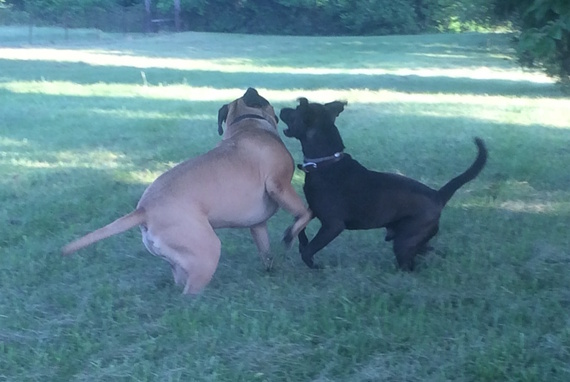 (Here, the two culprits are only playing.)
Zeke started the fight, but also got the worst of it before I could separate them. Fortunately, they diverged from the Shakespeare analogy by both staying alive. Cuts and bruises have healed.
And lucky for me, a few days ago I met the Doggie Lama -- of Kellie Pickler fame. The Lama has a cameo in the series trailer:
Can "The Doggie Lama" help Kellie Pickler's pups? Set your DVR for I Love Kellie Pickler Nov 5 at 10/9c on CMT! 󾆷󾆷

Posted by CMT on Saturday, October 24, 2015
I had high hopes that the Lama, Todd Vehring, would help me bring "peace to the family." It's taken a long time, but I'm starting to want my home to be drama free.
After the dogfight, I shipped Romeo off to Verona, that is, he's boarding at the kennel of friends, fellow rescuers. I visit him every other day to keep him socialized and from feeling abandoned. But truth be told, I want him back. And until I met the Doggie Lama, I thought that if I learned the secret of dogs, the foster could come back to live with my dog family happily until his forever after.
The Doggie Lama said it wasn't a good idea.
The World According to Dogs
As the Lama tells it, the world looks very different through the eyes of a dog. And most of what you hear about doggie dominance is human storytelling. For example, we overlook the dominance portion of Doggie's "signs of affection." Basically, most of the things dogs do to endear themselves to us, such as lean and rub their bodies against our leg, are displays of dominance.
If you ever visit a dog park, you will get earfuls of this quasi-expertise. Stories in which dominance is about aggression, growling, food possession and spatting get all the attention. Meanwhile, another powerful dominance display gets short shrift: aloofness.

What it comes down to is that just about every instinct we have is sideways on planet doggie. At least that's what I learned -- in the space of a 3-minute interaction with my foster -- as the Doggie Lama observed.
That 3 minutes yielded at least 11 takeaways:
Looking at a dog in training -- don't
Approaching the dog to correct it when it's being bad -- rewards and ingrains bad behavior
Saying "it's OK" when he cowers or acts afraid to follow a command -- rewards bad behavior
Ditto for patting, smiling, and treat feeding -- use sparingly
Many dogs don't particularly want to be alphas -- help them out by taking charge
When you yell at them, they read it as weakness
The more recalcitrant the dog, the closer your commands should get to a whisper
Putting your hands up to say "back off" or create a boundary -- more weakness
Kneeing or turning your back on a dog that jumps on you -- weakness again
Pulling tight on the leash to prevent acting out -- weakness
In fact, Todd says, any time you change your behavior because of something the dog does -- weakness, weakness, weakness.
If you have done any of those behaviors, know that your dog has summed you up and concluded: "submissive." Your happy dog jumps on you as a greeting? He is happy to see you, does love you, and is reaffirming that you are submissive. So what to do to untrain your 120-pound mastiff of this behavior? Todd's answer: Walk right through him. You have more important things to do. Be calm, purposeful, aloof, as if Pooch isn't even there. And above all in your retraining efforts, expect your dog to be perfect.
So I've been trying the techniques, such as lead walking the dogs. The crux of this exercise is changing directions often and unpredictably. I've substituted a brief tug and the right collar for a lot of yelling and pulling. Still holding out hope for a reunion, I walk both my foster dog and my Zeke, a quick, wiry, 60-pound alpha. Since we moved to a place that has no yard to speak of, Zeke has been on strike. He runs off, obsesses about ways to get into the car, harasses my older dog, forgets he is house trained.
It turns out, the training works. The big caveat is that you are also in training. It's a minute-by-minute tug-of-war with your instincts, needs, and perspective to stay on program and maintain your alpha-hood. The Doggie Lama's goals stress peace over pecking order. In other words, your dog family will find your alpha declarations a relief.
You can learn a lot about yourself, trying to wrangle dogs. As soon as I began working with the Lama, I saw needs of mine that complemented the bad doggie behavior -- the need for physical contact, the need to create a safe space for an abused animal, the need for a dog to be something between human and teddy bear. Todd the Doggie Lama says most of this invites dominance. I felt myself wanting to hold onto some of these things. But after the dogfight, the death of Mom's dog, the real danger of Zeke running unescorted through the neighborhood and of my foster being deemed "unadoptable," the cost was too great. So I have been sticking with the program.
The good news is that letting go of some of my favorite things -- even temporarily -- makes room for other things. But more on that in a later blog.
Popular in the Community