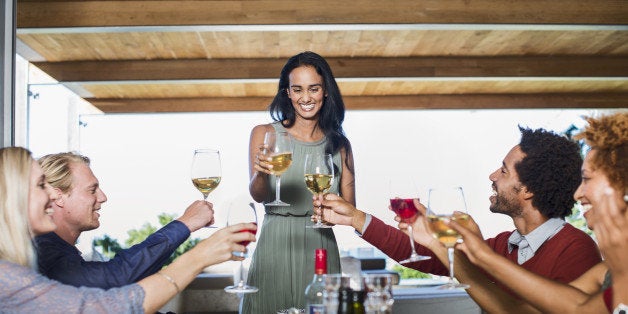 A New Year's resolution to party more? Yep. You read that right. I believe nothing enriches your life like spending quality time with the ones you love, and there's plenty of research to suggest strong social relationships are closely associated with people living longer, healthier lives. So, here's to making 2015 a happy and healthy year full of good times and good friends. And no need to stress over this resolution, it's going to be easy, and we will help you every step of the way.
Here are a few of my favorite ideas and tips for a stress-free get together!
- Breathe in the good, exhale the bad: Sure, you made a resolution to eat healthier and exercise this year -- "this is the year" we all say, and then scarf down a box of cookies, and maybe a few burgers with fries, and by mid-January we're officially off the wagon. My solution? Don't go at it alone, and get out of the house! Send an Evite invitation for a group Hike or Yoga retreat, and put getting healthy on the books. When you make getting healthy a social activity you're more inclined to stick with it, plus you have the added support of friends. Not to mention when your body is in motion it'll tend to stay in motion and you'll be more likely to crave good food instead of junk food.
- Host a Potluck: If you're not the best cook, or a cook-in-training like me, and don't want to stress about hosting a dinner party or brunch, then host a healthy potluck! Select a dish you'd like to be in charge of, and then delegate the remaining dishes to your guests. Have them each choose their favorite healthy item they want to share, and bring that to the get-together. This way your friends get to pitch in and everyone gets to share ownership of the event. Plus you don't have to stay up until 3am cooking!
- Get Crafty: One of my favorite get-togethers to host, is a girls crafting night. Select a craft project everyone wants to do, and delegate each guest to bring different supplies needed. The craft doesn't need to be super complicated or expensive. You can even select something to upcycle like old wine bottles. Ask guests to bring one wine bottle for drinking and one for decorating, and to bring or wear an old t-shirt so you don't dirty up your cute clothes. You can spray paint bottles with chalkboard paint, write a quote or design with chalk, and use them as a cheap and chic decor piece for your kitchen or bookshelf. You can spray paint them with spray adhesive, cover them with glitter or confetti, place a tapered candle in the top, and use them as crafty candle holders. The point is, get creative!
- Host a Night Out: If you're wary of hosting a party at your place, arrange a get together at a local bar or restaurant, and let the venue do all the work! Simply put the address and any additional information for the venue, like parking instructions or what to wear, on your invitation and send it to a group of friends!
- Host a Viewing Party: Book Clubs are so 2014, host a viewing party of your favorite TV show instead! Everyone's favorite shows are returning, which gives you a great opportunity to gather like-minded friends to catch up and watch your favorite shows. Throwing this type of gathering doesn't need to be complicated; encourage guests to bring their favorite viewing snacks, like popcorn and candy, or to bring a themed snack in honor of their favorite TV show.

- Hostess Tool Box: Every hostess needs a few essentials for a get together. Here is my go-to list: kitchen towels for spills, bottle opener (wine and beer), serving trays and serving utensils, dish ware (napkins, plates, utensils) for 1/3 more than your guest count to accommodate for unexpected guests or people eager for seconds, dessert tray, unscented candles (candles always create a warm and inviting space), and a go-to playlist. Background music always makes guests feel more relaxed, so I always encourage hosts to keep a go-to playlist on their smartphone. Worried about playing DJ? Delegate a music savvy friend to play DJ for the night, or invite guests to take turns sharing songs from their smartphones. If your guests are selecting the tunes, they are guaranteed to enjoy them!
Whatever your goals are this New Year be sure to include more get-togethers with friends. Nothing breeds a happy, healthy life like time with good friends. So bring it on 2015, this year we're doing it together!