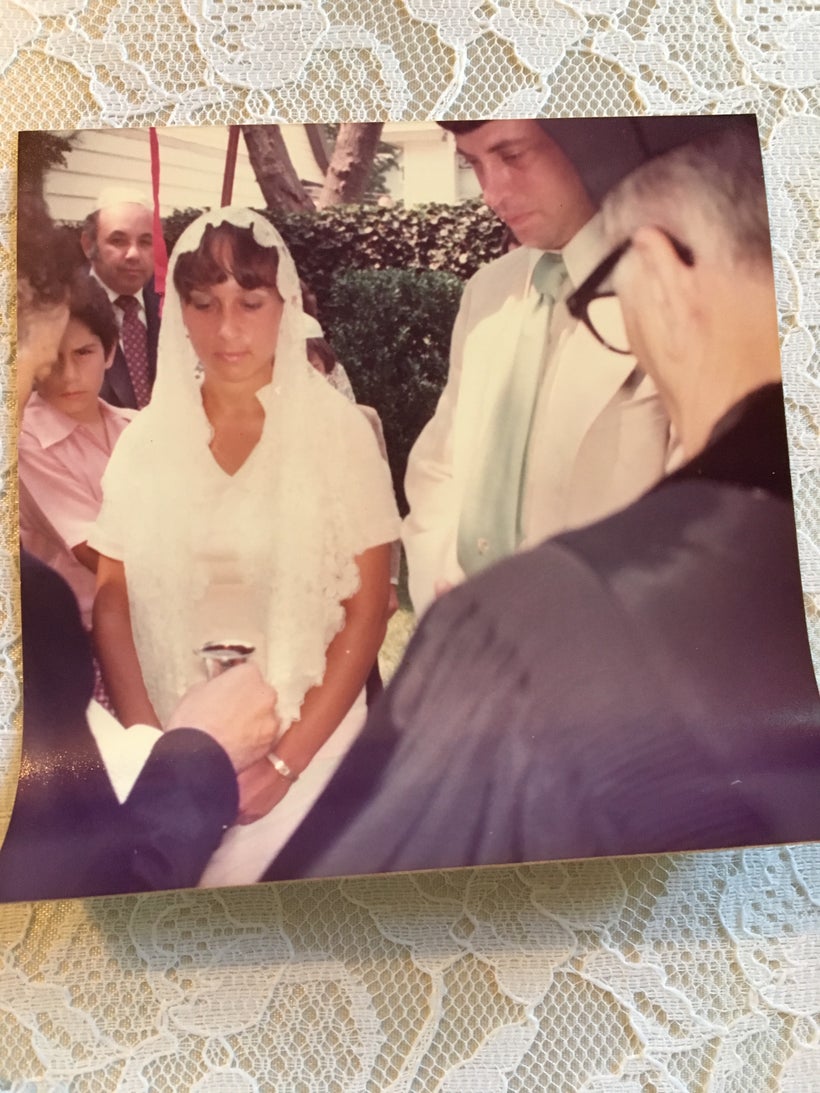 On Sunday, August 22, 1976 Dan and I were married at noon in an intimate ceremony next to the garbage pails in my mother's postage stamp size backyard in Flushing, New York  There were 15 guests, 11 immediate family members and four friends.  We rented a rabbi who came in from the Catskills and brought a portable chuppah and chazan (cantor).  When he arrived, the rabbi told me that I needed to cover my head. I rejected the pink beach hat my mother offered and wore a mantilla instead.  My two brothers, father and step-father held the chuppah and the dog howled throughout the short ceremony.  Prior to the ceremony Dan visited each of my parents to warn them to be on their best behavior - something that did not come naturally to them.  And that day Dan and I started our formal partnership.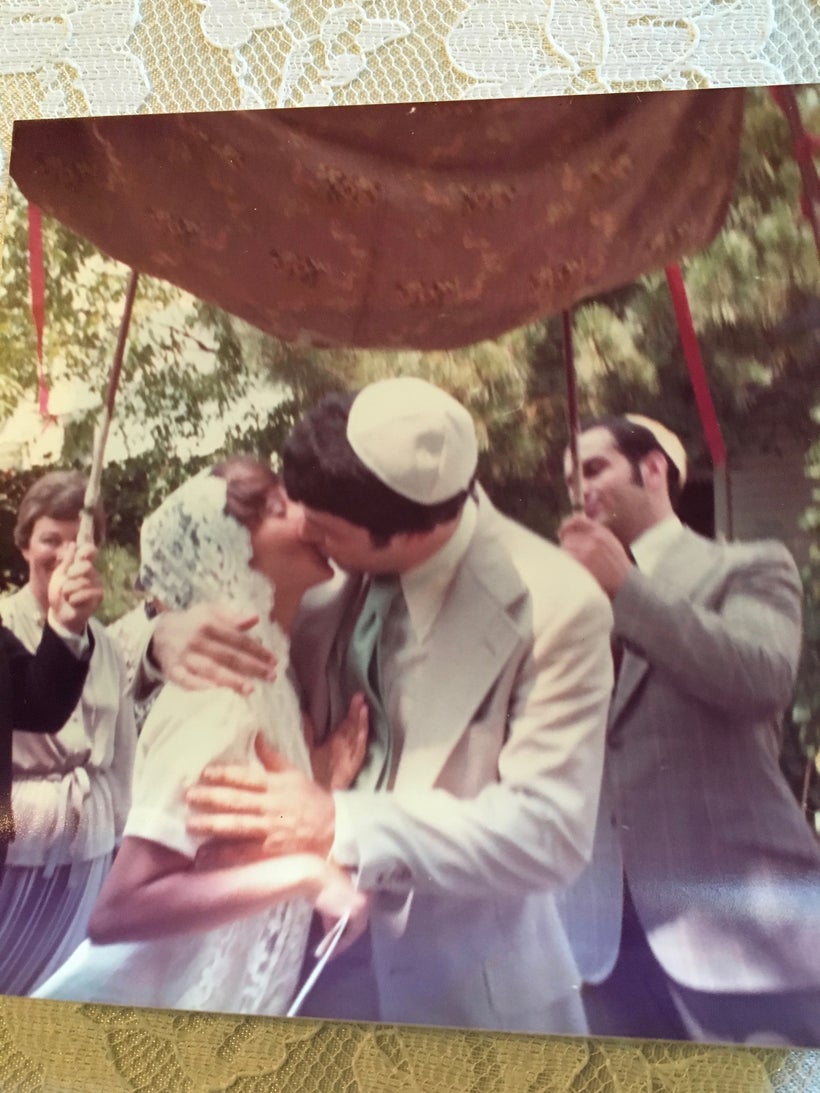 We were an unlikely pair.  When we met in NY in 1973,  Dan was a tourist from Israel; I was a New Yorker, working as a teacher and studying for my doctorate.  He had just completed four years serving as an officer in the Israeli army while I had spent those same years in school getting my undergraduate and first graduate degree.  I came from a large dysfunctional family, divorced parents and multiple remarriages that produced four brothers and two sisters.  He was the only child of Holocaust survivors and had been brought up by his autocratic Dad after his Mom passed away when he was 13. 
Although we came from such different worlds, we had a lot in common.  We each had adversity in our lives and only our strength and survivor mentality helped propel us forward.   As the eldest child of divorced parents, each of whom went on to form a new family, I had to fend for myself, find my way, and develop confidence in my abilities without emotional or financial support.  To complicate things my mother was physically abusive and I had to deal with the irrationality of her  beatings.  Dan had a difficult father from whose grasp he wanted to escape - and he did, by serving in dangerous areas while in the army and by getting as far away as possible on his post-army trip. 
We began our marriage with student loans, a desire to succeed, passion, intelligence and a lot of perspiration.  We believed that we could do anything if we worked hard - and we did.  We worked and studied day and night and supported one another through the early years and into the more recent ones.  The successes came, as did the challenges and we faced them together.
We did not have family models and so we had to forge our own path, making mistakes along the way, but not repeating the patterns of our families.  We were fortunate to find friends on our journey who became models as we worked at forming our own strong, supportive family unit - first for us as a couple and then for all of us when our four children joined us. 
What sustained us through the years and the challenges?  While we supported one another we also realized that we were very different and we gave one another the space and encouragement to pursue our individual interests and to grow.  We met when we were 21 and 22 years old and although we had a lot of history prior to meeting, we had a long way to go.  We shared common values, enjoyed mutual respect for one another and valued our individuality.  Our partnership has morphed over the years with give and takes, highs and lows, successes and failures, celebrations and comforting.  We have been through a lot and have always been there for one another.  We've shared the usual things - ten years of diapers, housekeepers, homework, sports teams, student shows and instrumental concerts, vocal concerts, family vacations, four college tuitions and graduations, birthdays, job changes, sharing the bed with my animals and bike rides; and the not so normal things - emergency room visits, the loss of those we loved, jumbo mortgages, cross country moves, running for office, and a stroke.  It always helped to have someone with whom I could share these things - to rejoice with or to lean  on. 
By far, the most challenging and yet most fulfilling accomplishment is bringing up four caring, involved, smart, tolerant, independent, animal-loving sons.  Dan and I were wading through uncharted waters and we worked together to provide a healthy, secure, safe environment for our family and fill them with confidence and love so that they can have significant relationships and contribute positively to the world.  They are the future, and it is a positive one.
On August 22, 2016  Dan and I will celebrate our 40th wedding anniversary.  Our time together has been filled with wonders and challenges and shared adventures.  We have met them all with determination, great spirit, compassion, good humor and an abundance of perspiration and patience.  Happy Anniversary Dan!  I love you!
Calling all HuffPost superfans!
Sign up for membership to become a founding member and help shape HuffPost's next chapter
This post was published on the now-closed HuffPost Contributor platform. Contributors control their own work and posted freely to our site. If you need to flag this entry as abusive,
send us an email
.