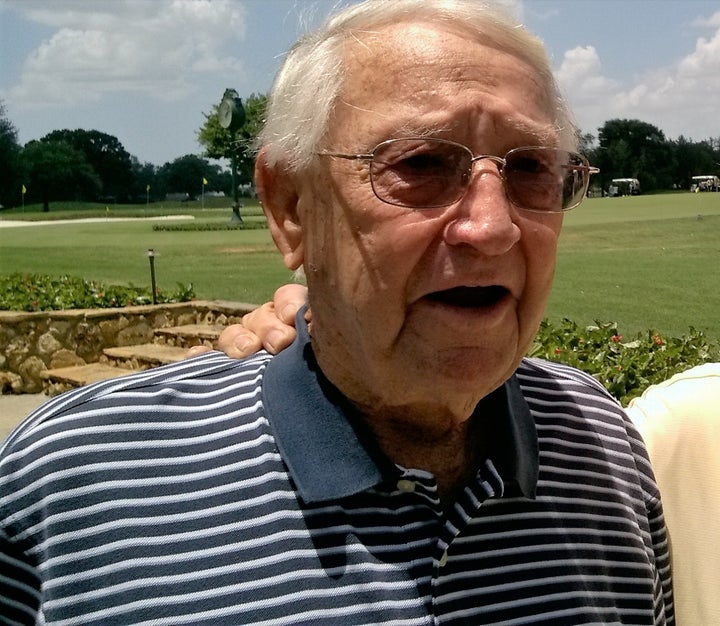 He was born in 1927 on this day. Calvin Coolidge was president. Charles Lindbergh landed in Paris the day before. Wonder Bread was founded. Babe Ruth set his home run record, Coca-Cola cost 5 cents, the first talking picture was released (Al Jolson), and the 15 millionth Model T rolled out of the factory.
While a memorable year, for me what counts is my dad, my best friend, was born.
And despite macular degeneration, COPD, type 2 diabetes, an irregular heart beat, hearing loss, and having beat both lung cancer and throat cancer, plus a strange throat condition called dysphagia which makes swallowing difficult and painful, my dad is so much fun to be with that I neglect my work for fear we won't be able to spend the time together that won't last much longer. He still wakes me up with the sound of his cherished chain saw chopping up downed tree limbs.
For those who might wonder about Dad's secret for longevity against all odds, I think his ritual 5 p.m. shot of Wild Turkey 101 over ice in a tall glass with just a splash of water might be a clue.
Yesterday morning we went to Lowes and got a cartload of parts I never heard of (which irritates him) to spend the rest of the day fixing his lawn irrigation system. We also seeded some bald patches in the yard and celebrated when two inches of rain descended upon us an hour later.
The day before some of my college friends swarmed the house to wish him a happy birthday because in a few ways he and my mom, who we lost two Christmas Eves ago, were a bit like surrogate parents. The day before that his former golfing buddies (he had to give up because of his eyesight) threw a brunch party. And before that more friends half his age came over for his famous barbecued ribs.
Today, the actual birthday, we're off to his favorite fish camp with his favorite Methodist preacher for his favorite fried catfish.
A consummate story teller who never embellishes, Dad played football for six weeks for Bear Bryant but acknowledges he never met the man (he quit after seeing a friend get his jaw smashed). His only World War II story of note was the time he was on watch on a destroyer escort and fell asleep when a Japanese submarine pulled aside to surrender, but the white flag waving former combatants couldn't wake him up until his superior came upon the odd scene (he missed some shore leave after that).
My favorite memory is the time when I was 11 years old when we were attempting to hunt deer and, wouldn't you know, we fell asleep. Dad nudged me awake and pointed to a huge buck looking at us not 50 feet away with a condescending expression as though saying, "What a couple of dumb ass humans."
"We're not shooting," Dad said. "We don't deserve it." The buck wandered off in apparent disgust.
Still don't know what the life lesson was in that. But from then on my Dad was my best friend.