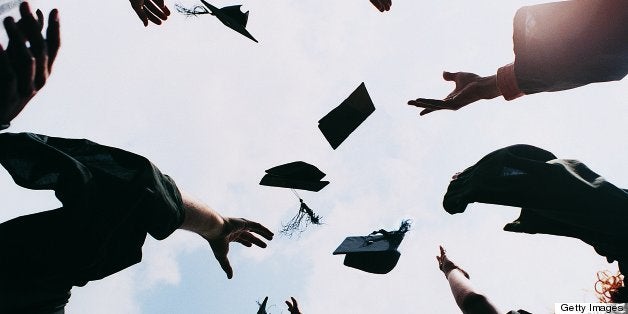 My son, Daniel, is graduating from college this spring. I imagine his graduation will feature a keynote speaker who will give sage advice to the graduating students.
I was thinking about what I would say if I was addressing my son and his classmates, charged with imparting wisdom to that excited group of young people in front of me. I'd start with four simple words: I hope you fail.
Failure is a very powerful force. It's in experiencing failure that we all learn, and if we are resilient and recognize the role failure has in our lives, we ultimately become the person we are meant to be, doing what we are meant to do. Failure is the path to wisdom.
We've seen it time and time again. Steve Jobs was fired from Apple, the company he founded, at the age of 30. As he recounts in the commencement speech he gave at Stanford University in 2008:
I was a public failure... I didn't see it then, but it turned out that getting fired from Apple was the best thing that could have ever happened to me. The heaviness of being successful was replaced by the lightness of being a beginner again, less sure about everything. It freed me to enter one of the most creative periods of my life.
Michael Jordan, considered by many to be the greatest basketball player of all time, failed to make the basketball team the first time he tried out in high school. Guess what he attributes his ultimate success to? "I've missed more than 9,000 shots in my career. I've lost almost 300 games. Twenty-six times I've been trusted to take the game-winning shot and missed. I've failed over and over and over again in my life. And that is why I succeed."
The challenge is that we live in a culture that glorifies success and demonizes failure. We pay homage to those who achieve remarkable results, often giving them more credit than they actually deserve. (Nobody is successful on their own, and almost all successful endeavors have benefited from more than their share of good luck.)
Conversely, we vilify public failures. And when we treat failure as anything other than a normal part of life and an incredible opportunity for growth and wisdom, we send a terrible message to our children and young adults. We teach them to play it safe in a world that demands innovation and risk-taking.
We encourage them to think of each life failure as a reflection of their character and ability, as opposed to an incredible learning opportunity.
There are places in our country where failure is indeed being de-stigmatized, as it should be. In an article in the New York Times, "The Power of Failure," Wayan Vota, a technology and information expert said, "In Silicon Valley, failure is a rite of passage. If you're not failing, you're not considered to be innovating enough."
So to Daniel and all the new grads out there, I hope you fail. And if you don't succeed the next time, follow the advice of the Irish playwright and novelist Samuel Beckett. "Try again. Fail again. Fail better."
GVFA 2013 XXXX
DOFU 5/2013