Growing up as a "chubby" kid, I often indulged in the great American pastime of eating anything that did not eat me first. I gave little notice to taste and serving options, and would certainly never stop to consider whether it was healthy or not - if it had stopped moving, was cooked to my liking, and put on a plate in front of me, I was eating it.
As I matured my appetite did not subside, but vanity began to take center stage, so I started looking for a healthier lifestyle. Now that I am, ahem, "slightly older the food choices I make can have huge consequences on my health. If being 60 is indeed the new 40, then I am in the prime of my life and definitely want to stay that way. To appeal to my hungry inner child while still appeasing my older sensibilities, I am always looking for good food that fuels my desire to take on everyday challenges. Fortunately I have found the perfect combination of taste and health in the wonderful world of pork.
 Packed with protein, pork not only tastes great, several cuts are also great for me. There are even seven cuts that are classified as lean by the USDA. And it's so easy to cook, too - just keep your trusty digital thermometer nearby. With the summer grilling season upon us, all you have to remember for pork chops, loin roasts and tenderloin is to use a hotter, direct heat to bring them to an internal temperature between 145°F for a medium rare and 160°F for medium. Ground pork should always be brought to an internal temperature of 160°F. Follow the cooking with a three minute rest, and then get ready to enjoy some solid pork goodness.
Or you can try smoking pork for a truly incredible taste sensation. You'll need to cook it over a low temperature using indirect heat for a longer period of time. Add different wood chips like hickory or cherry to enhance the smoky flavor. I know I'll be getting my pork on this 4th of July, but I won't be alone. According to the National Pork Board, 3.34 million pounds of ground pork were sold during the 2015 Fourth of July holiday weekend - more than 13 million pork burgers! And don't forget those ribs - 62.3 million pounds of ribs were sold leading up to the Fourth of July holiday, making it the top summer holiday for rib sales.
 Want to take your Independence Day grilling up a notch? Here are two lip-smacking, recipes to get you started: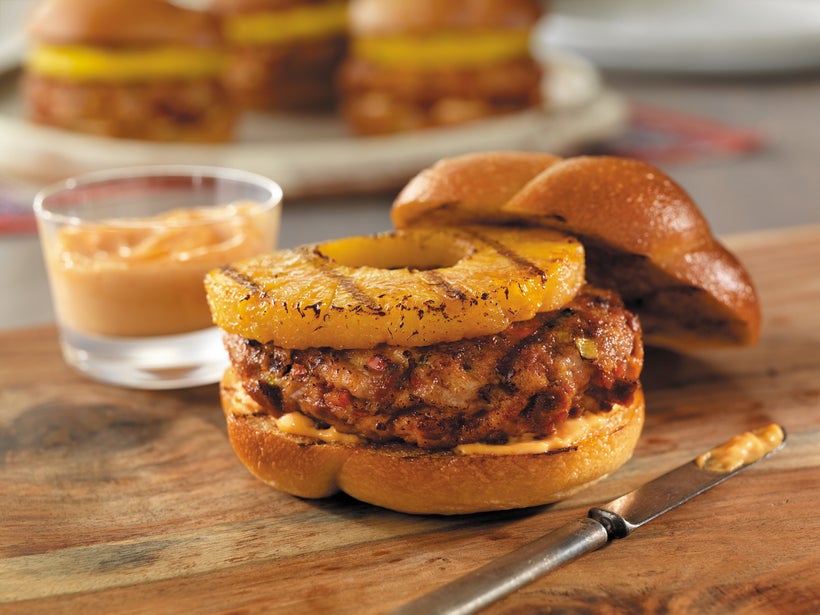 Pork and Chorizo Burgers with Pineapple and Sriracha:
8 Ounces Smoked Spanish Chorizo, links with the casings removed
1 Pound Fresh Ground Pork
1/3 Cup Bread Crumbs, Dried
1 Large Egg, Beaten
2 Scallions, Finely Chopped
2 Tablespoons Red Bell Pepper, Finely Chopped
1 Clove Garlic, Minced
1/2 Teaspoon Kosher Salt
6 Fresh Pineapple Rings, cut about ½ inch thick
6 Hamburger Buns, preferably sweet Hawaiian Style, split
Fresh Cilantro Leaves for garnish
1/2 Cup Mayonnaise
1 Clove Garlic, pressed through a garlic press
1 Teaspoon Sriracha Chili Sauce
Mix mayonnaise, garlic and Sriracha sauce together in small bowl and set aside. Can be stored in the refrigerator for up to 3 days.
Burgers: Finely chop chorizo in a food processor or with a large knife. Gently mix together ground pork, chopped chorizo, breadcrumbs, egg, scallions, red pepper, garlic and salt. Shape into 6 patties about 3/4-inch thick. Refrigerate for 10 to 15 minutes.
Prepare grill for direct cooking over medium-high heat, about 450 degrees F. Lightly oil grill grate. Grill burgers, with the lid closed, for 5 minutes. Turn burgers, and add pineapple to grill. Finish cooking burger until the internal temperature reads 160 degrees F. on a digital meat thermometer (about 4 to 5 minutes more), turning once or twice, until hot and seared on both sides. Grill pineapple rings until browned on each side. Remove from grill.
Toast buns on grill, about 1 minute. Build burgers on buns with 1½ tablespoons aïoli, 1 pineapple ring, and cilantro leaves to taste. Serve immediately.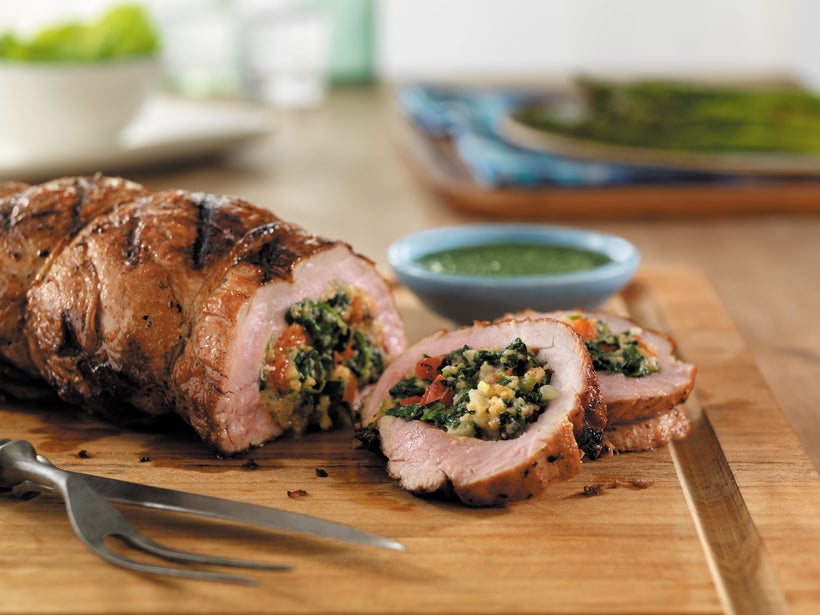 Stuffed Pork Tenderloin with Chimichurri:
1 pork tenderloin, about 1 1/2 pounds, trimmed
2 teaspoons extra virgin olive oil, divided
2 tablespoons shallot, minced
1 clove garlic, minced
10 ounces baby spinach, rinsed but not dried
1 small red bell pepper, roasted, seeded and diced (3/4 cup)
1/4 cup Parmesan cheese, grated
3 tablespoons Italian-seasoned bread crumbs, dry
1/2 teaspoon salt, divided
1/4 teaspoon pepper, divided
Chimichurri:
1 cup flat-leaf parsley, packed and coarsely chopped
1/4 cup water
2 tablespoons extra virgin olive oil
2 tablespoons red wine vinegar
2 tablespoons onion, finely chopped
1 teaspoon dried oregano
1 clove garlic, finely chopped
1/4 teaspoon salt
1/4 teaspoon pepper
1/4 teaspoon red pepper flakes
To prepare chimichurri: Process all ingredients together in blender, occasionally stopping to scrape down sides, until smooth. Transfer chimichurri to a serving bowl, set aside (makes about 1/2 cup chimichurri).

To prepare the pork: Butterfly pork, cutting tenderloin lengthwise, stopping about a quarter inch from the bottom. Open pork, make a lengthwise cut on each meaty side, and open again so pork is about 5 inches wide.

Heat 1 teaspoon oil in medium nonstick skillet over medium heat.Add shallot and garlic and cook until shallot softens, about 1 minute. A handful at a time, stir in spinach, letting each batch wilt.Cook, stirring occasionally, until spinach is tender, about 3 minutes.Drain in sieve and let cool until easy to handle. Press hard on spinach mixture with spoon to remove excess liquid. Transfer to bowl and stir in bell pepper, cheese, breadcrumbs, and 1/4 teaspoon of salt and 1/8 teaspoon of pepper. Spread filling on pork. Roll up lengthwise and tie crosswise with kitchen twine (or unwaxed plain dental floss) in three or four places. Brush with remaining teaspoon oil and season with remaining salt and pepper.

Prepare outdoor grill for indirect and direct cooking over medium-high heat (about 400 degrees F.).Grill tenderloin over direct heat, with the lid closed, turning occasionally, until browned, 5 to 7 minutes. Move to indirect heat and continue grilling, with the lid closed, until the internal temperature is 145 degrees F. (medium rare) to 160 degrees F. (medium) on a digital meat thermometer, 17 to 22 minutes more. Remove from heat and let rest for 3 minutes.
Remove twine. Cut tenderloin crosswise into 1/2-inch slices. Serve with chimichurri on side. Leftover chimichurri can be covered and refrigerated for up to 2 days.
With so many options the journey is a never-ending "porktastic" adventure. True to my childhood days, I'm still hungry all the time. Only now healthier options to satisfy my cravings. This Independence Day, stake your claim on a meal that will reflect your unique desire to create meals and memories for family and friends, something that feeds the body and the soul. Something that delivers on its promises - Pork!
NOTE: I have no commercial connection to any brands mentioned in this post
REAL LIFE. REAL NEWS. REAL VOICES.
Help us tell more of the stories that matter from voices that too often remain unheard.
This post was published on the now-closed HuffPost Contributor platform. Contributors control their own work and posted freely to our site. If you need to flag this entry as abusive,
send us an email
.