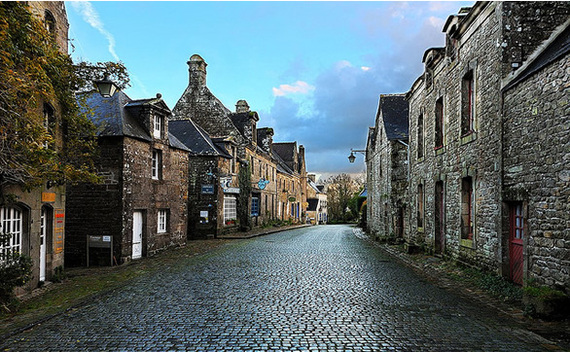 Brittany is the extreme west part of France, and is not to be confused with Britain, which stands for Great Britain, aka England -- but you knew that.
The funny shaped region juts out to sea in the form of a massive cross. The rugged province is tough and primal in many ways: the terrain, the rocky shores, the massive high tides and monstrous waves, the deep forests where elves and fairies to this day live.
My grandparents spoke Breton, a local dialect of Brittany. They were on both sides of my family from the départment of Finistère, on the southern shore. They also spoke French but never wanted to admit it, so they taught me and my brothers Breton over the summers we spent with them, while my parents continued working in Paris.
The guttural language is still alive in Brittany, and furthermore, one can do all of its studies and pass all exams in Breton, if this is their choice -- a nice way to preserve the rare tongue for future generations.
The summers were filled with trips to the chilly and flat beaches around, in the Citroen 2CV of my aunt Paule. We took sticky toasts of jam and warm juice so we could spend the day at the shore. My brothers would fetch tiny crabs and release them soon after.
On my father's side, generations of sardines fishermen made a difficult living depending on weather, migrations, diseases, and other fluctuant factors. Life was hard and rewarded only by returning home to make yet another child. At my grandparents' house, we ate sardines and crèpes for dinner -- on most days.
My grandma was one of the last remaining Bigouden people wearing the traditional tall headgear, made of starched white lace that really looked like a pipe on top of the skull -- it was infinitely weird, but to me it was just Grandmère. She was buried with it in an especially long wooden coffin made by my grandpa.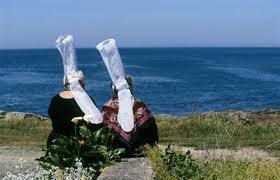 Brittany has a vast number of incredible and magnificent historical villages and points of interest. For example, the tiny village of Locronan, some 10 miles from Quimper, the regional capital, is made of granite, its narrow cobbled streets impossible to navigate by modern cars, so the entire village is pedestrian.
Door frames of the Renaissance houses and pubs here are rather low, as the Vikings and native Bretons were of rather small heights (around 5' to 5'4 for men). The little town is named one of the 10 most beautiful villages of France.
Considered a sacred place by the Celts, Locronan's history goes back more than 2,000 years. In the middle ages, it became a prosperous manufacturing site for hemp sails and ship rigging canvas. Even though it's 25 miles away from the sea, the Viking ship builders used to come to Locronan for sail-cloth.
The 15th century Saint Ronan church is a beautiful flamboyant Gothic art structure. Saint Ronan was an Irish hermit who came to Locronan in the 9th century and taught the local inhabitants the art of weaving.
One of the most incredible beach of Brittany is Beg Meil. It has everything you can possibly want from a wild Atlantic beach: fine white sand, large rocks jetting out to sea, protected coves where the wind won't land any sand in your jelly sandwich, vast maritime pine forest lining the shore, creating shaded areas if needed, and a clear emerald sea with small enough surf to keep it safe and ideal for kids.
Some coves are really shallow and some can reach 12 feet deep, so the swimming is ideal for everyone. No sharks have ever been reported here and jelly fish don't like the labyrinth of rocks protecting the beach. The flat terrain of the main beach area creates very flat hard sand at low tide, which sometimes retreats several hundred yards away.
My brothers learned to swim there at the Mickey Beach Club of Beg Meil, a big draw for little ones at the time. At the end of the beach, a lighthouse helps boats to navigate the rocky straights around. This is where Marcel Proust found the inspiration for his book "A la recherche du temps perdu."
Further down the coast, towards Mousterlin, a long sliver of pure white sand offers quiet and emptiness to all, with the Kerler beach, a deserted bank jetting out and following the coastline.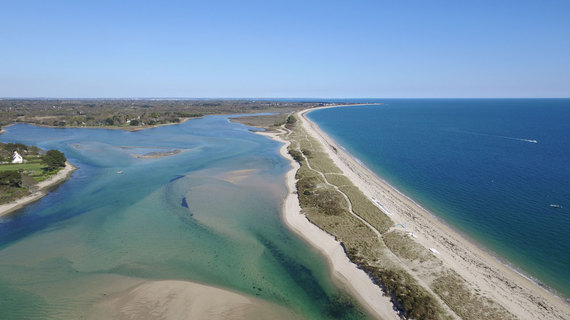 On a special note, I want to confirm that the majestic island of the Mont Saint Michel is NOT located in Brittany, like many think -- but in Normandy, the neighbor province to the north shore.
The confusion might have been born because, in the year 867, a treaty gave the rock and its surrounding regions to the then king of Bretagne, Salomon. It's only when Guillaume I of Normandy claimed and took back that very same region, including the Mont, in 933, that the fate of the famous island-dome was finally decided and returned to Normandy -- where it still lays today.
Questions /Comments = sidoniesawyer@gmail.com.
Visit my website for more stories.
Related