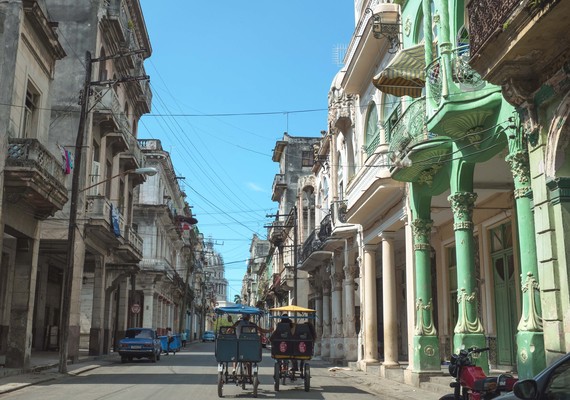 Virtually every Havana street is a magical surprise of vintage decorative architecture, which housed many of the artists' studios that we visited. Photograph by Nestor Kim Enríquez.
Cuba's contemporary artists have long enjoyed unique attention from the art world's critics, collectors and curators. Since Cuba's "special period" of the 1990s, following the fall of Cuba's patron, the USSR, artworks produced in Cuba have been objects of fascination by the acquisition committees of some of the world's most elite arts institutions, including New York's MOMA, Paris' Centre Pompidou, and London's Tate Modern. Over the years, I personally had discovered the remarkable works of native Cuban artist Kadir Lopez, and had become mesmerized with his local vision and penchant for adaptively re-using materials with a collage aesthetic, such as embellished vintage metal advertising signs, for example, that he has accumulated from around the island. Given his kind of genuine talent, I wanted to encounter Kadir's colleagues and see for myself what was going on in Cuban contemporary art. With President elect-Donald Trump threatening to reverse President Obama's relaxation of restrictions on travel to Cuba, my wife and I decided to seize the moment and head to Havana.
Cuban art, like Cuban culture, is an exceptionally diverse synthesis of African, Latin American, European and North American elements, which reflect the varied demographic makeup of this enchanting place. Historically, Cuban artists have embraced European schools and movements, especially the modernism of Picasso protégé Wifredo Lam, and Lam's contemporaries in the early part of the 20th century.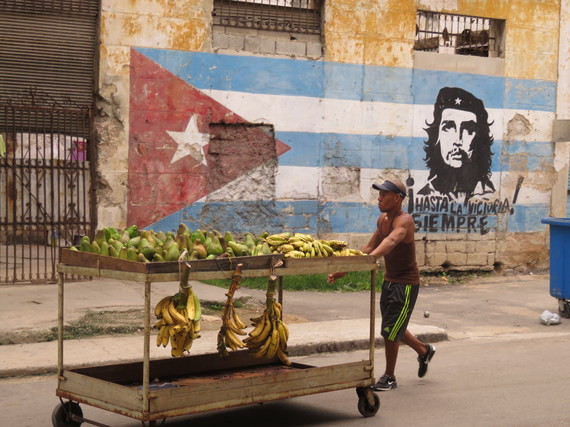 The streets of Old Havana are filled with moving vendor carts, adding a distinct charm to the area. Although commercial billboards seem to be banned, exceptions are made for political imagery, adding a surrealist juxtaposition of the old and new. Photograph by Bruce Helander.
After the revolution, Cuban art as an institution went into a retrograde period. Even as the country developed a great, if still unfinished academy of fine arts, the Instituto Superior de Arte (ISA), many artists decided to leave Cuba, along with an exodus of residents, to produce their art independently and out of the shadow of censorship. Fine arts on the island became an instrument of mass communication in the Soviet style, where art was to serve the revolution. Finally, in the 1990s, following the Soviet Union's fall, contemporary art created in Cuba began to reflect a genuine personality of independence, invention and uninfluenced representation, providing a kind of rebirth of post-modernist expression that was affected greatly by the emergence of a new post-revolutionary generation of Cubanos.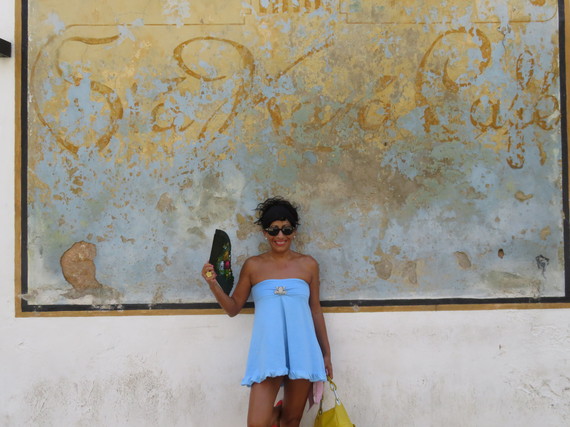 Outdoor Havana is sometimes a canvas of crumbling, pastel walls and gorgeously faded hand-painted signs, like this one for the Siá Kará Café, which is still open for business and considered the best pub grille in town. Photograph by Bruce Helander.
As my wife and I started to make our plans, it became clear to us that we needed expert help to make the most of our long weekend. Some friends from West Palm Beach urged us to seek out the services of Havana VIP Tours, a full-service concierge-style independent tour operator with offices in Philadelphia, and a full staff in Havana. They referred us to ARTempoCuba, a collaboration between Cuban and American-based artists and curators (including Kadir Lopez) who publish an invaluable book, Cutting Edge Art in Havana, which profiles more than 100 artists living and working in Havana today, complete with the artists' contact info, and even maps to their studios.
With the experts paving our way, we landed at the modest but bustling Terminal 2 of Havana's José Martí airport, where we were met by our smiling lady chauffeur, Maribel, who is the proud owner-operator of a perfectly restored 1957 Chevy Bel Air. We were thrilled that for the next three days, she would chauffeur us around town in this classic car with traditional música Cubana playing from the old-fashioned radio on the dashboard that had been discreetly retrofitted with powerful air conditioning.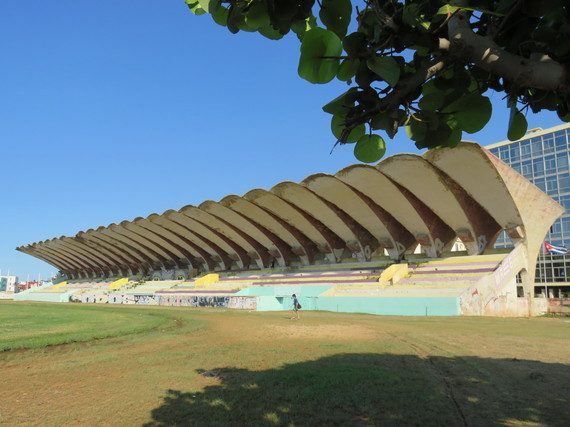 In between grand estates and charming apartment buildings, occasionally an art lover can discover unique 1950s moderne public architecture like the one pictured here, a former soccer stadium, which never recovered from a direct hit by a hurricane. Photograph by Bruce Helander.
We started with a whirlwind tour of greater Havana, which any art lover would adore as the urban environment simply has not changed in fifty years and holds a wonderful aesthetic that art people appreciate. Our first guide was Olivia, an Architecture Professor at the University of Havana, who gave us a crash course in the architectural history of Havana. From colonial and art nouveau to art deco and 1950s jet age modern, Havana's eclecticism is a joy to behold. Our next guide, Magalys, gave us a walking history lesson through the cobblestone streets of Old Havana. Once we had gotten the lay of the land, we concentrated on visiting a number of artists and their studios, arranged by our own "Art Safari' guide, Mayret González, hot shot director of ARTempoCuba and co-author of Cutting Edge Art in Havana. We had consulted with Mayret in advance of our trip and provided her with a selection of artists from her book that we wanted to meet.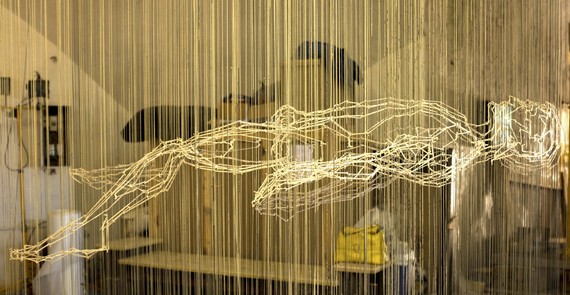 Duvier del Dago, Humano 2, in the dramatic setting of del Dago's cavernous studio in the 300-year-old El Morro Fortress. Photograph by Nestor Kim Enríquez.
Our first visit was to Duvier del Dago, whose studio housed in the bowels of the spectacular 300-year-old El Morro Fortress, is the most unusual studio that I have ever had the pleasure of experiencing. Duvier works in fiber and light, sketching complex full-scale 3-D war planes, battle tanks, and human bodies as simple line and color. When he switches off the work lights in his vast studio and switches on the UV lights of his creations, it's nothing less than dazzling. His work is about militarism, consumerism, and where we, as humble humans, fit somewhere in-between. Duvier's work is seen in collections around the world, including the Museo Fundación JUMEX in Mexico City. I wouldn't be surprised if some great U.S. institution should get a hold of Duvier and present his compelling works to an American audience.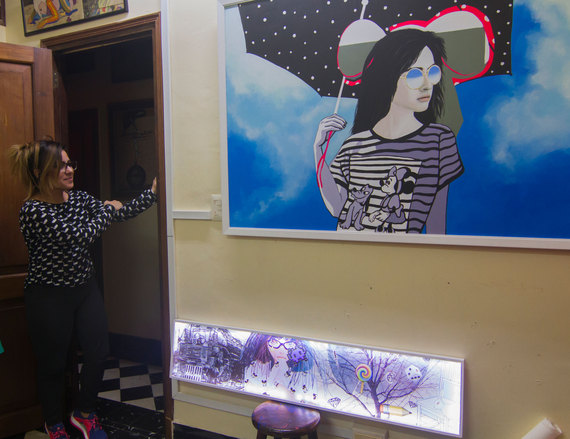 The artist Osy Milian in her home and studio. Milian's work often mixes innocence with sexual innuendo, as well as popular branding symbols of youthful marketing. Photograph by Nestor Kim Enríquez.
Our next visit was to artist Osy Milian, who is now twenty-four, but was a child prodigy winning Cuban national prizes since she was nine. Osy recently was named one of Adidas' first Cuban brand ambassadors, and her pop-influenced paintings and multi-media installations make it clear why the sport apparel giant chose her. Osy's work is cool, young and vibrant, but it's not shallow. Despite Osy's own bubbly enthusiasm, there's a longing and loneliness in her work. Maybe it comes from so many of her family and friends having emigrated.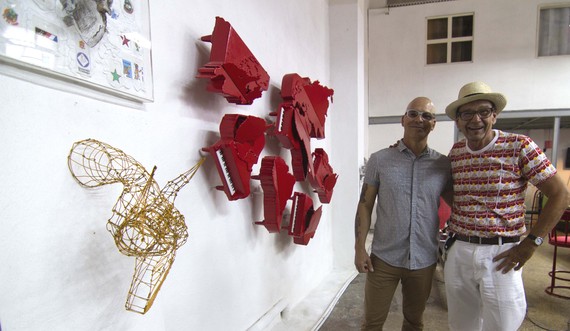 William Pérez (left) and Bruce Helander in the artist's studio, converted from an old pharmacy, with Pérez's recent works on display. Photograph by Nestor Kim Enríquez.
While in Centro Havana, we visited an old pharmacy that has been transformed into the studios of Marlys Fuego and partner William Pérez. Marlys describes her multi-media work as erotic kitsch, whereby she plays with the viewer's preconceptions between object of art and object of fun. William Pérez also works across various media, but his metaphorically charged cast aluminum sculptures, one of which, a life-size rhinoceros, recently was acquired by the Museum of Latin American Art in Los Angeles, all elicit powerful political overtones. Look for big things from William and Marlys in 2017, as they were awarded a highly prestigious Rockefeller Foundation Fellowship.
Also in Centro Havana, we met another artist couple, Adonis Flores and Marianela Orozco. Adonis was sent as a young recruit in the Cuban army to fight in Angola, widely referred to as Cuba's Viet Nam. His artwork features the soldier as clown, as pawn, as peon, in a biting visual commentary. His partner Marianela's sophisticated conceptual interventions are no less profound, but are serene and quietly contemplative.
Finally, at the end of the day, we were happy to meet Kadir López at his home studio. Like most great artists, Kadir is a non-stop creative machine. His artworks tell a story of Cuba from the 1950s to the present day using salvaged advertising signs and famous photographic images from Cuba's past. A Shell gas station sign is overlaid with a photo of Havana casino kingpin Meyer Lansky. A Norge refrigerators neon sign illuminates photos of dancing girls from the 1950s Club Tropicana. Kadir's works are at once glamorous and sardonic. One of my favorites is Havana Monopoly, a big shining monopoly game board featuring a photo of Fidel Castro wielding a baseball bat.
We became so engrossed while talking with Kadir that we lost track of time and missed our dinner reservations, but were rewarded by a happy surprise: Kadir is part owner of a paladar in Old Havana called Tres Monedas. Tres Monedas is Kadir's take on the post-modern speakeasy. Tucked into a building on a side street away from Old Havana's beaten tourist track, the space is filled with Kadir's art, as well as his custom-designed furniture. But if you just come for the art, you'll be missing out, because the chef at Tres Monedas has created a delicious menu of updated classic Cuban cuisine. We ate, drank and talked about art for hours. What a great capper to a wonderful trip.
With more than one hundred artists listed in our guide book, it obviously was going to be impossible for us to see all of them in one long weekend visit, so before we even had left Havana, my wife and I already were planning our return. When we said goodbye at the airport to our still-smiling chauffeur Maribel, we told her that we would be back soon. She replied, "We will be here for you. Now we are friends forever." Hasta pronto Cuba!
Related
Popular in the Community