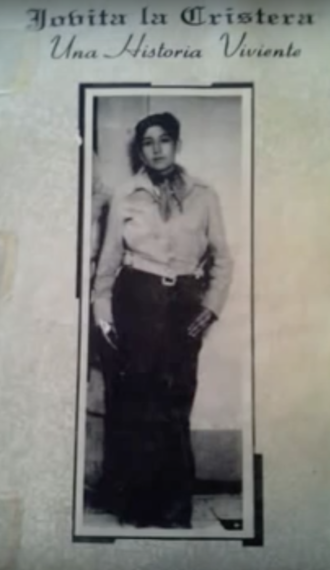 It's true, Jovita Valdovinos, my distant great aunt, was a bonafide revolutionary that dressed like a man and took up arms to fight for religious freedom during Mexico's Cristero War (1925-35) and whom historians and journalists alike have dubbed the Mexican "Joan of Arc."
The ballet interpretation of my story, By the Light of the Moon / Por la Luz de la Luna, that features Jovita as one of the main characters, is set to hit the stage at the Sebastiani Theater in Sonoma this weekend. Setting a spotlight on Jovita's heroic life is ever important at this anti-Mexican and anti-immigrant moment in the US. It is critical also to note that this will be one of the first Mexican-themed ballets in ballet history. US Latinas who dance ballet will now have the opportunity to play Latina characters because of this production.
Jovita, was born in 1911 in the rancho of Palos Blancos, near the town of Jalpa, Zacatecas, Mexico where my family and I were born. Most of what I know of Jovita comes from her self-published memoir, Una Historia Viviente (1990), as well as from the vivid memories my mother has of her Tia Jovita. My aunt wished to write her own account of her life because she disapproved of a novel about her life, La Sangre Llegó Hasta el Río, by Luis Sandoval Godoy.
She spent her childhood in the countryside, learning to ride horses, throw rocks and shoot guns - all traits uncommon of women in the early part of the century in Mexico. She was known to fold her long skirts back and create makeshift pants so that she could run as fast as her brothers, Ramon and Luciano.
The Mexican Revolution of 1910-1920 had come and gone and in its wake established a government that outlawed religion. They closed churches, killed priests and practitioners of any religion, including those practiced by Indigenous communities. However, after 400 years of dominant Catholic reign in Mexico, taking Catholicism from the masses, proved to be a more difficult endeavor than anticipated. Many of the rural poor in the Mexican states of Zacatecas, Jalisco, Durango and Michoacan, rose up in arms and fought for their religious rights.
Jovita's father, Teófilo Valdovinos commanded a scrappy battalion of men most of whom lived in pueblos and rural communities near Jalpa, Zacatecas. They fought the government's well-funded and armed Federation Army. Jovita was swept up in the conflict because of her father's revolutionary actions.
In 1925, their home was burned and they were forced to live in caves. Her brother Luciano was killed and decapitated by the Federation. His head was displayed on a stake in the town square as a deterrent for further protest. She was captured and raped by a General of the Federation and was shot when she tried to escape. She survived and successfully escaped within five days of being shot and stole thousands of pesos from the General in the process. Jovita was only 15 years old.
When the first wave of the Cristero war waned in 1929, the Federation went after former revolutionaries. In 1930, her brother, Ramon, and father were killed at a ranch when the Federation surrounded them. It was then that she made the decision to take up arms and ignite the second wave of the Cristero revolution.
Jovita Valdovinos changed her name to "Juan" and cut off her long hair. Eighty men followed her without hesitation into battle for justice for the revolutionaries. She wore the typical dress for men - long jean overalls and long-sleeved cotton shirt, a wide brimmed straw hat over her cropped hair. She stepped into the place her father left as if she had been there all along.
She commanded her men in the Sierra de Morones -- a rugged terrain that to her benefit was unknown by the Federation Army. She was a clever strategist and outsmarted the Federation often killing many of their men while her troops came away unscathed. She rode a stallion and was accompanied by her dog, El Africano, for whose paws she had huaraches or sandals made. Jovita used the surrounding community to supply food, weapons and money. She was known to be generous with the lives of those in support of the Federation and spared them if they surrendered weapons and money without a fight. Though sometimes, she did not hesitate to unleash fire on those Federation supporters who fought back and opposed her.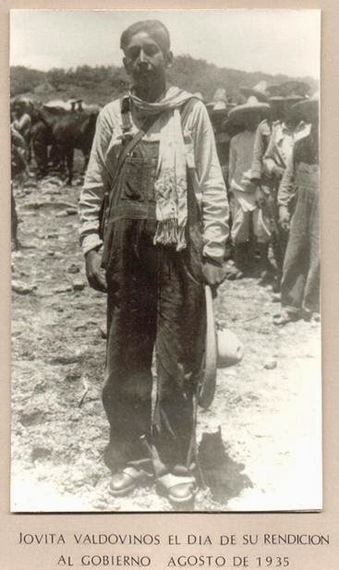 The Federation offered her troop of revolutionaries a truce in 1935. After five years of fighting and when one of her most loyal men was gunned down, she conceded without incident. The Mexican President, Lázaro Cardenás, asked to meet the tiny woman who had given them such a hard time on the battlefield. He pardoned her life for being a woman and gave her a sizeable monetary reward.
In her older age, she went from Mexico to the US where she also set up residence. She would often visit with my grandfather, Jose Maria Viramontes, also a Cristero revolutionary. My mother would sit at their feet and listen to their stories while out in the Sierra. Jovita was in her 90s when she died.
Jovita was loathed and loved alike for her struggle. A Mexican ballad or corrido was written in her honor. Though she never heard voices from God like Joan of Arc, and was arguably not in it for Catholicism, my great aunt Jovita Valdovinos was a woman who defied her time and her assigned gender role to fight for what she felt was just.
This weekend, as a fictional account of her story is brought to life in an unlikely ballet by the Sonoma Conservatory of Dance and Isabelle Sjasham's gorgeous choreography, I stand proud. I am inspired and grateful to be part of Jovita Valdovinos' courageous revolutionary lineage.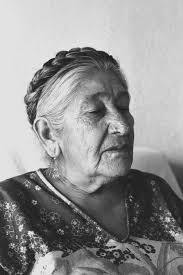 Popular in the Community