Years ago when I was researching a book on Edith Wharton's psychology and fiction, I visited her former home north of Paris in Saint-Brice-sous-Forêt. It was less than an hour north of the city and I'd written to the owner's secretary long in advance to get permission to explore it and take pictures. I didn't realize my clueless publisher would have no interest in the photos, not even an author photo of me in her garden. The ways of publishing have always been mysterious....
Arriving in that small town of fewer than 15,000 citizens, and fluent in French, I was puzzled that nobody I asked on the street seemed to know where Rue Edith Wharton was. I kept getting responses of "Desolé, M'sieu, connais pas." Sorry, don't know. Finally I resorted to the Town Hall for a map to find the home Wharton called Pavillon Colombe, which was built in the late 18th century for an actress. I later learned that the street had only recently been renamed for Wharton, which was probably why citizens couldn't help me.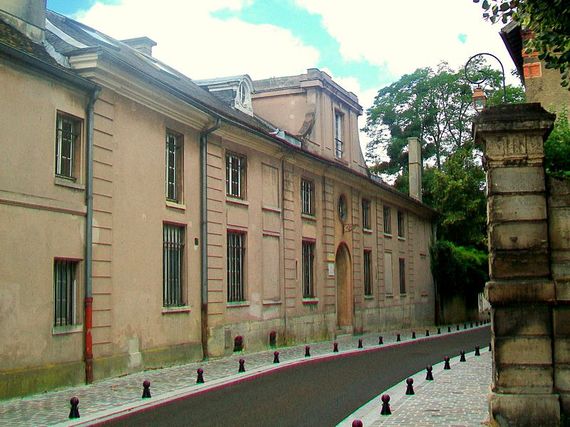 Though the facade of her home is aloof and impersonal, it opened into a cool, dark hall, beyond which, through French doors, stretched a sunny parterre. A shy maid showed me into a gorgeous salon filled with beautiful paintings, tables, books, and bibelots. A bell rang somewhere and the maid said, "Madame la Princesse vienne." I stood there trying to figure out why she was using the subjunctive to tell me that the princess was coming, and I felt that I was in way over my head. Me meeting a princess?
But I couldn't help relishing the elegant rooms opening onto each other and onto the parterre. This was my first time ever in a French home of such grace and beauty.
Princess Isabelle von und zu Liechtenstein, the wife of Pavillon Colombe's owner, strode up through the garden. She was drop-dead chic in black and grey with a colorful Chanel scarf at her throat, her hair in a chignon. As she passed wailing peacocks, she called out to two bounding white borzois in a high piping voice. It was an entrance like something out of a stage play, dramatic and somewhat intimidating.
Madame la Princesse gave me a brisk but exceedingly gracious tour through the house that bore no trace of Wharton's former presence. On my own I toured the garden which also had changed since Wharton's day, but still showed signs of her planning. In the Italian style, it was a tranquil, inviting progression of orderly spaces, light giving way to shadow, square spaces to round, grass to fountains.
Upon leaving and thanking my host, I struck the absolute wrong note. Bastille Day was coming up and I made some reference to it, because I'd never been in France before on July14th and was looking forward to the fireworks.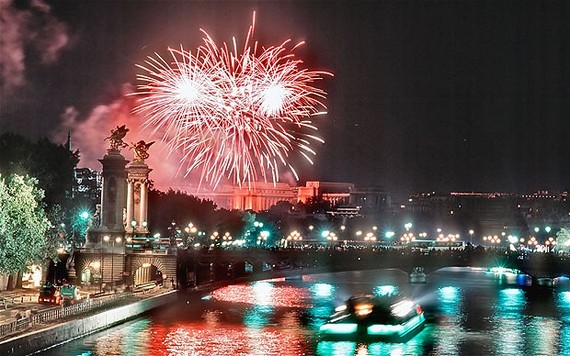 Without thinking, I asked if the Princess had any special plans. "Je porte toujours le deuil," she said with no change of expression: "I always wear mourning." She added that her husband was a descendent of Queen Marie Antoinette.
My French failed me. My English failed me. Had I spoken German at the time, that would have failed me, too. Luckily, I was on my way out.
It does make a good story, though, something Wharton herself might have enjoyed, given how she satirized Americans abroad in books like The Custom of the Country. I suppose the Princess's version might be even more entertaining -- if she's ever deigned to tell it, of course.
Lev Raphael is the author of the mystery The Edith Wharton Murders and 24 other books in many genres. This anecdote is taken from his study Edith Wharton's Prisoners of Shame.