It's been almost 20 years since "My Best Friend's Wedding" debuted, and ultimately became one of the best rom-coms ever made. So, why the heck haven't we been given a sequel yet??
Well, according to Dermot Mulroney, who played Julia Roberts' best friend Michael in the 1997 movie, a spinoff could happen ... maybe ... one day. 
"I'll say whatever I want about the sequel ― the phantom sequel for 'My Best Friend's Wedding,' but it's not real, people!" he told The Huffington Post during an interview on Tuesday. "I'm supporting the fact that this seems like a good idea, but I want to emphasize that it isn't a real thing," he added, laughing about the fact that these kind of stories go crazy due to the internet age.
"I started getting asked that [during the 'August: Osage County' press tour] and then it becomes a whole thing!"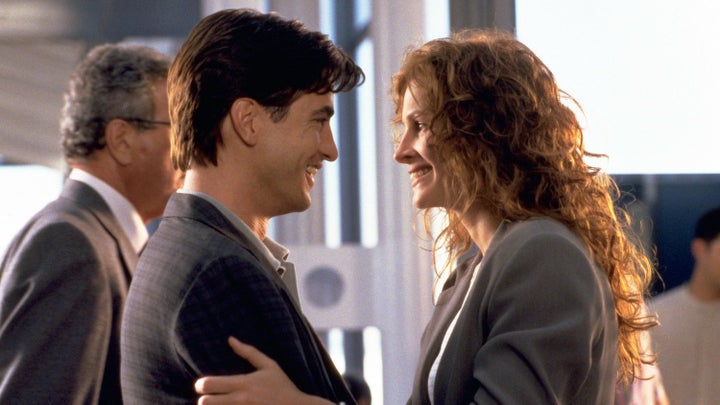 Still, the actor is well aware that "My Best Friend's Wedding" is very beloved, and that fans would love to check in on Michael and Kimmie (Cameron Diaz), as well as find out what happened to Julianne (Roberts).
"I guess we can't call it a classic yet [but] there's so few [rom-coms] since then that were as well made or that just had the same kind of legs that this has," Mulroney said, explaining his secret to rom-com success. "It took me this long to actually analyze why that movie stands out from the crowd of romantic comedies ― it's, she's a sad clown. It's a melancholy movie. And that's what's funny about it. It's like somebody slipping on a banana peel. We love that. And all of the other romantic comedies, they're focused on the girl and the guy getting together. 'My Best Friend's Wedding' is the exact opposite. So I've just given away a secret formula." 
When push comes to shove, Mulroney, who is currently starring in "Pure Genius" on CBS, seems like he'd be more than happy to reunite with his real-life friend Roberts if the time was ever right. (Screenwriters of the world, make the time right!)
"I have nothing but great memories of that [movie]," Mulroney gushed. "There was a period shortly after it was out that was like, 'Oh, please, go away, leave me alone.' And that passed, and I'm back to really just, I can't believe that I'm in a movie that has that kind of staying power." 
For more with Dermot Mulroney, watch our full interview below. 

Hit Backspace for a regular dose of pop culture nostalgia. 
Calling all HuffPost superfans!
Sign up for membership to become a founding member and help shape HuffPost's next chapter
BEFORE YOU GO
PHOTO GALLERY
Julia Roberts Movies