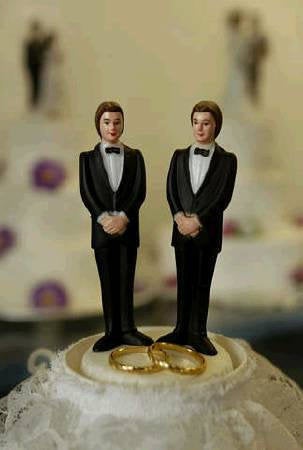 At 5:01 p.m. on June 16, 2008, my partner, Diane Olson, and I received our marriage license at the Beverly Hills Courthouse. When we took the oath, the clerk who gave us our license had tears in her eyes. She had turned us down so many times earlier that she could not hold back her emotions. County Supervisor Zev Yarslovsky didn't cry, because I had been telling him jokes for the half hour we had waited in a private room inside the locked courthouse. (I love a captive audience.)
At 5, we left the room and went to the clerk's window. I wasn't nervous at all. Once I stopped shaking enough to sign the forms and remember exactly how to spell my birth name, Chernick, I thought the hard part was over.
I had promised my wife, Diane, a nice, simple, elegant, Jewish wedding, with just a smattering of friends and family. We had decided that right after we got the license, we'd get married on the steps of the Beverly Hills Courthouse, where we had applied for a license -- and been rejected -- every year since 2001.
We had chosen the courthouse because it was Ground Zero in the case that eventually won lesbian and gay men not just the right to marry, but all of the legal protections of marriage in the state of California. It was there that we had announced our lawsuit on Feb. 12, 2004. Gloria Allred filed the first lawsuit in the California Supreme Court same-sex marriage case on Feb. 24, 2004, on behalf of me and Diane and a gay couple -- Rev. Troy Perry and his husband, Phillip Ray de Blieck, whom he had married in Canada. (Tyler et al Vs County of LA)

What a lovely, simple wedding it was to be. Our gorgeous, fabulous wedding cake was donated by a gay-owned bakery in West Hollywood, Cake And Art. Because the wedding was on county property, no alcohol was allowed. That was okay with us. Diane and I are both sober and wanted a sober wedding. So there we were, plastic champagne glasses for sparkling cider, plastic plates, plastic forks, and beautiful flowers donated to us by Regent Media, which owns the Advocate and HereTV.
Right before the ceremony, Michael Libow, the most famous real-estate agent in Beverly Hills, sang a cappella (because there really was no place to put a grand piano) Gershwin's "Someone to Watch Over Me." And although he brought the mayor of Beverly Hills with him, Michael did not hand out one business card, which I believe really took enormous control.
Yes, it was a simple, tasteful wedding, with our rabbi, Denise Eger, our immediate families, 65 friends, us wearing the matching, elegant, ivory linen suits we had custom made in Singapore last year, and something we hadn't expected -- more than 100 reporters and photographers from all over the world. When we pulled up to the courthouse in our limo, we couldn't park because television trucks were already parked for blocks. I got very excited. I thought that perhaps Britney Spears was at the courthouse (again) or Paris Hilton, or Brad and Angelina. I hopped out and walked over to a reporter. "Who is all this press for?" I asked, in eager anticipation of meeting a star. "You." "I beg your pardon?" "We are all here for your wedding."
I looked around. Media from all over the world and their equipment surrounded the courthouse. "Would you please excuse me?" I asked, and turned to run. (People born in Canada are always polite.) As I jumped back into the limo, photographers tried to snap my picture. Gary, our straight driver from Rich and Famous Limousine Service, was used to avoiding the paparazzi. He immediately hit the gas and zoomed away from the curb, leaving the family members and friends with us in the limo falling all over each other.
"Quick," I said, "give me a brush, a mirror and a bagel (to keep my sugar level up)." Diane asked what was wrong. "Nothing, honey, it's just that there are a few more guests than we anticipated." How many? she wanted to know. "Oh, I don't know, a hundred or so." Who are they? she asked. "Press," I said, trying to put cream cheese on my bagel and not get crumbs on my suit. My brother Robert took it from me and put the cream cheese on the bagel. Opening the package of lox was impossible, even for him.
I think it was at that point that Diane fully realized it was not going to be as intimate a wedding as we had planned. The local news stations carried our entire service, which, if you would like to see the ceremony, is online.
We even made the front page of the Drudge Report! Actually, it was just a picture of our hands with ring fingers crossed and it said "Robin & Diane get married, Beverly Hills, June 16." That surprised us. But what really took the cake (not the wedding cake) is that we were mentioned on Al Jazeera -- and not one bad word about it being a Jewish or a lesbian wedding. (Or perhaps mentioning that two lesbians had been married by a rabbi in a Jewish ceremony was not meant to be supportive. At least we were mentioned, and I always tend to see the glass as half full.) The wedding that I had promised Diane would not be a spectacle was covered around the word.
Los Angeles County, which we had sued for the right to get married, had given us, as a reward for suing them (or was it for being the first plaintiffs?) and winning, the right to get married at 5:01 p.m. June 16, the only couple so honored in LA County. (Everyone else had to wait for a license until the next morning.) The top official of the Los Angeles County Registrar's Office, Dean Logan, who granted this special right, was with us when we signed the marriage license and attended the wedding.
Despite the fact that we were almost crushed to death by the media, I thought the service was beautiful. Four men held the chuppah, a canopy under which a Jewish wedding ceremony is performed. They were Steve Krantz, founder of Jews for Marriage Equality, and regional director of the Southern Pacific Region of PFLAG (Parents and Friends of Lesbians and Gays); Terry Leftgoff, our friend who founded the Santa Barbara Gay and Lesbian Business Association; our attorney Mike Maroco and our fabulous friend Bill Rosenthal, an openly gay Los Angeles city councilman. Of course, they all wore yarmulkes.
And, yes, a few anti-gay "Jesus loves you" protesters were there. They were screaming "Jesus Saves" at a Jewish wedding. Nice. It wasn't their ranting and raving that upset me. I'm used to it. I block it out. What was so distasteful is how they were dressed -- blue Jeans, rumpled T-shirts. Scruffy, scruffy, scruffy. Excuse me, but Diane and I were in our elegant ivory matching suites (we felt we were way past wearing virginal white).
My brother Robert, my best man, who was to stand next to me but couldn't squeeze between me and Gloria Allred, wore a designer jacket, shirt, tie and slacks. (It actually looked like I was marrying Gloria because she was right next to me and hung on to me so tightly, so she became my best man too.)
Every other straight man there was dressed in a suit and tie. It would be ridiculous for me even to mention how well the gay men were dressed. And all of the lesbians looked fabulous. (Not one bowling ball or pool cue for these women! They understood that this was to be a traditional wedding.)
Peg Yorkin and Kathy Spiller of the Feminist Majority were there. Their organization is going to help us fight the upcoming California constitutional amendment aimed at limiting marriage to one man and one woman. As important as their organization's commitment to fighting the amendment is, they and all of the other straight women there were dressed as if they were at the most elegant wedding ever -- which, trust me, it wasn't. We were in front of the Beverly Hills Courthouse, and, no matter how many flowers there were, how much press, how lovely everything was, it still was in front of a concrete building that looked like the setting for a women-in-prison movie starring Joan Crawford and Jan Sterling.
So we were married. And I sobbed during the entire wedding, and had to step on the glass three times before it broke. (Diane crushed her glass on the first try, which shows you who the groom really is.) And no, we did not have a gay marriage. The court actually ruled that the right to marry is a fundamental civil right, which cannot be denied to lesbian and gay couples. The ruling opened up the existing institution of marriage; it did not create a new and separate institution called same-sex or gay marriage.
Two women who had been together for 15 years and had known each other for 35 years were just "married." Had we been able to marry 15 years ago, we would have had all of the state rights for all of those years and might have pushed the federal government to give us equal rights. Had we been able to marry when we fell in love, I would have been 20 pounds thinner and would not have had to remind the photographers as we rushed toward the courthouse to get our marriage license that "airbrush" is not a dirty word. But better late then never.
Ours is a love story, but unlike Brokeback Mountain, ours has a happy ending.
Robin Tyler and her wife, Diane Olson Tyler, were two of the original four plaintiffs in the California Supreme Court lawsuit that finally granted equal marriage rights, and equality under the law, to lesbians and gay men in California. This year, she will film her one-woman comedy show "Always A Bridesmaid, Never A Groom." It finally has an ending.
robintyler@robintyler.com
Related