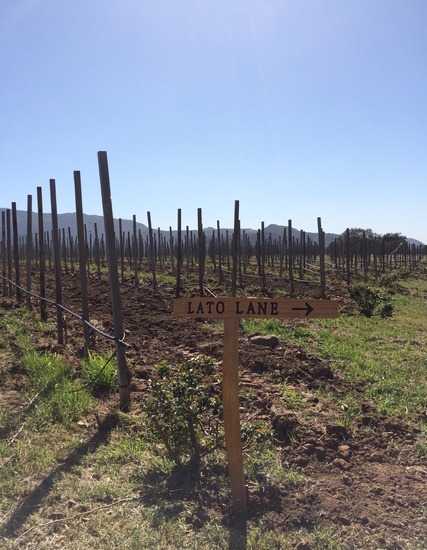 Having been born in Kentucky, no matter where I am in the world on the first Saturday in May, I look for a place to watch the "Run for the Roses". I've watched the Kentucky Derby in airports, hotel lobby bars and on other people's phones standing in lines. This year I found myself in Santa Ynez, California at the home of a friend of a friend.
I brought my usual Derby party gift, a quality bottle Woodford Reserve Kentucky Straight Bourbon, which I was happy to see was broken into soon after Nyquist crossed the finish line. It was a good race even if the horse I picked didn't show, much less win. It was also great fun for me as the token Kentucky native at the party to be gathered with a lively group from Texas, Santa Ynez, and Santa Barbara singing "My Ole' Kentucky Home."
After the Derby, I drove down Route 154 and onto Kentucky Road (how appropriate!) with my friends Inken and Chuck Rudd and Aurora and Rick Grimm to catch a tour of their vineyard before sunset.
The Grimm's moved to Santa Barbara about ten years ago with their children to put down roots. Not long after, they discovered Santa Ynez and decided that it might be just the place to retire. They bought their first piece of property, patiently waiting until the neighboring property became available, and they would have the space to build their dream house and winery. Today it is known as Grimms Bluff Vineyards where in addition to producing five clones of Cabernet Sauvignon, two clones of Sauvignon Blanc and a single clone of Petite Verdot grapes, they farm Tuscan Olives.
After a game of bocce ball, we toured the vineyards. Besides Aurora's beautiful white roses planted at the head of the vines, what caught really my attention was when I learned about their commitment to biodynamic wine making and why it is a superior method of farming to organic.
So, what is biodynamic and why is better than just plain organic?
If you define "organic" as being a farming methodology, which restricts the use of certain pesticides and fertilizers one could then conclude that biodynamic is organic on steroids.
Biodynamics precludes the use of all chemical herbicides, insecticides, chemical fertilizers and antibiotic contamination. Biodynamics also promotes biodiversity and spraying certain bacterial compounds to help promote healthy plants and root growth. There's also an element of planting, pruning, watering and harvesting in alignment with the biodynamic calendar.
Politics seem to come into play as well. You cannot use organic chicken manure unless the chickens are allowed to run free range for a period of time each day. One must take care that you don't kill beneficial insects such as honeybees when trying to eliminate destructive pest such as olive fruit flies. The non-profit, Demeter Association, Inc. is the United States representative and industry agriculture standard with the mission to enable successful farming in accordance with biodynamic practices and principles. In order for farms to achieve this level and refer to itself as Biodynamic, according to Demeter's website, it must achieve certification by adhering to the Demeter Farm Standard for a minimum of three years if conventionally farmed, or for a minimum of one year if organically farmed. Agriculture's version of Greenopia!
I left Grimm's Bluff the next day with another memorable Derby weekend tucked away, a new fascination with biodynamic wines and a reminder that winning the race isn't everything, it's the journey along the way that makes life worthwhile.
REAL LIFE. REAL NEWS. REAL VOICES.
Help us tell more of the stories that matter from voices that too often remain unheard.