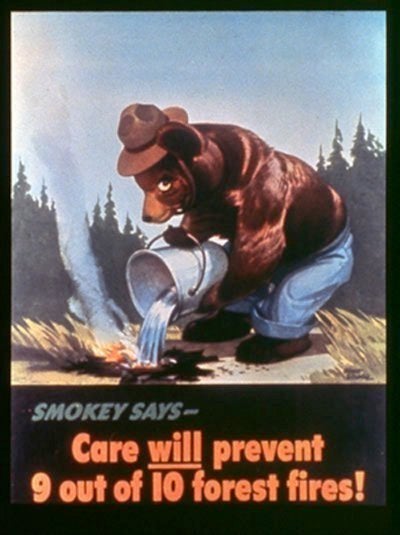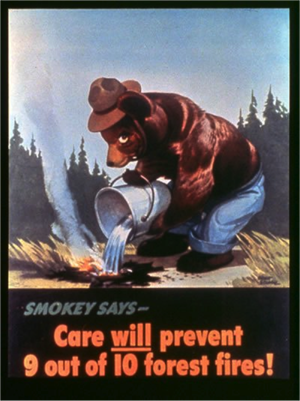 Today is my 67th birthday, and my birthday wish is the same as it has been for the past 67 years -- to end human-caused wildfires.
I made my debut on a 1944 wildfire prevention poster. It shows me wearing my dungarees and my now famous Smokey Bear hat while pouring water on an unattended campfire. Since 1944, my message has always been about being careful when you use fire.
And that message still holds true. Today, nearly 9 out of 10 wildfires nationwide are caused by people. That means 9 out of 10 wildfires can be prevented.
Since I first appeared, many people have helped me reduce the number of acres burned by wildfires from about 22 million in 1944 to an average of 6.5 million today, but my work isn't done yet.
That's why you should be extra careful whenever you use fire. Be sure that your campfires are out cold when you leave them. Don't burn on windy days and always check about local burning regulations. Put used charcoal briquettes into a metal canister -- don't dump them into dry grass. Be sure your motorized equipment has working spark arrestors. Be careful when parking a vehicle in a grassy area -- the hot exhaust system can set the grass on fire. Remind your friends and family to be careful and teach youngsters about me and my wildfire prevention rules.
When you choose to join the Wildfire Prevention movement, you're not alone. I've got lots of friends on Facebook and Twitter who are also helping to take action and spread the word. I have videos on YouTube and I can even travel around with you in your pocket when you download my new mobile app. I'll do whatever it takes to prevent wildfires. But I can't do it alone. Please help my birthday wish come true.
Remember, only you can prevent wildfires.
Related
Popular in the Community