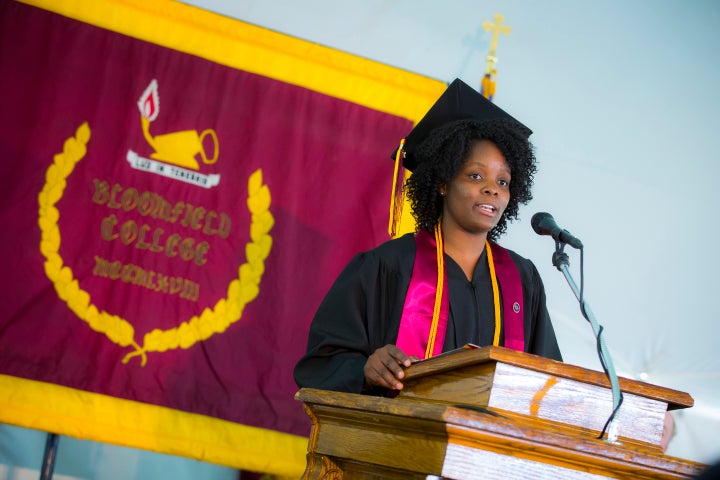 The Board of Trustees, President Levao, faculty, staff, honored guests, family, friends and most importantly, the class of 2016, good morning. I am truly humbled and honored to be your valedictorian and to speak on behalf of my fellow graduating students.
My name is Portia Chimbirai. I am an international student from Zimbabwe which is located in Southern Africa.  I came to America nearly five years ago to pursue my higher education. In 2014, after earning my Associate Degree in Business from Bergen Community College, I transferred here to Bloomfield College where i pursued a double major in Accounting and Finance.
Even though I haven't been at Bloomfield for a long time, I feel right at home. After all, Bloomfield College has been to most of us, a second home. We have gained friends, forged relationships and bonds that will last a lifetime. We have experienced that special, personal touch that this enriching college has to offer. It is because of this feeling of home that I would like to thank our school President, Richard Levao, faculty, advisors and staff for their unyielding dedication to every single student sitting in these chairs today. Thank you for going out of your way to make sure that we each have a memorable experience at this college. My gratitude goes to my professors, especially Professor Collmier, Pasmantier, DiLiberto, Powley, Michailidis and Luchka; just to mention a few. Your encouragement helped us reach our fullest potential.
I'd also like to take a moment to acknowledge all of our families and friends for their support and encouragement throughout these years and for taking the time to come and celebrate this milestone.  Your reassurance has helped hone and shape us into becoming the people we are today, and for that we are forever grateful. I'd like to say a special "thank you" to my cousin, Patricia, who is here with me today. Thank you, Patricia, for sponsoring my education, for your undying support, and for driving me to be the best that I can be. Above all, I want to thank God for walking me through this journey, for without his unending grace and blessings I wouldn't be where I am today.
Class of 2016: I commend every one of you for this accomplishment. The fact that we are here today is a testament to all of our hard work and perseverance. We all know that the road to success is rarely smooth but often paved with stumbling blocks. All we can do is to learn from our experiences, strive hard for success and conquer, and eventually we emerge victors, as we have today.
This is just an end to one chapter of our story. Now that we are graduating, we are ready to face the world and a new chapter of our lives will begin soon enough. I strongly believe that our experience here at Bloomfield College has equipped us with the essential skills and knowledge needed to not only thrive, but succeed, in life.
As we continue to write our stories, let us use our education to make a positive impact in the lives of those we meet through our life's journey. As Nelson Mandela once said, "education is the most powerful weapon which you can use to change the world." Let us remember where we have been in order to better understand where we are going.  As we go forth in the world i encourage us to remain true to our passions and to never give up on our dreams.
I would like to leave you with a poem I wrote about three years ago, entitled "Never Give Up in Life."
Never give up in life, though you might crumble and fall,
But always be strong and have faith in yourself,
For life is a fight, sometimes it's hard and full of stumbling blocks,
Just know that you have what it takes to be a survivor,
To be a winner and your own hero,
Just know that it's a long walk to the mountain top,
There are valleys and thorns to pass through,
But know that it is then that you grow,
For those circumstances teach you to have hope and faith,
To be patient, strong and have endurance,
Though things might seem blurry, hold on and hope in tomorrow,
Knowing that a new day brings new beginnings with new opportunities,
For when one door closes another one opens right up,
Don't spend too much time looking at the closed door,
Be ready to seize the new moment,
Just never give up in life.
Be glad that you have made it this far,
Never spend time wallowing about lost battles,
Rather rejoice in all your achievements and victories,
Strive to attain all the happiness you can and to make people smile,
And your time on earth will be worthwhile,
And never give up in life.
Congratulations Class of 2016. We have made it!
Calling all HuffPost superfans!
Sign up for membership to become a founding member and help shape HuffPost's next chapter