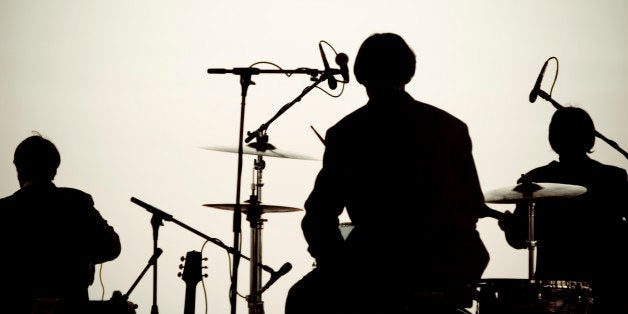 Living in the past once in a while isn't such a bad thing, I tell myself. How can it be bad when it feels so good?
So, if you catch me dreamily gazing into the distance, especially when I'm listening to '60s music, it's just me traveling back through time to feel it again: the passion, the excitement that defined the coming of age in the '60s.
I am undeniably sentimental about the '60s. The 1960s, that is. And the older I get, the more fondly I recall that time of my life.
I really can get mushy with the memories.
Especially when I hear the music.
The tour commemorated the 50th anniversary of the Beatles' arrival here in February 1964. That was just the beginning of the British Invasion, because following the Beatles came more British rock groups -- The Dave Clark Five, The Kinks, the Rollings Stones, The Who and many more.
Surrounded by a sea of equally enthusiastic boomers, we sang along with 60s performers Billy J. Kramer, The Searchers, Denny Laine and best of all, Chad & Jeremy, who performed the lovely A Summer Song, one of my all-time favorites.
So these aging rockers didn't have the voices they had 50 years ago. So what? It didn't matter. Hearing them sing these familiar tunes was enough to put us in a nostalgic reverie.
Chad & Jeremy. The Temps, Four Tops, Smokey Robinson and the Miracles. Diana Ross. Dusty Springfield. I still love hearing their songs and singing along. Funny how you can remember lyrics from 50 years ago but not what you had for dinner last night.
Obviously, we've aged along with these amazing performers. Now in midlife or older, if they were to rewrite these classics today, what might these songs be?
Here are some possibilities.
Counting down the Top 25 list we have ....
25. "It's Not Unusual to Walk Into a Room and Forget Why," Tom Jones
24. "Bend Me, Shape Me, Give Me a Tummy Tuck," American Breed
23. "Tell Me Why I Can't Find Jeans that Fit Right," Beatles
22. "Lonely Too Long Maybe Time to Go on Match.com," Young Rascals
21. "Heatwave, No Just a Hot Flash," Martha and the Vandellas
20. "Ooh Grandbaby Grandbaby", Miracles
19 I Had Too Much to Eat Last Night and My Stomach is Acting Up," Electric Prunes
18. "Twist and Shout in Agony," Beatles
17. "White Hospital Room," Cream
16. "Reach Out I'll Be There on Facebook," Four Tops
15. "You and Zoloft Are All I Need to Get By," Marvin Gaye and Tammi Terrell
14. "I Can See For Miles As Long As I Have My Glasses With Me," Cream
13. "In the Midnight Hour I've Already Been Asleep for Three Hours," Wilson Pickett
12. "Let's Spend The Night Together in our Flannels," Rolling Stones
11. "Wouldn't it Be Nice to Have a Waistline," Beach Boys
10. "You Can't Hurry Love Except with Viagra," Supremes
9. "She's Not There (Now Where Did I Leave Her)," Zombies
8. "When a Woman Loves a Woman," Percy Sledge
7. "Under The Boardwalk and I Can't Get Up," Drifters
6. "Yesterday I Don't Remember What I Did," Beatles
5. "My 60-Year-Old Girl," Temptations
4. "Stand By Me or I'll Get a Chair for You," Ben E. King
3. "Ain't Too Proud to Beg for Hormone Replacement Therapy," Temptations
2. "Bad Moon Rising Which Means I'll Be Up Again All Night," Creedence Clearwater Revival
1. "Walk on By Because I Don't Remember Where I Parked My Car," Dionne Warwick
Calling all HuffPost superfans!
Sign up for membership to become a founding member and help shape HuffPost's next chapter