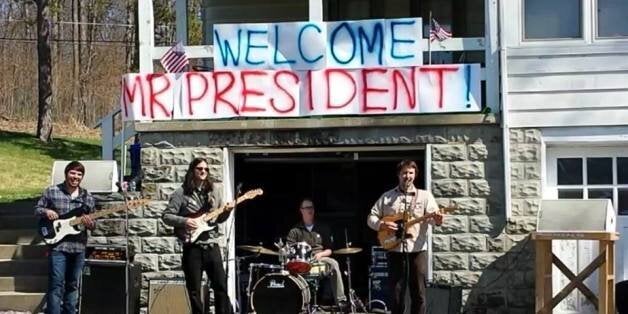 My boyfriend Sean is a kind soul and dedicated musician. He's hopeful and a bit old-fashioned -- old-fashioned in a way where he acquired his first smartphone less than two months ago. Hopeful in that late last week Sean devised a plan to meet President Obama using poster board and spray paint.
What started as a funny "what if" scenario quickly turned into 40 minutes in the Wal-Mart arts and crafts aisle. After a few days of convincing his fellow Comfort Tech band members, Eric DiFiore, Brett White and Kevin Stripp to call off work to spend the day "playing for the President" Sean and I went to gather our supplies. Twelve poster boards, two spray paint cans, two American flags and one stapler later, we were ready to make our infamous, "Welcome Mr. President" sign.
Jump ahead to Wednesday morning (April 16th) with President Obama's ETA scheduled for 3:10pm. He and the Vice President were in Oakdale, Pennsylvania to speak on job skills training at a community college that faces Sean's garage.
Sean's house was filled with anxious activity. Brett, Sean and I hung the sign off the side of their porch. When Eric arrived the band set up their instruments, and by 2pm, I was standing in the bitter air filming the guys play on my iPhone.
Then we saw it: At 3:30 President Obama's motorcade rolled on through, a mirage of black cars set to the sound of Comfort Tech playing their original song, "Lumberjack," while some 50 state troopers, local police officers, and Presidential SUV's made quite the spectacle down McKee Road.
About an hour later, a solo Secret Service agent stopped by the house. This is the part of the story where we think we just pissed off the United States government. Nope. He came by to check out the band's gear and complimented their "tone." Casual. I watched on as the band talked with this mystery man about pedals, vintage guitars, and effects.
Just 20 minutes later State Troopers and a few unmarked cars pulled into the driveway. Okay, here we go, I thought, NOW we're in trouble.
It was the President's staff personally inviting us to meet with him. President Obama had seen and heard the band from across the street and wanted to meet Comfort Tech. Obviously, I used this moment to become the band's temporary manager and hopped into the secret service vehicle along with the guys.
It was the most surreal car ride I've ever experienced. Here I was, with the person I love, the musician who has faced so many challenges in claiming his career, the artist who has truly struggled to pursue his passion, along with his best friends/band mates, witnessing a dream become reality. Sean grabbed my hand and squeezed it tight. I believed in him, his vision and this moment and he knew that.
As we waited for President Obama and Vice President Biden to enter the room, we all stood shaking and smiling at the same time. Surrounded by his immense staff, our minds were racing. What does one say to the President of the United States? Then, out of nowhere a booming voice: "Where's Comfort Tech?" Our faces lit up. President Obama came over as if we had been friends for years. He shook our hands, asked when Comfort Tech's CD was coming out and said he wanted to see their skills.
Eric told President Obama that they were finishing up recording vocals for their first album and when answering about what style of music they play, Sean said, oh so poetically, "We've got the blues in us."
Surprisingly, the most captivating moment happened after we said goodbye to the President. We were invited to stay and listen to his speech at the Community College of Allegheny County and as the audience clapped, President Obama looked at the band, pointed and said with an extra wide smile "Alright Comfort Tech!" The entire room looked back at us, but they would never know what the President meant. It was the band's personal moment with President Obama, and being there to watch it was pure magic.
The rest of the night was spent reminiscing, still in shock and awe, not one member of Comfort Tech could get over the fact that the President of the United States, the Leader of the Free World, the Commander In Chief, had asked to see them. And it was all thanks to one man's ability to seize the moment.
From the moment I saw him, I knew Sean Conner had the potential to do great things. And last week, his actions went far beyond anything I could have ever imagined. Luck was on his side, but his creativity, confidence and overall determination cannot be ignored.
I must be honest and say that I didn't have high hopes for my trip home to Oakdale, PA for Spring Break. What can I say, Western Pennsylvania is no Cancun. But Sean's vision, Comfort Tech's talent and President Obama's generosity sparked new life into my veins. I didn't meet President Obama at some gala in Downtown Manhattan. I met him in my own backyard (technically Sean's front yard) and will never forget the Presidential Staff, Secret Service Agents, and local band with big dreams that made it all happen.
Moral of this small town story: Notice when a big moment is staring you in the face, and stock up on poster board and spray paint.