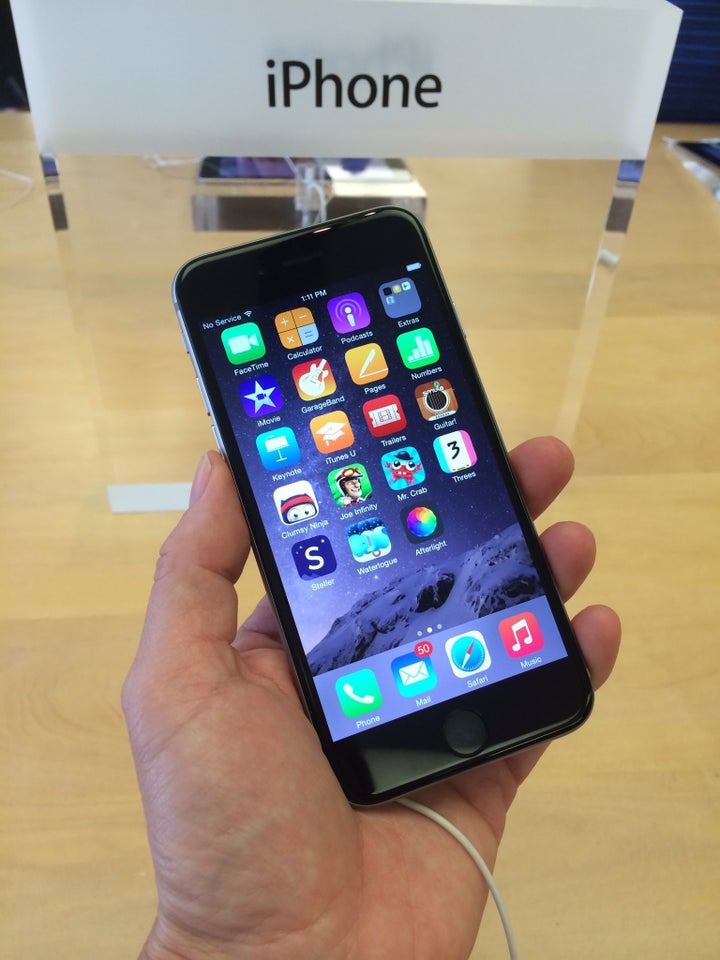 We've had a good run of things, you and I. But honestly, this thing we have -- well, it's just not healthy. It's not you; it's me.
I thought I was ready for a 24/7 constantly-in-touch relationship, but I'm not. I want to play the field, occasionally read a book that is printed on paper and yes, sometimes I even dream about turning you off and going to an actual movie theater to watch a movie, instead of spending the bulk of my weekend with you and Netflix. I know that this may sound crazy, but sometimes I actually want to have a conversation with someone that involves using my vocal cords instead of my thumbs. Oddly, despite your name, using you as a phone just doesn't happen all that much. I'm not blaming you. Like I said, it's not you; it's me.
You've been a good friend, always at the Google-ready whenever I needed to pretend I knew about the Taylor Swift-Nicki Minaj feud or had to reach my go-to doctor, WebMD, to diagnose what ailed me at 3 a.m. And I will never forget the good times we had watching those cat videos together or cheating at Words With Friends on Larry Plitch, who Facebook found me 40 years after we graduated high school together. 
I loved how you sometimes read my mind with autocorrect and how we'd laugh together at your silly mistakes; remember when I texted "bring the dog in" and you wrote "bring the dope in?" It was such great fun explaining that one to the kids. 
You have so many wonderful qualities that it's hard to walk away from you. I love your sense of direction and how you repeat and repeat and repeat those driving instructions to me like I'm some kind of idiot who can't hear you the first 10 times. And I admire the way you let the world, including the bad guys, know precisely where I am at every moment. She's not home! She's not home! Why not just tell them where the door key is hidden while you're at it? What? No app for that?
I admit that going back into the dating pool at my age and and figuring out who and where to spend my time with will be a major adjustment. Even just shopping in brick and mortar stores with no Amazon Prime is going to be a rude awakening. Truthfully, I can't even imagine eating my lunch salad without posting its picture first to Instagram. And what if The Onion says something really funny and I miss it? That feeling that I'm missing out on something is what holds people like me in your grip.
Sure I've loved your calculating mind when it came to splitting restaurant checks, always there to make sure I wasn't getting ripped off when my dining partner had four drinks to my one. And you with your OCD-like alarms, always reminding me when to wake up, when to dial in to the meeting, when to leave to take the boy to soccer practice -- yes, yes, I'll check WAZE, I promise, although frankly I always managed somehow to get places before you.
I mean it when I say it's time to let go. I'm tired of Siri's jokes and my Twitter feed giving me newsicles -- not really news but oh-so-clever renditions of it. 
It really just comes down to this: You want me exclusively. You want me to shun all others, like that nice lady travel agent I used to patronize before  TripAdvisor came along; she actually traveled to places before she recommended them and gave me honest opinions, unlike what you regularly feed me where the reviewer has been paid in exchange for saying nice things. You know that's actually illegal, right?
Truth is, you only think you know me. And while I'm flattered that you pay such close attention to my every online move, you are just excessive. You expect that by bombarding me with things recommended just for me based on what I opened yesterday that you are pleasing me. You are not; all you are doing is stealing self-discovery from me. You know, self-discovery. The reason people used to spend hours in independent bookstores looking for new authors to read. And did you know that most of those independent bookstores didn't even have a Starbucks located in the store with free WiFi? That's right.
To be honest, you are a little reckless too. You deluge me with Groupon and Living Social and DealPlus bargains all day in the hope that I will spend spend spend, and then you send in Mint.com to tell me I'm in trouble. You have just never known when to stop.
I simply need to be free of you. You want to come along on my hikes now, offering to count my steps. You watch what I eat, taking pictures of bar codes and reporting me to the diet police when I fall off the wagon. You record my blood pressure with Withings and tattle to my doctor. "Must be those salty chips you ate," you suggest, adding a gratuitous "You can do better tomorrow, Ann!" Bite me. I'm done, over you.
I am tired of hiding behind you during every elevator ride, every time I have an empty five minutes waiting in the grocery checkout. I want to stop grabbing for you every red light just to see if anyone liked my status update.
 I need some space. When we first became a couple, it was just evenings and weekends -- actually it was just in case of emergencies. You and I weren't so co-dependent. You were just a phone back then, and not such a smart one. Now, we are together 24/7. You even come to the bathroom with me. What healthy couple does that?
Mostly, I just want to be able to make eye contact with humans again. Is that so much to ask? And no, you don't have an app for that.
PHOTO GALLERY
7 Apps To Make You More Productive
REAL LIFE. REAL NEWS. REAL VOICES.
Help us tell more of the stories that matter from voices that too often remain unheard.