I took photos of my dad in the hours and minutes as he pressed forward to meet his death. Eight in all. I sent some of them via text to my own three kids, who could not be there with me -- their absence mainly due to my mother's wishes, her own fragility, and the fact that, after 11 days shy of 62 years of marriage, this moment belonged to her almost as much as to my dad. How she wanted to do it was how she deserved to do it. That's what my father would have said as well.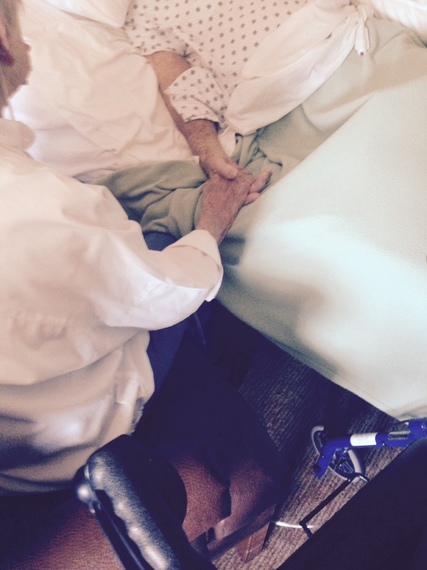 Mom, holding Dad's hand, spoke to him now and then. "Everyone loves you so much," she told him several times. Though Dad was unresponsive, and had been for hours, he did squeeze her hand twice. Neither she nor the hospice nurse nor my brother, who came and went, noticed me taking the photos with my iPhone of Dad bravely managing to breathe, and of the hands of my parents entwined. I didn't have permission. I felt compelled, though I wasn't sure why. I did understand why I felt guilty.
Dad was a very successful business owner, a president of the local Rotary Club and a natural leader. Living his whole life in the desert, he yearned for the ocean. For a while he owned a boat, taunted by dust storms. My brother and I were given the job of polishing it. I'm not sure it ever touched water. He and Mom loved traveling on freighter ships. Dad found them more authentic than cruises, and he'd been briefly in the Navy as a young man, so he loved talking with the crew. I remember a particular trip, though, that had gone wrong in a dozen ways. Eventually he and Mom cut it short, got off the ship in one port or another, and flew home. Still, he didn't complain much. "I decided," he told me, "that we might not have a good time, but at least we weren't going to have a bad one." How that has stayed with me; how it has shaped my response to difficult moments.
Dad was sometimes divine, but also very human. He had little patience for foolish questions. I remember once being with him in a store when I was a teenager; the shopkeeper asked what he thought the weather would be like tomorrow. "If I knew that, I'd be a genius, wouldn't I?" my father replied curtly, and I could only laugh with embarrassment.
We loved talking on Skype, but he couldn't fathom the concept of me being offline. A few times, I saw that I had missed more than a dozen calls from him, one after the other. Later, on the phone, he would tell me his Skype was broken. "No," I would say. "I just wasn't there." This, to him, seemed unlikely. And that went both ways.
On that last day, he had to breathe with his mouth open, and each exhalation burbled up through the liquid that had filled his lungs. As he breathed, we sat, watching his mouth and chest, touching his hands and arms. His right arm was cold; his left hot. They brought his lunch. Having skipped breakfast, I ate most of his cream of broccoli soup, and felt guilty about that, too.
The hospice nurse sat with us, periodically taking vitals and recording information in a chart on her computer. We didn't talk much. I'm a novelist, a journalist, a communications executive, but words had become painfully frivolous.
Summer of my freshman year in college, I got turned down for a job supervising kids at a summer camp in New England. I had no real experience and no particular aptitude, but with the arrogance of youth, I'd still felt sure I'd get it. I was sorely disappointed when I didn't. My dad told me that it was OK to feel badly for a bit, but then I should get back at it -- "hit 'em again," is what he said, "with renewed vigor."
Once, when I was a journalist working overseas, he called me. "I want to be a grandfather," he announced, with unabashed longing. "Call my brother," I replied with a laugh. It would be a few more years before I obliged him. But I loved the sweetness of his wish. The desire to nurture again, and to go on.
When his children were little, he drew an outline of a person's head and asked us to fill the brain with the traits we thought were essential, and size them according to relative importance. Should kindness be larger than intelligence? Was determination bigger than an ability to forgive? Though I'm sure he had opinions, he held them close. He made it clear there was no "right" answer beyond our own self-discovery.
In his last couple weeks of life, Dad had three out-of-body experiences. He felt he was on the ceiling or standing on top of the TV, looking down at the room, at himself in the bed. The last one frightened him a little. He also felt quite strongly that someone was standing just out of sight behind his right shoulder. He would turn involuntarily to see who it was, but could never catch sight of them, he said.
The night before he left us, I ran down to check on my dad in the skilled nursing section of the senior home where my parents lived, expecting to see him sleeping. Instead, he was awake, his breathing labored, his mood agitated. He mouthed the word hospital three times, and I said, "OK, Dad, I got it," and ran to tell the nurse.
But he never got to the hospital. He stopped making that request, and his vitals were holding, though he remained agitated. He kept trying to say something I couldn't understand. I called Mom to come down. Dad eventually wrote -- twice, so we could read it -- the names of a couple who'd been married tennis pros. Mom recognized their names. He said to let them know he couldn't play tennis tomorrow. He also gave us specific instructions about where to take his computer for repair. The computer was unbroken.
I called my brother and told him to plan on being there in the morning.
About 90 minutes after I guiltily ate the broccoli soup, Dad stopped breathing for the first time. After a pause of eight or 10 heartbeats, he began to breathe again. He stopped breathing a second time. He began to breathe again. It went on like this. At one point, my mom turned to the hospice nurse and said, "That's it, then?" And he began to breathe again. My mom said, "Oh, my God." She laughed for a second, and it was a sound both wounded and triumphant. How could we not, on some level, be proud of him?
Sitting there, I thought of Ebola victims who died untouched. I thought of others who die alone: violently, unexpectedly, or in their sleep. I wondered what percentage of people get to die with loved ones keeping vigil. I'm not sure it mattered to Dad that we were there. But it mattered to me; it was such a gift, just one more.
I wonder if that explains why I took the photos? It's not how Dad would want to be remembered, nor is it how I will remember him. But the passing of life is still one of life's big moments, and Dad handled it, as ever, so well.
"We may not have a good time, but..."
Dad, oh Dad, if I had the art of poetry, I would write that to you now. In lieu, thank you.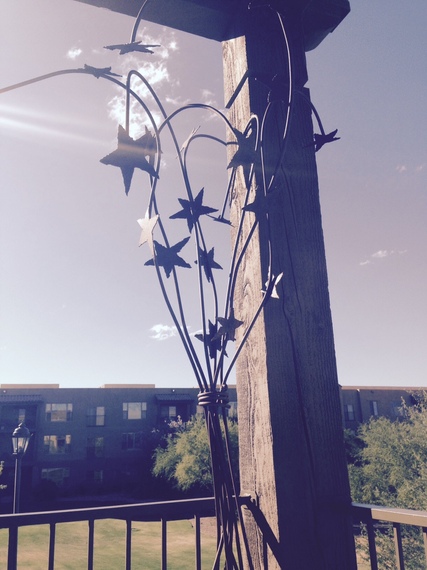 The photo at the top of this post has been published with my mother's permission.
PHOTO GALLERY
Love In One Photo
REAL LIFE. REAL NEWS. REAL VOICES.
Help us tell more of the stories that matter from voices that too often remain unheard.