I'm not the best driver in the world, because I'm easily distracted. I am, however, a great passenger. I'm very happy to ride right seat and enjoy the scenery. So, when Kirsten Brøchner, owner of Ibsens Hotel in Copenhagen graciously invited me to drive her little carbon-neutral car while I was a guest in her hotel last fall, I thought it best to decline.
But then I had a second thought. Could I really get the full sense of Denmark without experiencing this uniquely Scandinavian EUV? (That's the the anti-SUV, the Electric Urban Vehicle.)
So early Sunday morning, when -- Lord willing -- everyone would still be sleeping off the effects of a raucous Copenhagen Saturday night, I got behind the wheel of Kirsten's Norwegian-built Buddy and putt-putt-putted around town.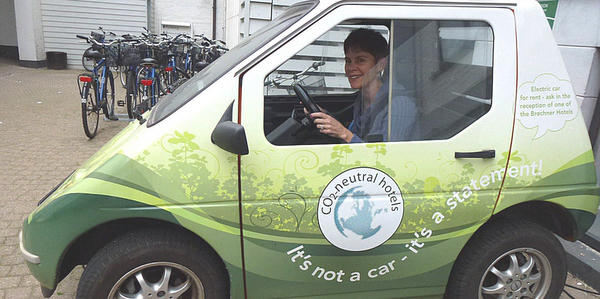 I found Buddy more powerful than I would have expected from a little three-seater with a top speed of 45 miles per hour. This is a charm-bracelet-sized car that was deceptively quick off the mark when the light turned green and very maneuverable.
But I don't think that's why the Oslo-based ElbilNorge ABis is churning out the Buddys to eager Scandinavians. More likely the reason is that gas sells for upwards of $7 a gallon here, and Norway and Denmark have the continent's highest automobile sales tax while electric cars in Denmark are duty-free.
Kirsten's Buddy was safely parked back in the Hotel Ibsen parking lot when I spied -- with delight and only for a fraction of a minute -- Denmark's erstwhile contribution to electric vehicle development, a tiny three-wheeled, single-passenger Ellert. This is a car that's legally a motorbike, opens up like a pillbox and comes with the warning that in moderate winds or at speeds above 30 mph it can get "blown about." Yikes!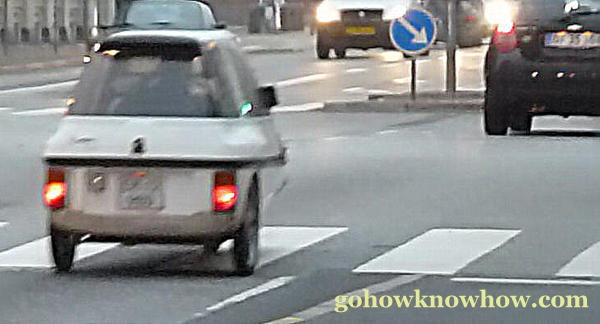 Maybe its eensy-weensie size was playing tricks on my perception, but that little car seemed to be zooming when I saw it coming down the Nyropsgade. I was barely able to grab a quick photo before it disappeared into the distance. Which is symbolic, I suppose, since the Ellert developed by Danish engineer Steen Jensen, is no longer made in Denmark. It is manufactured in Germany under the name Mini El City by a company called Smiles. Which is exactly what I did when I saw it. And if Kirsten's affection for her Buddy is any indicator, driving while green seems to have that effect.