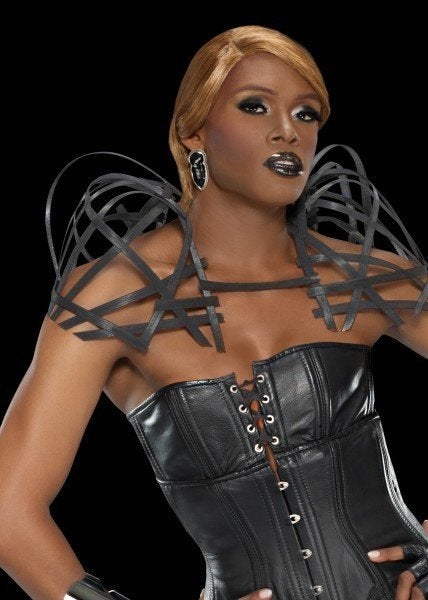 When it comes to Chicago-based drag queen DiDa Ritz, what you see is, more or less, what you get.
The popular Logo reality competition series "RuPaul's Drag Race" has become virtually synonymous with the sort of side-eyed spiciness stereotypically ascribed to the modern drag performer's persona. Its weekly "Untucked" web feature consists of the queen-on-queen altercations that don't make the main episode's final cut. But throughout the season, DiDa was one of a number of contestants who preferred, instead, to stay out of dramas and instead focus on bringing her best effort to the stage each week.
Though DiDa was eliminated at the end of the show's ninth episode, this queen, the child of a pastor, is hardly one to hold a grudge. She has emerged from her stint on the Logo series ready and raring for her next adventure. HuffPost Chicago recently spoke with the budding drag diva.
"Frock The Vote," the episode where you were, unfortunately, told to "sashay away" aired last week. Did the episode going public come as a relief to you or was it more bittersweet than that?
A little bit of both, actually. When you watch yourself on TV, it can be a bit nerve wracking because you never know what footage they'll use. But it was good. I had a good run. I did shed a little tear, but to hear your friends letting you know that you did well by going so far and to get that love was nice.
In this last episode, fellow Chicago-based competitor Phi Phi O'Hara made a controversial remark when she referred to you and Latrice Royale as "the help," a comment RuPaul herself called out. Were you offended by that comment?
No, not really. I have known Phi Phi since well before the show and our bantering with each other has always been what some people may think is rude and a bit disrespectful, but we think it is funny. In that situation, I went into it already knowing this is my friend and I've called her worse than that before, though not on camera. This was filmed so many months ago, too, that I'm going to let the world take care of it. Ru took care of it. I didn't want to make a big deal out of it, but my face said it all. I tried to use silence in any situation like that on the show -- you didn't see me get involved with the disagreements between Willam and Phi Phi either.
Also in that last episode, you got a surprise greeting from your family and it was a very touching moment. What has it been like for you to get back in touch with your family after that experience on the show?
That was really amazing and I did not expect it to happen at all. I expected it to be someone else's parents and when Sharon suggested that all our parents were there, I said exactly like it looked, that I could not deal with that at that time. We weren't really speaking at the time, but that experience just confirmed everything. We talk very often now. I'm always texting my mom with pictures of what I look like in drag and if she doesn't get that text, she lets me know. She knows my schedule better than I do. I come from a strong religious background, but my entire family supports me now and is proud of me. It's amazing. The show is bringing religious families together.
I understand that you're a big fan of Sharon Needles' and said in an Ology interview that she's your pick to win this season. Is she still your pick?
Sharon is still my pick. I am not like Sharon's drag at all, she is very cool, dark drag and I'm pretty glamorous drag. But she's my first drag girlfriend who is completely different from me in that way and I get along very well with her. She brings something completely different to the table in terms of drag that has not already been seen.
And she is a role model too, which I love. She gives courage to those kids that think what they're doing is drag but gets told otherwise by some pretty queen. Sharon tells them to go ahead and pour blood all over their body, that it's drag and if they feel beautiful doing it to do it. I'm not saying the other girls don't have it, but you see a sort of diehard passion in Sharon.
Of all the guest judges who were on the show, who were you most pumped to see and interact with?
Out of all the guest judges who popped up, I was very surprised to see John Salley and Rick Fox. Although I got a strong critique from both of them, them being straight men and coming on the competition show having worked in sports and dealing with the bantering of people who were ignorant and don't really get it and putting that aside and just having fun was cool to see. It really lets me know that the world is changing, not just for gays, but for drag queens and everyone to see two former basketball players sit on the judging panel with drag queens and respect RuPaul so much that they'd participate.
And did you have a favorite challenge on the show?
I would probably have to say the sitcom challenge represented a lot for me. I want to act more in the future. And I think that episode showed how much of a fighter I am.
You're based in Chicago, but grew up in Lansing, Mich. How long have you lived in Chicago? What part of the city do you live in?
I made the move directly after high school, graduated that June and moved in September. I knew I wanted to go there, so I did it. I live on the North Side, in the Rogers Park/Edgewater area.
And you perform quite a bit in town still these days, in addition to touring. You're at Hydrate as part of the Wednesday drag revues with Tajma Hall, right?
Yes, I'm at Hydrate and sometimes at other bars and venues, too. I just hosted the Wonka Ball with About Face Theatre. Chicago has been very good to me so I try to stay in the loop and give back. The most amazing thing about the Wonka Ball was that I started working with About Face and grew up there as a performer through the company. So, being able to come back after the success I've had and to hear them all say they were very proud of me and always knew I'd be successful just made me say wow. It was a great celebration and it was just perfect.
What are your favorite restaurants in town?
A friend of mine knows someone who knows Rick Bayless. We went to Frontera recently and ever since then, I fell in love with it and want to go back already. I've been talking nonstop about it. Another place is this hole-in-the-wall in Lakeview called Windy City Gyros, near Irving Park and Broadway kind of. I like gyros and burgers and all that stuff, all really greasy and very unhealthy stuff, but it's still amazing.
What about your favorite places to stop in and get a beverage -- besides Hydrate, where I assume you get the hook up.
I would probably stop at Halsted's or something. Working at Hydrate, why not just go across the street?
Any favorite places to shop in town?
I enjoy going to Beatnix, a pretty popular place in Boystown. Also, my hair is a big topic and people always say they love it and ask where I get it from. The answer is Heads & Threads in Wicker Park. They are very, very friendly. A lot of hair places have a reputation that they aren't really nice and it's rare, but they are very gay-friendly. When you go there, you can see the owner Jessica has signed pictures and headshots from al the legendary queens in Chicago and those who have traveled out here to get their stuff. If you want a serious hair store in town, I'd say to go there.
Finally, what's coming up next for you?
Right now, I'm doing lots of traveling and just really working on building my brand. Going on the show has given me the opportunity to do a lot of things I didn't think I could ever do as a drag queen. Now that I've seen and tasted this, I'm working hard right now to continue to build up my name and my brand and make sure that, as both a queen and person, I am very polished.
Calling all HuffPost superfans!
Sign up for membership to become a founding member and help shape HuffPost's next chapter
BEFORE YOU GO