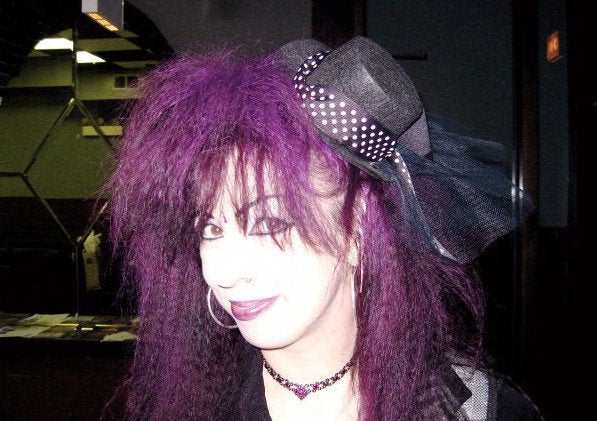 For DJ Scary Lady Sarah, the "most wonderful time of the year" comes two months earlier than most, with the annual arrival of Nocturna, the larger-than-life Halloween party she created and has continued to oversee for the last 23 years.
Sarah, a native Chicagoan, is among the city's most well-known DJs, carving a dark, goth niche in the city's overcrowded nightlife scene with her bimonthly, spooky dance party.
On the eve of the latest incarnation of her renowned Halloween party, HuffPost Chicago checked in with Sarah about Nocturna, Chicago's goth scene and what it was like eating sushi with punk icon Siouxsie Sioux.
(Scroll down below the interview to listen to Sarah's HuffPost Halloween Mix.)
HP: How long have you been involved with organizing Nocturna parties?
SLS: Nocturna is a night I started along with my former DJ partner in 1988. I've been there from day one until now, 23 years.
In those 23 years, what has changed about the Nocturna parties?
The general definition of goth is kind of hard to pin down and has definitely changed in those 23 years. For me, it's the same thing I've always known it to be, but the newer generations have their own take on it. The biggest thing that has changed with the parties is the scope of the music that I play has definitely grown beyond just strictly goth rock with a capital "G" and "R." It's a lot more about the commonality that the music has a dark sound to it, including new wave, industrial, EBM, shoegaze and, more recently, some chillwave or indie dance stuff. But generally, it's still nothing you'll hear on the radio and there's an underground kind of feel to it.
The last 10 or 12 years now, Nocturna has been 18-plus, too, which is not how it started off, because we were at venues that were strictly 21-plus. So the younger people have come in. The best thing about that, as far as I'm concerned, is that they're all really excited to dress up and get really into the music. It's a friendly atmosphere. It's still dark and people do really get into it, but there's not a lot of negative attitude or drama as far as a club subcultural scene. And of course, Halloween is like Christmas for the goth kids, so it's our and their biggest night of the year. The Halloween Nocturna usually doubles our turnout. We average 300, but usually have around 600 for Halloween.
I'm sure you have some pretty awesome memories as you think back over the last two decades-plus of Nocturna parties.
It's my passion and I'm definitely lucky enough to turn that into one of my careers as well. I try to explain to the younger people who come to the parties now what it was like back then and it was different. People were, I guess, more spirited abour their gothness. It was not a mix then, it was pretty straight ahead like what people would think of as the stereotype: People dressed entirely in black, the big bands were Sisters of Mercy, Bauhaus and Siouxsie and there was a little more dramatic dancing going on -- like a performance art show going on on. I still throw in old tunes like those, but our audience generally wants something a little more uptempo, like traditional dance music, though it's still darker, gother and in the industrial realm.
It also felt more exclusive back in the old days, but now as I get older, I like that it's inclusive. We used to have a dress code back in the day. While I certainly appreciate that people dress for the theme of the night, and prefer it, I don't enforce anything. As long as no one is hassling anyone, you're welcome. Halloween is the best, though. The costumes are probably the most creative you'll see in the whole city. People go out and it's really interesting that their ideas are not the normal run-of-the-mill costumes.
Does that make you feel pressure to come up with really amazing costumes each year? What have been some of your recent picks?
For me, because I look traditionally goth all the time, twenty four, seven, and a lot of people associate that with the Halloween kind of vibe, I always try to be something totally opposite of that. Something really, really silly and funny. Last year, I was Austin Powers and I was Pee Wee Herman the year before that. Scary Lady Sarah Palin was probably my most successful costume the year before that. Halloween is meant to be a time where you're something that you're not.
Any hints on what you'll be going with this year?
My costume is always a surprise, but it's going to be very, very silly. Absolutely silly.
You've also booked and played alongside some hugely famous and well-known musicians. Have you had any starstruck moments?
I have been lucky enough to have worked with some amazing bands, some known outside just the goth scene. The moment that actually made a little nervous was the very first time I met Siouxsie Sioux and Budgie during the Creatures tour, their side project, in 1997. They were touring the States and played at the Metro. Since I have a relationship with them and their owner Joe Shanahan, he called me the day of the show and asked what I was doing and whether I I could drive Siouxsie and Budgie around. I was floored and nervous but of course I did.
They wanted to go to eat, so I picked them up and we went and got sushi. Siouxsie is basically such an icon to me, one of the first punk rock women in the world and definitely the first goth female, so her music is just so beyond the subcultural fan base. I've also driven Peter Murphy from Bauhaus and we went to my other job, at a floatation tank center. When he filled out the form you fill out to go into the tank, he wrote "allegedly the father of goth" as his occupation. And then I've also met Robin Guthrie from the Cocteau Twins, my absolute favorite band, on two occasions, though I've never met Elizabeth Fraser.
How does Chicago's goth scene compare to other cities?
I think we're pretty lucky that we have this night here, even if it is not 100 percent pure goth rock, it's really centered around that and to have a consistent 300 person draw is really rare. The only other city I'd say that gets those numbers regularly is Los Angeles. New York has several goth nights going on, but as far as I know, they don't quite get those numbers. Right around 2000, EBM as a genre really hit big and infiltrated the goth nights around the whole country, and I think there was some backlash from the diehard goth fans, but it made things grow.
Do you have any particular songs you like to pull into your set around this time of year?
I have a handful of songs related to Nocturna and other Halloween events around town. I play a few things I try not to play during the rest of the year -- like "Bela Lugosi's Dead," something I'd play at every Nocturna, but one can only hear that song so many thousands of times. That'll be played on Halloween every year because people want to hear it. And of course, there's some of the sillier and more traditional things, like "Monster Mash."
Any other notes or advice for anyone who's never been to a Nocturna event before that's considering going for the first time? What can they expect?
Number one, it's absolutely a lot of fun and the music is really varied. If you don't care for one thing, just wait and it'll switch. The people are friendly and it's fun to people watch because people dress up and look cool. You won't be judged unless you're judging and if you want to dance, in my opinion, it's the best place to do it. I play a little bit of everything, new and old, and I'm incredibly open to requests, which can be rare for a lot of DJs. If it's anything that's not mainstream or commercial, but pretty dark, I probably have it in my collection.
The Nocturna All Hallows' Eve Ball begins at 9 p.m. Saturday, October 29, at Bottom Lounge, 1375 W. Lake. The 17-plus event features a costume contest with big prizes. Admission runs $18, or $15 if you're wearing a costume. Click here for more information.
In honor of the Halloween holiday, Sarah put together a special HuffPost Halloween Mix, featuring some of her favorite spooky jams:
PHOTO GALLERY
Scary Lady Sarah's HuffPo Halloween Mix
REAL LIFE. REAL NEWS. REAL VOICES.
Help us tell more of the stories that matter from voices that too often remain unheard.