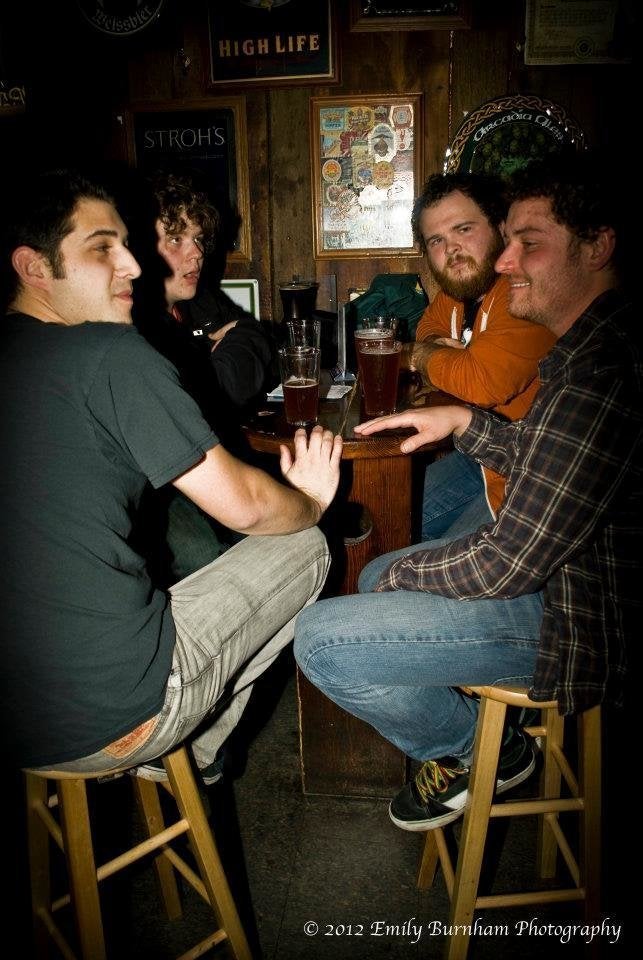 Chicago-based blues/rock outfit Scony Mack has deep roots in this city. With an ensemble culled from some of this town's most beloved, envelope-pushing underground groups including Anchors, Balloons and The Atom Wests, their eclectic sound is less surprising than its solid foundation in old-school, Chicago-style blues.
Fresh off a blitzkrieg of live performances, the group is retreating back home in preparation for the release of their first full-length album this May, following their critically-acclaimed EP, "The Benevolent Order of Antelopes." We caught up with them to dish on their favorite ways to spend their time home in Chicago.
HP: You guys know a thing or two about getting your start in this city. Who are some up-and-coming local artists you're keeping into right now?
Tim Collins: Dick Wolf!. They're a sweet math-rock band, absolutely worth looking up.
Peter Graff: Maps and Atlases. They're from here, they're awesome. Or Yourself And the Air--they're good friends of ours, and they're definitely a really good influence for us and the Chicago scene as a whole.
Maxwell Atkins: They moved out to Portland though--they traded down. Oh god, I don't want to start a scene war between Chicago and Portland.
(Scroll down to listen to Scony Mack's song "Faded Jeans.")
HP: Growing up in and around the city, I'll bet music didn't always pay the bills. What were the worst jobs you had to suffer through on your way up?
MA: Worst job I've ever had? Handfuls of Klonopin would not make Homemade Pizza OK to work at. UPS sucked more--they would call me at 7 in the morning and be like, "Are you ready? Meet us at this address." And you'd put on four layers of clothing, trudge through the snow and slush. Then they pick you up, and the warmest part all day is when you're sitting next to an open door in a moving van. That's the best part of the day. God, I don't miss UPS.
PG: I once worked for a book company, and for eight hours a day I would just make boxes, every single day. I just could crank boxes out like no other. They were already pre-folded, I just had to close them and put tape on them. So it was even more pathetic. At the end of each day, I'd be covered in all this powder that comes off fresh cardboard, I don't know what it is, but it wasn't pleasant.
TC: I was an usher and security guard at McCormick Center, and it was the boringest shit I've ever done.
Drew Koch: I have only worked three jobs in my entire life, and none of them were really that bad. I would say the worst was when I was working as a jingle-writer, because I got paid $300 a month and lived in my car and friend's couches and couldn't even afford cigarettes.
HP: What are your go-to, must-have Chicago eateries when you're in the city?
MA: Mr. Greeks, The Patio, Little Mel's, Jim's--definitely Jim's. Jim's can put a sign up that says "Scony Mack ate here," we've been there so many times.
PG: There's like a cafe slash music store, Tommy's Guitars and Cafe. They have really good deli sandwiches, plus you can like grab a guitar off the wall and plug into any amp.
DK: That actually sounds a little obnoxious. You're trying to down a turkey club this kid keeps playing "Stairway to Heaven." I want to give some love to one great little place, D'Amato's on Grand. They have an awesome proscuitto sandwich and the hottest giardinera I have ever tasted in my entire life. It just left me crying for hours after I was done and it took an hour and a half for me to regain my vision without tears in my eyes. So, really good.
HP: I bet you have a lot of opinions on your favorite local venues to play. Do you also have any preferences about where you see live music in Chicago?
DK: I really love playing the Beat Kitchen. I also saw some of my favorite bands at that place. It's a great dive, a little expensive on the beers but still you can kind of get away with a lot.
DK: I think Harrigan's is worth mentioning. When we were still trying to get off the ground, like any band, the hardest part is getting people in to see you initially, and most of the places in the city just want to make money off you and charge admission. But they never charge admission, and we drink at least $400 worth of beer the entire night, and they always want to have us back for another show.
TC: I've got to say, the Aragon is a pretty sweet place to see a show.
PG: I've got to mention Subterranean. They're owned by the same people as the Beat Kitchen and I'd definitely say the Beat Kitchen beats it in my opinion. It's more intimate. But Sub-T is cool because they have that little balcony where you can overlook the stage. And Reggie's is just awesome. We've played the Music Joint but not the Rock Club. The Rock Club, that place is cool though. It's old as crap, and everybody that works there is really cool. Also it's on a slant, so you can see everything.
DK: This is a bit underground, but there's a warehouse on the South Side that they call Treasure Town. it's this underground gem. A friend of mine from high school and some other kids were always trying to develop a new venue in the city. They would get a small space and eventually get busted by the cops. They moved to a house on Montrose, and it got too big, so then all of them were like, "let's just try to find a place that we can call an art house and a venue." So they all got together and bought this four story warehouse on the South Side and it's called Treasure Town. And they have art shows, and shows that they market. They've been open for like, four years now I want to say, and they are one of the great underground spots for everything creative in Chicago.
HP: How do you guys feel about Chicago's summer festival scene? Are you planning to hit any up, or who would have to play to get you out there?
PG: There's always good stuff at Pitchfork, I'll probably hit it up. I can't forgive Lolla for not serving 312 anymore, they turned it over to Heineken and I was heartbroken. Pitchfork is nice because it's not as expensive, and they have cool comedy going on in the back if not every indie rock band is your scene.
DK: Now that At the Drive-In is gonna be at Lolla, I'm in for it. I would pay probably at least a hundred bucks to go see them. I think a big part of it is that the music at Lollapalooza these days are lesser-known bands that kind of gained a reputation at SXSW, and I don't really care about them because I've never seen them. That's not going to be a big draw for me at Lollapalooza, unless I went to Austin and saw them before.
TC: Someone told me that there's a high-up rumor that Pink Floyd is going to be a surprise act at Lolla this year. I think they were saying like David Gilmore and Roger Waters would perform together.
MA: And there's a pig flying over my house.
Calling all HuffPost superfans!
Sign up for membership to become a founding member and help shape HuffPost's next chapter