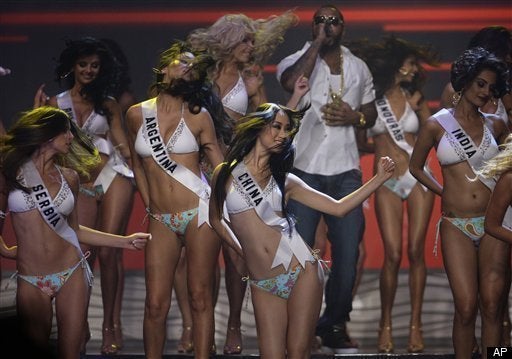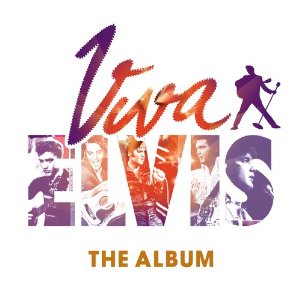 A Conversation with Thalía
Mike Ragogna: Hi, Thalía. Thanks so much for taking time out for this interview.

Thalía: How are you Mike.
MR: Thalía, much like Elvis, you're a huge international superstar. Recently, you participated in the Viva Elvis recordings associated with the Cirque du Soleil show in Las Vegas, recording a duet with The King on his classic "Love Me Tender." And I believe, even though it's years after he passed away, you're the first Latin artist to have been included on one of his recordings. What was it like?
T: That opportunity of singing with Elvis was a magical moment. It was incredible.
MR: Tell me about what it was like in the studio when you had those headphones on.
T: It was a little house studio in The Hamptons, and there were eight people there -- the engineer, the record company, a few of my family, and friends. Everybody was so quiet... it was like they didn't even want to breathe because you felt the presence of Elvis somehow. It was very crazy, but everybody felt like he was there. It was incredible. At the end of the song, when we finished everything and we did the first mix and we heard the song, everybody was crying. There were tears in everyone's eyes. It was that kind of magical moment. "Love Me Tender" was one of his classics, but this version is a little more modern, it was like a new version. It was magical with more atmosphere. It was beautiful.
MR: What did it feel like when you listened back and you heard how well your vocals blended together.
T: Very proud. Singing with Elvis Presley, first of all, and then to be the first Latino to sing with The King, was a great opportunity for me and I feel very proud. In my childhood, my mother was a fanatic of Elvis. She was always playing the music around the house, so it was the music, the movies, album covers, posters. My mother was a really big fanatic. Doing that, and at this point in my life and career, it was a great opportunity.
MR: What were your observations about Elvis during this process?
T: I think that during the process, I was feeling his intention through his voice with no music in the studio. I could hear his breathing, and the pauses he took and all of that. It made me feel the intention that he had when he was singing. It was like pure passion, and pure power, and love for his music.
MR: No doubt, many of your fans will become more curious about Elvis' music through your recording.
T: I have really enjoyed reviving his voice in a new way for this new generation and, of course, with the magic of Cirque du Soleil. I can't wait to see the show.
MR: Do you think Viva Elvis could be a way into learning more about Elvis?
T: Definitely. You know everything that brings great music back in a different way, I think, is important, especially with the new generation that hears only one hit and that's it. They live very fast and everything has to be an immediate response. They download one song and don't even care about the whole album. It's incredible that they can pause a little bit and think, "Okay, this guy existed and is a very important part of our history."
MR: Now, you've been singing since you were nine years old?
T: Since I was seven, really. I have had a long career of singing and I have been having a good time.
MR: Since then, as a TV star, you've had 2 billion people watch you in over 180 countries, you've won over 2000 awards, and sold over 25 million albums. And though you are still a young woman, I imagine you have a lot more music to make in the near future. You must feel very excited about your life and creativity.
T: Yes, I think it's the best moment of my life right now. I did everything -- sang pop, dance, rock, whatever. Even rap. I sang with Fat Joe on "I Want You" and that was very cool. I have been doing a lot of things, but I think that right now is the best moment of all. I feel perfect in my own skin and am having a good time right now.
MR: What about the future. Is there anything you would like to experiment with?
T: The last album, Thalía en Primera Fila -- we call it "the first roll" as a translation -- was my first "unplugged" album and was one of the things I always wanted to do. I finally did it and it brought a lot of good with it. I have been blessed with all of the sales in this moment right now. The music industry is collapsing and nobody is really buying CDs, so everything is downloaded and, of course, most people just want it for free. Basically, having sold more than half-a-million albums is incredible in this time and moment. That is one of the unpredictable things that has happened in my career -- an unplugged album that did so well right now. We are preparing the next album. I am full of surprises and am doing a lot of things right now. Finishing my third book, I have a radio show, everything is cool and nice.
MR: It sure sounds like it. Now, your unplugged album was the one that you recorded in front of 300 people?
MR: Yeah, the one during which you jumped up on the piano. Let's tell people about that. (laughs)
T: I did a certain character as a performer for so many years. I did these big shows with dances and lights, explosions, hairdos and makeup, with incredible costumes and things like that. This time, I just used my jeans, a little tank top and no makeup at all. I just performed and it was like a feeling of freedom or a change of skin. It was incredible. I felt very comfortable wearing my tennis shoes and jumping off of the piano, like being a little girl again, and I think that is really cool and it connected me in a different way with my audience. With new people that maybe didn't like Thalía before, maybe they are rediscovering me with this new way of being.
MR: Do you have any advice for new artists?
T: Pursue your dreams. Don't ever let anybody put you down, and trust in yourself. Be yourself and don't be afraid of being who you are. Sometimes, everybody wants to belong to a certain society, group of people, with the "in" students in school. No. Be yourself. Enjoy it and be proud of it. Keep dreaming.
MR: Thanks so much, Thalía, very sweet. It would be remiss not to mention that you are married to Tommy Mottola. I have been a fan of his ever since his management days, repping Hall & Oates and being name-tagged in the '70s hit "Cherchez la Femme.
T: Oh my God. Tommy Mottola lives on the road. I am a big fan of Tommy too. He is an incredible person and what a career. What a character in the music industry.
MR: Between his history as Champion Entertainment and his record mogul days, he really has become a part of pop music culture.
T: Totally. He created all these new ways to enjoy music from the Latin explosion to the new little groups of kids doing all these dances and music. I think he has been doing incredible things for the music industry.
MR: He has and I hope that he does for years to come. I also wish you all the best with all your future endeavors, thank you for the interview. It's an honor, your being one of the world's most popular entertainers.
T: Mike, thank you so much for having me here. Happy Christmas to everybody and I hope I see you soon.
MR: I hope to see you soon too, and hey, I'm coming to sing the national anthem at the New Jersey Devils' New Year's Eve game. It's right next door to NYC, Thalía!
T: Bring the coats, baby! It's very cold. Freezing.
MR: (laughs) You got it. Thanks very much, Thalía. Have a great one.
(transcribed by Erika Richards)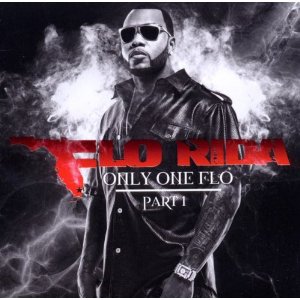 A Conversation with Flo Rida
Mike Ragogna: When you were making your latest album Only One Flo (Part 1), did you feel like you had a blockbuster with all these hits on it?
Flo Rida: Definitely. Going into the studio, if the vibe is right, the song gives me goosebumps. A lot of times, I get reactions from colleagues that are with me and they always tell me if I've done good or not, they give me their real opinions. I got a chance to perform the record at shows and just from the crowd reaction, I knew the record was going to be a big one.
MR: So far, you have like three hits on this project, and it looks like there's more to come, right?
FR: Yeah, most definitely. It's in two parts and part 2 will be out in the Spring. So, I hope fans are looking forward to that.
MR: Very cool. I wanted to go through a few more songs on Only One Flo (Part 1). You have "Club Can't Handle Me," "Turn Around (5,4,3,2,1)," and there's "Who Dat Girl" featuring Akon. When you're in the studio, what's the experience like?
FR: For the most part, it's real spontaneous. I find myself recording in hotel rooms because I'm on the road, busy traveling, I just come up with these ideas. That's an experience you can never usually get being in places like London, Russia, Germany, and Belgium. I'm always inspired by the places that I'm at, going to clubs around the world and everything. I'm not the guy who needs purple Skittles or anything like that, it's just me sitting in front of the console or me in the hotel room putting my thoughts down.
MR: In addition to being one of the world's more popular artists, you have a charity called "Big Dreams For Kids." Can you explain a little of what that's about.
FR: It's inspired by when I was a little boy. We would have these celebrities come around my project -- I grew up in an environment where there was a lot of drug dealing and killing, but we still had the positive role models come down and tell us to dream big. You don't have to be inspired by the negativity surrounding you, you can do things that are productive. For me, the outlet was music and playing basketball. That was the inspiration for where I'm at right now.
MR: Let's catch people up. There's your hit "Low" featuring T-Pain, and your hit "Right Round" with Kesha that was the biggest selling first week digital single ever. It had somewhere near 636,000 downloads in a week. And you've got a really solid fan base.
FR: The fans around the world are very supportive. Sometimes, it's just about the timing. Coming off of a huge success of that record with great productions, great lyricism and great rhyme patterns that I put together all met up. For me to look back on that week was just amazing.
MR: Before this album, you were coming off the Step Up 3D soundtrack.
FR: I had a great relationship with them for Step Up 3D because I had worked with them for the "Low" record on Step Up 2: The Streets. We sat in the studio and we played a couple records and that one stood out. Shout out to David Guetta who did his thing on the production and everything. I got a chance to go out and do sit-downs to promote the movie. It was like I was one of the actors in the movie, because they felt this record was that strong, that I needed to be heard and seen.
MR: You've become a representative of the genre at this point.
FR: Yeah, most definitely, thanks to the fans, and thanks to all the people that help me put this together at Atlantic Records. I always try to make sure I'm working and staying busy, just giving music all I got and getting the connection with my fans. My music is love. When I see those things, it makes me appreciate them even more.
MR: When you look at the pop charts or even rap, what do you think is happening musically right now?
FR: More people are getting into it. Even kids can go online and make beats, use Def Jam Rapstar, and even get discovered. It's pushing artists to become more creative and to make different things. You can cross genres and still be successful. For me, personally, just being able to travel internationally like none other, it's definitely been a blessing, and I think that's going to help the game go to a whole other level.
MR: One of your greatest videos was shot it in Rio de Janeiro.
FR: That was the "Turn Around" record I did in Rio. Most of my records, I shoot in the States but that was my first time going out of the country and shooting a video. It was just lovely -- the beaches, the woman were just hot and sexy and just represented the record like the way I wanted to represent it. Some people would say it's too raunchy, but you go to the beach and that's what you see. But there's no one taking their clothes off or nothing, the video and the song match each other very well.
MR: Are you conscious of that when you're making your music and videos, that there may be a broader range of people that you're performing to, so you have to be more conscious of all of them?
FR: Definitely, I'm trying to be conscious and not going further than my fans might allow me when it comes down to something that might come off wrong. So, for the most part, I just try to be as creative as possible and just try to open up new lanes for myself.
MR: You're also doing MTV's New Year's Eve Bash. What's that going to be like?
FR: It's going to be amazing. I remember when I did it the first year, coming out as an artist. So, I'm looking forward to going out there and doing the New Year's countdown.
MR: Any other tracks on the album you want to point us to besides the singles?
FR: We're going to actually be shooting videos for every one of the songs on the album. So, I'm looking forward to each one of those records being a smash.
MR: Do you have any advice for new artists?
FR: If this is your passion, you definitely have to love it 200 percent. Dream big and never give up because there is always somebody out there working hard. If you do negative things in your life, you can always expect negative things to happen. So, if you're doing positive things, positive stuff will happen in your life. It may not happen when you want it to happen, but it will happen right on time. Put faith in God and notice it's what you want.
MR: It seems like you need a combination of everything -- God, talent, luck...
FR: ...I wouldn't say luck, it's definitely hard work. It's all worth it in the end. No pain, no gain.
MR: What is the immediate future for Flo Rida?
FR: I've started my new label called I.M.G. International Music Group. I've got a female hip-hop artist named Brianna that you should look forward to. I've got an R&B act by the name of Git Fresh. I'm looking forward to getting into film, looking forward to the next album, and just touring the world. All the fans can hit me up at officialflo.com and that will take them to all my social sites. Hit me up on Twitter at official_flo. Holla at me any time.
Tracks:
1. On and On - with Kevin Rudolf
2. Turn Around (5,4,3,2,1)
3. Come With Me
4. Who Dat Girl - with Akon
5. 21 - with Laza Morgan
6. Respirator
7. Club Can't Handle Me - with David Guetta
8. Why You Up In Here - with Ludacris, Git Fresh and Gucci Mane
(transcribed by Theo Shier)
MY CHRISTMAS CARD TO YOU, TONY ROMEO
During the holiday season, you just can't escape old decaying musical chestnuts such as...well, we know what they are. Let's not be grinches and call them out. But one song in particular that went under the radar that should have become a Christmas classic we would have been sick of by now was the late Tony Romeo's original "My Christmas Card To You," one of the finest Hallmark-meets-Polaroid moments ever recorded. This obscure Partridge Family track is a simple, smart laundry list of things associated with Christmas whose intelligence and pop perfection obliterates most of our favorite cheesy holiday anthems. Nope, it's not Dylan nor Dylan Thomas, but it's just fine as an unpretentious shoutout to the holiday that touches all the bases.
Truth be known, Tony Romeo was a friend of mine, and as I performed this song last week in my new hometown of Fairfield, Iowa, I couldn't help but picture that ol' New Yorker smiling somewhere in his favorite Cracker Barrel, a place he constantly frequented at every opportunity, probably just to f**k with his Metrosnob pals. In honor of this post-Brill Building popster and all the happiness he brought to kids and their parents a few decades back (especially with the biggest selling single of the '70s, "I Think I Love You"), I'm posting his would-be classic, The Partridge Family's "My Christmas Card To You," which is really his best wishes to all of us, with a little help from his close friend, David Cassidy. Miss you, Tony...
Popular in the Community