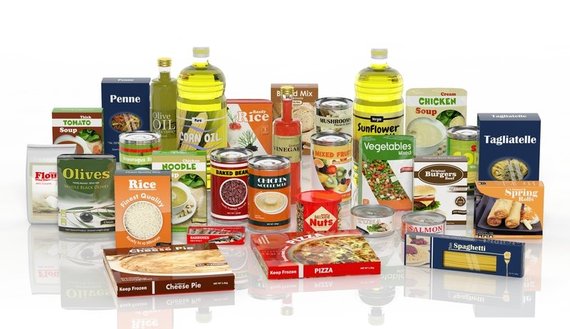 It was by accident that I stumbled upon the truth about nutrition labels on packaged foods. It turns out that they aren't necessarily truthful at all. I described my unfortunate discovery in a previous Huffington Post article, but after first writing of my experience, I couldn't stop thinking about how shameful it is that consumers rely on nutrition labels to make healthful choices, only to learn that there's not a whole lot of point in doing so.
Plenty of ingredients are omitted from the labels for one reason or another, and the FDA's list of exceptions is quite staggering. But if the labels are wrong, the health choices we make based upon those labels are also wrong.
Not knowing how else to address the issue, I wrote directly to the FDA. Their response spoke to my issues of concern and informed me of the FDA's Citizen Petition program.
An FDA Citizen Petition is a formal request to the FDA to change its practices regarding a specific issue under its purview. A certain format must be followed, and the FDA provides instructions to help with a successful filing. But I soon discovered that the filing of my petition puts me in a very small group of citizens who have actually done so. Almost all Citizen Petitions are filed by corporations, special interest groups, and legal firms who represent those corporations and special interest groups. That's sad.
As citizens we collectively have the loudest voice in the country, but we just don't seem to use it as often as we could, even when something is vital to our health and well-being. But perhaps it's because we simply don't know what is available to us. I certainly did not know about filing a Citizen Petition, and I'm grateful to the FDA for alerting me to that option.
Only a small percentage of actions requested in Citizen Petitions are granted. Most are denied, or ignored. But there is a way to enhance the viability of any petition - public comments. The more support a petition receives via individual comments, the higher it rises in review priority. If a petition is filed, opened for public comment, and no one seems to care enough to have an opinion, the issue doesn't stand much of a chance of even being reviewed by the FDA. So I need your help.
This is where you will find my Citizen Petition, docket number FDA-2015-P-2247. Unfortunately, that government site is not as user-friendly as it should be and requires a download to read the petition, so I've also posted my petition in its entirety HERE, along with a link to the FDA site to leave a comment. If nutrition and honest labeling matters to you, please visit my petition page, then click on the link to leave your comment.
Once you have read the petition then navigated to the public comment venue, this is what you will see:
Of course, reading the petition is not required before leaving a comment, but it would surely be prudent to do so.
I wish that all food manufacturers would simply tell the whole truth on nutrition labels, as a small minority of them actually do. But that's the problem. There is no uniformity in the labeling required by the FDA. Some do the right thing. The majority of them don't. Some include every ingredient. Some simply won't.
I don't know how anyone could argue with the concept of 100% truthful nutrition labeling, but such argument has apparently occurred, or the FDA would not now permit such non-disclosure by food manufacturers. I hope that we can abolish this harmful practice and follow in the footsteps of one never-give-up Illinois scientist.
Per recent news, the FDA is finally banning trans fats. What you may not know is that an Illinois scientist and professor named Fred Kummerow was a driving force behind that decision. Professor Kummerow filed a Citizen Petition with the FDA in 2009, wherein he described how disease-inducing trans fats harmed the human body. He had been studying the effects of partially hydrogenated fats for decades, and became frustrated that the FDA continued to approve their use.
When the FDA hadn't acted on his petition, he filed a lawsuit against the agency in 2013. Shortly after that lawsuit was filed, the FDA adopted the position that trans fats were no longer assumed safe for human foods. That decision is just now coming to fruition. Yet even with the recent announcement, the FDA is still allowing packaged food providers a 3-year transition period to either comply, or to file for an exemption. Apparently it's hard to make real change that doesn't come with "exemption" caveats.
We are trained to believe that no issue is simply black and white and that there are gray areas that allow for caveats, omissions, deceptions, and half-truths. I disagree. I believe that the FDA should protect the consumer first and foremost and only permit food manufacturers to bend the rules when there is absolutely no negative impact on a single citizen from doing so. Nutrition labeling should not be a "majority rules" concept. It should support every single citizen.
The individuals at the FDA that I've had the pleasure of communicating with have all been reasonable, helpful people, especially Administrative Proceedings Specialist, John Wright, who has gone above and beyond to quickly and patiently address my every question and my every frustration, no matter how many times I've asked him to do so. I can only hope that the FDA persons who make policy decisions are as dedicated to their work as the rank and file employees.
The first step to change is to actually take a step. If we can get the FDA to review my petition, perhaps we, as a collective voice, can truly follow in Professor Kummerow's amazing footsteps, effecting a change that will give each and every one of us the opportunity to make informed choices about our own health and well-being.
A 100% truthful nutrition label is what a nutrition label is meant to be, and it's what every citizen deserves. It's what we need to combat food-related illnesses, to help fight obesity, to ward off allergies, and to live a healthier life, a life without unknown sabotages stemming from missing nutritional data. All ingredients and additives in food must be nutritionally disclosed. Food manufacturers may say that there is simply no room on a label to list everything. To that I would answer, "Stop putting so many unnecessary, often harmful, added ingredients in the foods in the first place." The closer to nature, the better for us all.
If nutrition matters to you, I hope you will lend your voice to the call for change. And I very much thank you for doing so.
To comment on the petition:
Go to: regulations.gov
Enter the docket # FDA-2015-P-2247 into the search box
Or first read the petition HERE and use the provided Comment Link at the top or bottom of the petition to leave your comment on the FDA site
photo credit: Viperagp | Dreamstime.com - 3D collection of packaged foods photo
Calling all HuffPost superfans!
Sign up for membership to become a founding member and help shape HuffPost's next chapter