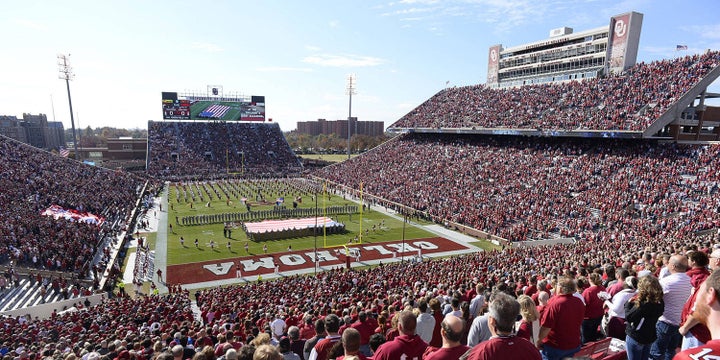 By Brandon Ferris, Rider University '18
You might ask yourself, what do college students do who don't have a football team? Well the answer is simple; we live vicariously through other schools.
When you go to a school without a football team, like me, it's hard to get as excited for Saturdays in the fall like these big, southern schools do. We can't wake up to the marching band playing, or get ready to go to a tailgate, or even be eager to buy our season tickets every year.
However, we do wake up every Saturday morning and tune into college football gameday. Since we don't have a football team of our own, our highlight of the day is seeing what team Lee Corso picks to win that day.
Being a fan of many big schools such as Alabama, North Carolina, Texas A&M, and even Oklahoma still gets me excited each Saturday even if I can't be apart of that crowd. Still, playing Sweet Home Alabama every Saturday morning gets me and my roommate pumped up for the whole day ahead of us. Even if that song does wake up everyone down the hall.
While we can't paint our faces and parade our signs around campus, we still wear our favorite jerseys and watch our teams every Saturday like we're actually at the stadium. But, just because your school doesn't have a team doesn't mean you can't travel to other schools with your friends to watch some football.
No matter what school you go to, there is probably a school within a 50-mile radius to go to so you can feel what it's like on Gameday. Rutgers is the closest school to where I am and there's a bunch of kids who travel there all the time, especially when Michigan State or Ohio State is in town.
Living vicariously through other schools can be really fun if you make it fun. Watching these great games and getting excited for all of these potential NFL players makes me forget that there is not football at my school. Even though there are days when I wish I could've gone to Auburn or Oregon just for Saturdays in the fall, I'm very content with watching my favorite teams from afar.
This year, I hope I can watch Oklahoma win the national title from afar. Boomer Sooner.
Calling all HuffPost superfans!
Sign up for membership to become a founding member and help shape HuffPost's next chapter