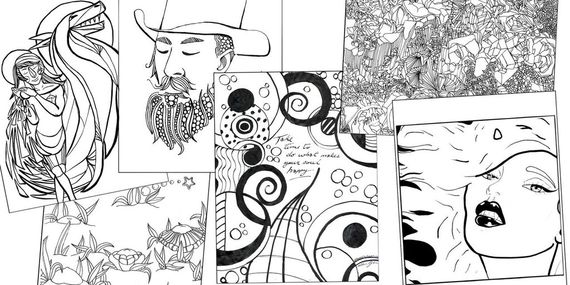 What if you could buy a coloring book and actually change the world in some way- would you do it? What if it also meant you could feel less stressed, more relaxed, be able to take a minute and maybe, just maybe be a little happier? Would you do it then? Intrigued yet? I was and gave it a try on a recent visit to the LivingRoom Community Art Studio all the way up in Oshawa, Canada, and you know what - I loved it.
One of the best parts was actually coloring pages that will be included in their very own self-published, 70-page coloring book funded by their ongoing crowdfunding campaign. It's going to be loaded with really cool pictures created by local artists - some are whimsical, while others are imagination defying, and yet others have that old school edge we all know and love - and in some way they are all downright beautiful. If you want to see exactly what I'm talking about check out the video - its pretty fun.
Yes, yes I know you're thinking that's great but coloring books are for kids - and you'd be wrong. These days they really are trending with adults because they have a lot to offer in terms of wellness and stress relief, plus its fun....and who couldn't use a little more fun in their life right? Especially with work, family life, and well it is the holidays, and that can bring its own special kind of stress. Plus for those who like the facts, adult coloring has made the cut at major news outlets, including the National Post and The New York Times, all reporting on the growing phenomenon. Here's one more plug, back in the day even Carl Jung got his coloring on, specializing in coloring in endless mandalas to find some spiritual healing.
OK, so now you're intrigued - aren't you? Maybe just a little, well I hope you are. Sure you can buy an adult coloring book just about anywhere, even Costco, with booksellers reporting they are a trending, but with The LivingRoom Community Art Studios coloring book, you can make a difference and maybe change someone's world a little. You see the LivingRoom is one of my favorite places because they give people in the community a place to make art for free - bringing people of all kinds together.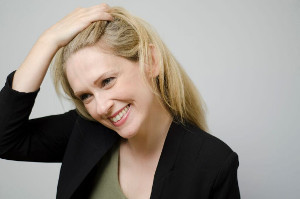 All of this happens under the watchful and loving eye of Mary Krohnert, the LivingRoom's executive director, who just so happens to be an art therapist, and an actor, who you may have seen in films like Sex After Kids, and the upcoming Amber Alert, as well as TV series like Saving Hope. Her passion is clearly making art, whether on screen or in the studio, and helping others discover for themselves the healing affects of art and the end result was founding the LivingRoom. "I wanted to make a space where people could come and make art for free, because with every bit of art they make whether they realize it or not, they are making their lives and the world a better place," she says.
When I was visiting and yes, coloring, I saw families come in on a Saturday afternoon to make art together rather than head to the movies, older people painting, kids making collages, a couple of moms making woodcarving infused art, and teens hanging out and making music together rather than getting into some kind of mischief, as teens do - well, like I did anyway. All for free.....and besides touching people in a very personal way, with its healing super powers, the LivingRoom is also making the community stronger and more vibrant. "There is something about people making art together that opens their hearts and enables them to connect to each other in ways that they might not normally, says Krohnert."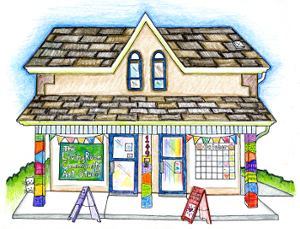 Krohnert has seen coloring books make a very real difference in people's lives firsthand both in and out of the studio. Ever the art therapist, she runs a drop in night at a local men's shelter, and often offers them a coloring book and crayons to get started. While they may shoo her away at first, they typically give it a try, and once they do, they are hooked - having fun, laughing with each other, making some art - and soaking up some joy.
Given all of that, what better way is there to help raise money so that the LivingRoom can keep doing what they are doing so effectively, but to create what Krohnert calls, "the biggest coloring book community ever." It's a pretty amazing way to help people from around the world connect in a fun and loving way, through something pretty simple - coloring!
So that is exactly what they did, why I love this book so much, and why I can't wait for mine to arrive...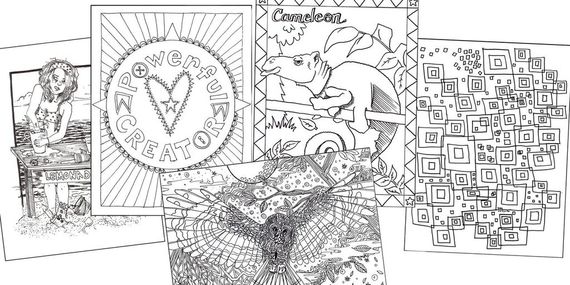 "
Special thanks to the LivingRoom Community Art Studio for the images.
.
Calling all HuffPost superfans!
Sign up for membership to become a founding member and help shape HuffPost's next chapter