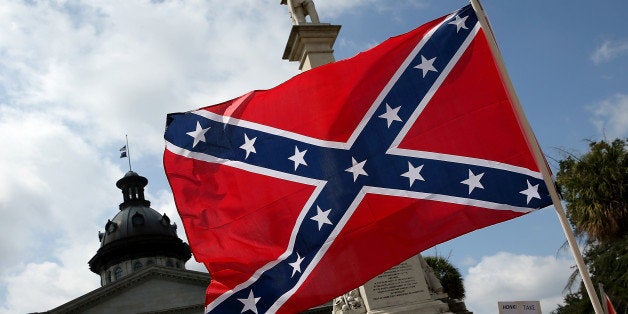 A lot of white Southerners in the wake of the Charleston shootings have been taking to social media to account for their own racism and offer apologies. It is only right and proper to do so because in taking account, owning responsibility, there is the opportunity to further address racism in America.
Everyone who knows me understands that my roots are Southern. My family tree can easily be traced to South Carolina in the 1600s. Our family fought in the Revolutionary War and for the Confederacy in the Civil War. My understanding was that my ancestors owned slaves but detailed historical census records do not show this.
I eat grits for breakfast. Fry up my grandmother's best ever fried chicken recipe. And make my own sweet tea. Living here in Oregon, I have to order a lot of my food mailed in from South Carolina
Until my mid-20s, even as a young progressive activist in Portland, the Confederate Flag hung in my bedroom as a kid and then my first apartments and homes as a young adult. On the same walls hung portraits of John F. Kennedy, Robert F. Kennedy and The Rev. Dr. Martin Luther King, Jr. Those three voices drew me into public life and eventually ministry.
So why a Confederate flag? For me, like many others I suppose, hanging the Confederate Flag was no different from hanging an Irish flag. It represented my Southern identify. What I didn't understand, what no one had ever taught me (or I just didn't listen), was how the Confederate flag had only been brought back to life as a symbol of resistance to the Civil Rights movement.
It was during last great debate over the Confederate flag in South Carolina - when it was finally taken off the top of the Capitol Building and moved to the capitol grounds - that I learned the true history of that flag and what it meant. So I took my flag down and replaced it with a South Carolina state flag - a flag that represents all South Carolinians, regardless of color. That South Carolina state flag, which I purchased on a trip back to Charleston (where I lived as a boy), just blocks from Mother Emanuel, is still a flag I own.
Like many, I should have come to the same conclusion earlier. Some times my Oregon friends would challenge me about that Confederate flag and I'd just respond: "it's my heritage." In truth, it is part of my family's legacy. My mother, who supported the Civil Rights Movement, would tell me the flag belonged in the past. She was right. It took me too long to learn that lesson.
Over the years, as I've watched President Obama be confronted with that flag, I've cringed. This happened to the president again just this week, after Charleston. No one can claim now it is a flag of heritage. It is simply a flag of hate. Of racism. It is not a flag compatible with being a Christian.
For my part, I apologize for not recognizing that sooner in my life.
Popular in the Community