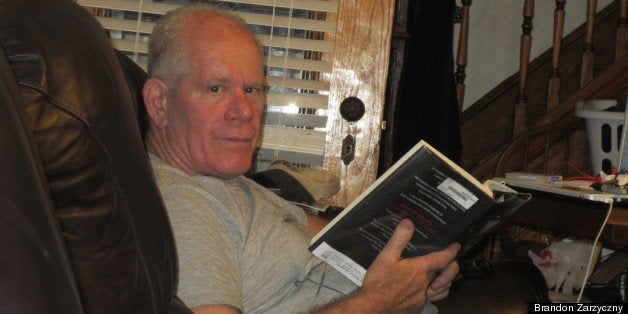 My Father, Craig Zarzyczny, died earlier this week at the age of 66 after being diagnosed with Pancreatic Cancer around two months ago.
While it was incredibly difficult to see my Dad's body slowly disintegrate in front of my eyes, one of the smaller but weirder things about those last two months was seeing him without a book in his hands.
After a pulmonary embolism caused by the cancer sent him to the hospital, he was sadly unable to keep his concentration long enough to read and finish a book. He was still able to read the local newspaper and some online articles on his tablet, but anything beyond that proved to be impossible, despite his best efforts to finish the novel he had started previously.
My Dad had an absolute love of reading, and he instilled that love in me as a child when he gave me some of his favorite books to read, a love that is still burning strong today. Wherever my Dad went, he always made sure to bring a book along with him, so he could sneak in a few pages if he had a chance.
He was an amateur competitive cyclist when I was young, and he was a marathon runner in his final years. It was tough for him to combine reading and his love of exercise, but he managed by having a book rack attached to his stationary bicycle, and he even occasionally attempted to read while he ran on a treadmill.
My Dad was a talented multi-tasked reader, as he would read in his office at work, listen to audio books when he was on the road, and he'd always read a book while he was watching TV. I'm not sure how he did it, but he was always able to read while still paying attention to everything that was on TV, which more often than not would be some type of sport, especially Baseball (Yankees), Football (Pittsburgh Steelers & Penn State Nittany Lions), and College Basketball (Duke). He would read a new book every 1-3 days, and it was usually leaning more towards one book a day.
Around the time we had our first home computer, my Dad started to keep track of all of the books that he read in an Excel Spreadsheet. He kept his spreadsheet up to date for almost twenty years, and he'd accumulated 10,496 books before his death. My Dad rated his books on a 1-10 scale, but his average score floated around 7.5/10, so I think he generally enjoyed most of what he read.
He'd attempted to list books that he'd read before creating the spreadsheet, but he thought that he'd still missed many of them, and assumed that he'd read over 12,000 books throughout his life. He read many different genres of books, but his favorites were always suspense/mystery/thriller novels. He gave 794 books a nine out of ten rating or above, and some of his all-time favorite authors were David Baldacci, Stephen Cannell, Lee Child, Michael Connelly, John Grisham, Steve Hamilton, Greg Iles, Dean Koontz, William Kent Krueger, James Patterson, Paul Wilson, and Stuart Woods.
My dad had a relatively specific method for keeping track of his books. He would write the book tittle, author, and date finished on a blank envelope whenever he finished reading a book. Then once the envelope was covered he would input all of the books into a smaller spreadsheet, and every once in a while he would add the smaller spreadsheet to his huge main spreadsheet. My Dad was very proud of his list, and at an early age I attempted to emulate him, so I originally kept a journal of all the books I read.
Later, I made my own Excel spreadsheet, however I've still not quite surpassed one thousands books, and I doubt I'd ever be able to match my Dad's achievements in this area.
He originally bought most of the books he read, and the attic is still filled with boxes of old books, however for the past 15-20 years he's mostly loaned the books from the library. My Dad loved our local library, the James V Brown Library, where all of the librarians knew his name, and he would leave there with a bag full of books about once a week. For the past year or two, he'd also tried reading ebooks on a Tablet I bought for him for Christmas, and while he loved downloading all of the free indie Kindle books he could get his hands on, he still preferred a good hardcover book.
For a little background on my Dad Craig, he grew up in Central Pennsylvania as the second oldest child with 8 other brothers and sisters in a relatively poor family. He went to college on a Wrestling scholarship, but after blowing out his shoulder in a match he had to leave school and was drafted during the Vietnam War as a medic.
However, as he already had two brothers in Vietnam, he was sent instead to Germany. Soon after he came home he married my Mother Carole in 1969, and they've been happily married ever since. After his time in the service, he went back to Mansfield University and graduated with a BA in History; he would also later earn his Masters in Public Health after a couple of years of night courses.
My father worked for the Pennsylvania Department of Health for over 30 years, where his responsibilities changed vastly over time. He was probably the most proud of his work in the area of proper blood pressure testing, and increasing the awareness and prevention of Cardiovascular Disease. He took an early retirement around 9 years ago and afterwards spent a lot of time with the family when he wasn't exercising or reading. He was a relatively quiet man that thrived on following a routine, but he loved with all of his heart, even when he didn't go out of his way to show it. When I became an adult, a strong friendship grew between us, as we had a lot of things in common and we just liked to hang out with each other.
My Dad had actually trained for and completed a half-marathon in Syracuse, NY last October, but during the training he probably had the first warning signs that something was wrong. My Dad would later comment that it took his body much longer than usual to recover after running, but at the time he just assumed it was old age catching up to him.
Early in 2013, my Dad stopped exercising, and although he was very stoic about it, he was experiencing a lot of pain in his back, stomach, and chest. My Dad absolutely hated being sick, and he wouldn't admit something was wrong and go to the doctor until my Mom wouldn't stop constantly nagging him to go in. When he did go to our family doctor, a series of tests were run but all of the results were negative, and my Dad was just sent home with a prescription for some pain pills.
After the medication seemed to barely touch the pain he went again to the doctor, whom immediately ordered a CT scan which sadly showed a series of masses in his lungs, liver, and intestines. He had a liver biopsy to confirm what the tumors were, but two nights later he stopped breathing in the middle of the night due to a pulmonary embolism the size of a pinky finger. While he was in the hospital, the Doctor confirmed that my Dad was suffering from stage four pancreatic cancer, and he gave him a prognosis of only a few months to live if he didn't attempt chemotherapy.
Unfortunately, my Dad had a horrible reaction to the first chemo treatment, and the oncologist even commented with slight disbelief and dark humor that from the list of possible side effects of the chemo, he had all of them.
My Dad later would receive another weaker more palliative Chemo treatment to try to shrink the size of the tumors, but soon after he was once again carried out of our home by an ambulance crew after he was unable to stand, and he had a very high erratic heart rate. My Dad wouldn't come home after that last trip, and was instead sent to the Divine Gatehouse after his condition had stabilized. There, my Father was made as comfortable as possible, and he passed peacefully surrounded by loved ones within a week.
My Dad Craig is survived by his two sons Matt & Brandon (me), his loving wife Carole, and eight brothers and sisters (Jim, Jerry, Carol, Maggie, Bart, Suzie, Tina, and Rob).
The other day, as a sort of memorial, I thought that I'd post a picture of my Dad Craig reading a book along with a spreadsheet of all of the books that he'd read to the reddit website in the r/Books sub-reddit. I didn't expect too much of a response, but I was amazingly surprised to see that so many people saw and liked the post, which is now full of amazing comments.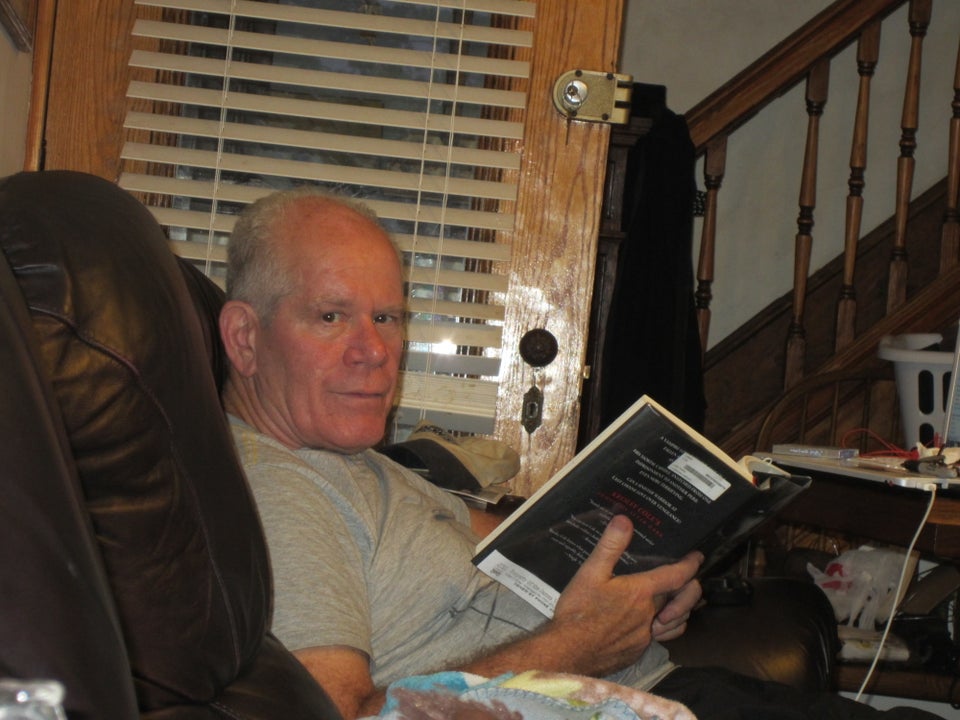 My dad, Craig Zarzyczny
Related
Popular in the Community