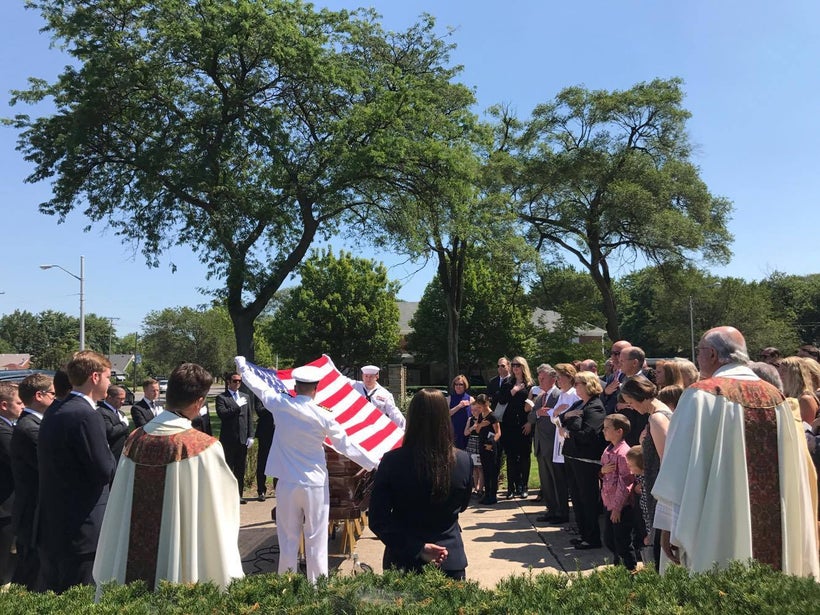 These last days since my father' s death have been a time of reflection.
As I walk the streets of Detroit exploring the once-vibrant, then boarded-up, now the newly re-invigorated city, I think about what it was like for my Dad who was born here in 1924.
By the time he was born his grandfather, James Couzens, had moved on from his historic role in shaping the Ford Motor Company and was on his path from police commissioner, mayor of Detroit and United States Senator.
Detroit was thriving at the time. My dad's father, also named Frank, would one day be mayor of Detroit as well. I knew how strongly Dad loved his hometown, a point of pride that continued throughout his lifetime, even when the city hit some of its worst moments.
He seemingly had every opportunity, but never acted spoiled or entitled. He understood that because he never wanted for anything, he was in a better position to communicate hope. And that translated into a unique responsibility for helping others.
The legacy we heard about time after time around the funeral was his service to community.
I feel that my inheritance, my legacy from Dad is the need and core responsibility to care for and steward a larger community. For me that translates to Less Cancer, working to end the suffering that comes with the disease once and for all. My siblings have the same pull as well for their many causes and passions that move them to get to work to make a difference.
My dad never lost hope for the city of Detroit. He was a witness to its explosion of growth and then implosion of inhumanity. Even during the 1967 race riots, he took my younger brother John and myself through the city, telling us to unroll the windows, "just in case something went through car window; it wouldn't break the glass."
My brother and I, ages six and seven at the time huddled in the middle of the back seat of my dad's signature blue LTD had mouths wide open in shock and concern about what we were witnessing. As our heads spun trying to see it all and at some level trying to understand, suddenly a big man stuck his head in our car and shouted, "Boo! Scared ya didn't I?" And then he laughed. Yes, he scared us, and then we and my dad all howled about the incident.
Dad was all about service it didn't matter if it was a riot or not he was going to help.
Often in unseen ways, he empowered those that may not have had his opportunity, and creatively led in a way that built bridges, if not for himself, then for others.
Over a decade ago, I met with the then-President and CEO of Children's Hospital, Herman Grey, M.D., to see how Children's could lead the way for a grocery store to open in the medical center. It did not make sense to me that Detroit had one of the greatest children's hospitals in the country, yet nobody could buy any food locally, except for maybe something frozen or canned in a liquor store. I also believe that when children are in the hospital, there is an opportunity to educate the whole family. My vision was that if a child must be hospitalized, that there is the opportunity to provide real food and nutritional knowledge to families, to help raise the bar on whole family health and help to keep children out of the hospital.
These were issues and solutions that Dad did not think about but appreciated. And while his solutions did not always look like my solutions, he was game for listening and trying to understand.
Then about five years ago, I heard about the number of stray dogs in Detroit. While concerned about the strays, I also wanted to know how and where children could play outside. Could they at all? In fact, in many circumstances, they couldn't play outdoors because of those feral dogs. To raise attention and try to help, we facilitated at-home coaching for indoor fitness and nutritional programming.
Dad would say, "How do you think of this stuff?" I too often would have those thoughts about his projects as well.
For both myself and Dad, while bugged by injustice; our passions had different targets, the impetus for righting wrongs is generational.
So while Dad is gone, his gift of hope and work continues: seeing possibilities for a future that is better.
First Published in Thrive Global by Bill Couzens
Calling all HuffPost superfans!
Sign up for membership to become a founding member and help shape HuffPost's next chapter
This post was published on the now-closed HuffPost Contributor platform. Contributors control their own work and posted freely to our site. If you need to flag this entry as abusive,
send us an email
.